Difenoconazole 苯醚甲环唑  
Introduction: Difenoconazole is a kind of triazole-type fungicide. It is a broad-spectrum triazole fungicide. It takes effect through acting as the inhibitor of sterol 14α-demethylase, blocking the biosynthesis of sterol. Through inhibiting the sterol biosynthesis process, it inhibits the mycelia growth and germination of pathogens by spores, ultimately suppressing the proliferation of fungi. Difenoconazole has been extensively used in a wide range of crops in many countries due to its ability to control various fungal diseases. It is also one of the most important and widely-used pesticides for disease control in rice.    
Common name: Difenoconazole
Another name: Difenoconazol; Dividend; Plover; Score; Bardos Neu; Score EC 250; Dividend (fungicide); etc.
Chemical name: 3-chloro-4-((2RS,4RS;2RS,4SR)-4-methyl-2-(1H-1,2,4-triazol-1-ylmethyl)-1,3-dioxolan-2-yl)phenyl 4-chlorophenyl ether  
Empirical formula: C19H17Cl2N3O3
Structural formula: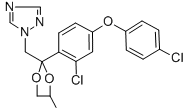 Mol. Weight: 406.26 g/mol
CAS No.: 119446-68-3
Specifications
Leading Difenoconazole supplier
Difenoconazole 95% TC
Difenoconazole 25% EC
Packing:
BULK PACKING                                                     
Powder: 25kg/Bag, 25kg/Drum, 50kg/Drum etc.                    
Liquid: 200L/Drum, 20L/Drum, 10L/Drum etc.
SMALL PACKING
Powder: 1kg/Alu bag, 500g/Alu bag, 200g/Alu bag, 100g/Alu bag, 50g/Alu bag, 15g/Alu bag etc. 
Liquid: 5L/Drum, 1L/Bottle, 500ml/Bottle, 250ml/Bottle, 100ml/Bottle, 50ml/Bottle etc.
Customerized packing label
Difenoconazole FAO standard
Professional registration
HAZARDS IDENTIFICATION
Hazard statement(s)
H302+H332 (19.33%): Harmful if swallowed or if inhaled.
H302 (100%): Harmful if swallowed.
H319 (38.66%): Causes serious eye irritation.
H332 (20.17%): Harmful if inhaled.
H400 (97.48%): Very toxic to aquatic life.
H410 (96.64%): Very toxic to aquatic life with long lasting effects.
Precautionary statement(s)
P261: Do not breathe dust/fume/gas/mist/vapors/spray.
P264: Wash ... thoroughly after handling.
P271: Use only outdoors or in a well-ventilated area.
P273: Avoid release to the environment.
P280: Wear protective gloves/protective clothing/eye protection/face protection.
P301+P312: IF SWALLOWED: call a POISON CENTER/doctor/... IF you feel unwell.
P304+P340: IF INHALED: Remove person to fresh air and keep comfortable for breathing.
P305+P351+P338: IF IN EYES: Rinse cautiously with water for several minutes. Remove contact lenses if present and easy to do - continue rinsing.
P312: Call a POISON CENTER or doctor/... if you feel unwell.
P330: Rinse mouth.
P337+P313: IF eye irritation persists: Get medical advice/attention.
P391: Collect spillage.
P501: Dispose of contents/container to an approved waste disposal plant.
Supplemental Hazard Statements: none.
MAMMALIAN TOXICOLOGY
Acute toxicity: 1) Acute oral LD50 for rats is 1453 mg/kg. 2) Acute dermal LD50 for rats is >2010 mg/kg. 3) Acute inhalation toxicity LC50 (4 h) for rats is >3.3 mg/L. 4) Skin irritation: Slightly irritating to skin (rabbits). 5) Eye irritation: Moderately irritating to eyes (rabbits). 6) Skin sensitization for guinea pig: Not a sensitizer.
NOEL: (2 y) for rats is 1.0 mg/kg/day; (18 m) for mice is 4.7 mg/kg/day; (1 y) for dogs is 3.6 mg/kg/day. Other Not carcinogenic. Not genotoxic.
ADI (JMPR) 0-0.01 mg/kg b.w. [2007]
Classification:
WHO Classification: II (Moderately hazardous)
EC Risk Classification: Xn - Harmful: R22; N - Dangerous for the environment: R50, R53  
US EPA Classification (formulation): III (Caution - Slightly toxic)
ECOTOXICOLOGY
Effect on birds: Acute oral LD50 for Mallard is >2150 mg/kg. Effect on fish: Acute LC50 (96 h) for Rainbow trout is 1.1 mg/l. Effects on aquatic invertebrates: Acute EC50 (48 h) for Daphnia magna is 0.77 mg/l. Effects on algae: Acute 72 hour EC50 for Scenedemus subspicatus is 0.032 mg/l. Effects on bees: contact acute 48 hour LD50 is >100 μg/bee, oral acute 48 hour LD50 is >117 μg/bee. Effects on earthworms: Acute 14 day LC50 is >610 mg/kg.  
ENVIRONMENTAL FATE
Animals After oral administration, difenoconazole was rapidly eliminated practically to entirety, with urine and faeces. Residues in tissues were not significant and there was no evidence for accumulation. Plants Two routes of metabolism: one by a triazole route to triazolylalanine and triazolylacetic acid; the other by hydroxylation of the phenyl ring followed by conjugation. Soil/Environment Practically immobile in soil, strong adsorption to soil particles (mean adsorption coefficient normalised to organic carbon, Koc,ads 3759 ml/g), low potential to leach below top soil layer. Soil dissipation rate is slow and dependent on application rate; DT50 50-150 d. DT50 from water 2 d.   
Usage: Difenoconazole was introduced by Ciba-Geigy (now Syngenta AG). It is a broad spectrum fungicide with novel broad-range activity used as a spray or seed treatment.
Application: Biochemistry Sterol demethylation inhibitor. Inhibits cell membrane ergosterol biosynthesis, stopping development of the fungus. Mode of action Systemic fungicide with preventive and curative action. Absorbed by the leaves, with acropetal and strong translaminar translocation. Uses Systemic fungicide with a novel broad-range activity protecting the yield and crop quality by foliar application or seed treatment. Provides long-lasting preventive and curative activity against Ascomycetes, Basidiomycetes and Deuteromycetes including Alternaria, Ascochyta, Cercospora, Cercosporidium, Colletotrichum, Guignardia, Mycosphaerella, Phoma, Ramularia, Rhizoctonia, Septoria, Uncinula, Venturia spp., Erysiphaceae, Uredinales and several seed-borne pathogens. Used against disease complexes in grapes, pome fruit, stone fruit, potatoes, sugar beet, oilseed rape, banana, cereals, rice, soya beans, ornamentals and various vegetable crops, at 30-125 g/ha. Used as a seed treatment against a range of pathogens in wheat and barley, at 3-24 g/100 kg seed..