Introduction: Prothioconazole is a synthetic compound of the triazolinthione family of compounds. It is a broad spectrum systemic fungicide, with curative, preventative and eradicative action. It can be used as both a seed treatment and a foliar treatment. After absorption it moves into cells of the target organisms, effecting sterol biosynthesis and thereby disrupting membrane structure. This ultimately effects hyphal growth and germ tube elongation. Fungi susceptible to prothioconazole include Early leaf spot (Mycosphaerella arachidis), eyespot, Fusarium spp., powdery mildew, net blotch, phoma leaf spot, Rhynchosporium secalis, Sclerotinia sclerotiorum, Sclerotium rolfsii, Septoria tritici, Septoria nodorum, rust and tan spot. Prothioconazole is approved for use on barley, durum wheat, oats, oilseed rape (winter), rye (winter), and wheat.
Common name: Prothioconazole
Another name: 2-[2-(1-Chlorocyclopropyl)-3-(2-chlorophenyl)-2-hydroxypropyl]- 1,2-dihydro-3H-1,2,4-triazole-3-thione;2-[2-(1-chlorocyclopropyl)-3-(2-chlorophenyl)-2-hydroxypropyl]-1H-1,2,4-triazole-3-thione; CHEBI:84008; MNHVNIJQQRJYDH -UHFFFAOYSA-N; 2-(2-(1-Chlorocyclopropyl)-3-(2-chlorophenyl)-2-hydroxyprop yl)-1H-1,2,4-triazole-3(2H)-thione; OR59944; 2-(2-(1-chlorocyclopropyl)-3-(2- chlorophenyl)-2-hydroxypropyl)-1,2-dihydro-3H-1,2,4- triazole-3-thione; etc.
Chemical Name (IUPAC): (RS)-2-[2-(1-chlorocyclopropyl)-3-(2-chlorophenyl)-2-hydroxypropyl]-2,4-dihydro-1,2,4-triazole-3-thione
Structural formula: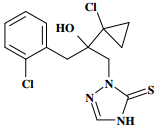 Empirical formula: C14H15Cl2N3OS
Mol. Weight: 344.26
CAS No.: 178928-70-6
Specifications
Leading Prothioconazole supplier
Prothioconazole 97% TC
Prothioconazole 480g/L SC
Packing
BULK PACKING
Powder: 25KG/Bag, 25KG/Drum, 50KG/Drum etc.
Liquid: 200L/Drum, 20L/Drum, 10L/Drum ect.
SMALL PACKING
Powder: 1kg/Alu bag, 500g/Alu bag, 200g/Alu bag, 100g/Alu bag, 50g/Alu bag, 15g/Alu bag etc.
Liquid: 5L/Drum, 1L/Bottle, 500ml/Bottle, 250ml/Bottle, 100ml/Bottle, 50ml/Bottle etc.
Customerized Packing label
Prothioconazole FAO standard
Professional registration
HAZARDS IDENTIFICATION
Hazard statement(s)
H400 Very toxic to aquatic life.
H410 Very toxic to aquatic life with long lasting effects.
Precautionary statement(s)
P273 Avoid release to the environment.
P391 Collect spillage.
P501 Dispose of contents/container in accordance with local regulation.
Supplemental Hazard Statements none
MAMMALIAN TOXICOLOGY
Acute toxicity: 1) Acute oral LD50 for male and female rats is >6200 mg/kg. 2) Acute percutaneous LD50 for rats is >2000 mg/kg. 3) Acute inhalation toxicity LC50 for rats is >4.99 mg/l. 4) Skin irritation: Non-irritating to skin (rabbits). 5) Eye irritation: Non-irritating to eyes (rabbits). 6) Skin sensitization for guinea pig: Not a skin sensitiser.
NOEL (2 y) for rats is 1.1 mg/kg diet, for mice is 100 mg/kg diet; NOEL (30 w) for dogs is 10.1 mg/kg diet. Other Not mutagenic or genotoxic based on the overall weight of evidence in a battery of in vitro and in vivo tests. Not carcinogenic in lifetime feeding studies in rats and mice.
ADI (JMPR) 0.05 mg/kg b.w. [2008].
Classification: WHO Classification: U (Unlikely to present an acute hazard)
EC Risk Classification: Reproduction risk category 3: R63; Xn - Harmful: R43; N - Dangerous for the environment: R51, R53
US EPA Classification (formulation): No consensus across products or no products available.
ECOTOXICOLOGY
Effect on birds: Acute oral LD50 for Bobwhite quail is >2000 mg/kg. Short term dietary LC50 (5 d) for Mallard ducks is >5000 mg/kg. Effect on fish: Acute LC50 (96 h) for Rainbow trout is 1.83 mg/l. Effects on aquatic invertebrates: Acute EC50 (48 h) for Daphnia magna is 1.3 mg/l. Effects on algae: Acute EC50 (72 h) for Pseudokirchneriella subcapitata is 1.1 mg/l. Effects on bees: Contact acute (48 h) LD50 is >200 μg/bee, Oral acute (48 h) LD50 is >71 μg/bee. Effects on earthworms: Acute 14 day LC50 is >1000 mg/kg.
ENVIRONMENTAL FATE
In animals: Prothioconazole is rapidly and extensively absorbed and rapidly eliminated, predominantly via faeces. It does not show potential for accumulation. Prothioconazole is extensively metabolised, with the major metabolic reactions being conjugation with glucuronic acid, oxidative hydroxylation of the phenyl moiety and desulfuration. In plants: The metabolism of prothioconazole proceeds through oxidative and cleavage reactions. The major metabolites are prothioconazole-desthio and triazolylalanine, triazolylhydroxypropionic acid and triazolylacetic acid. No free 1,2,4-triazole was detected in any plant matrix. In the soil: Prothioconazole is rapidly degraded to prothioconazole-desthio and prothioconazole-Smethyl. Parent compound and metabolites show low potential for leaching or accumulation. For prothioconazole, prothioconazole-desthio and prothioconazole-S-methyl, soil DT50 (lab., 20℃) 0.07-1.3d, 7-34 d, and 6-46 d, respy.; Koc 1765 ml/g, 523-625 ml/g and 1974-2995 ml/g, respy. Prothioconazole degraded rapidly in water/sediment systems under aerobic conditions (DT50 for total system 2-3 d); major metabolites are prothioconazole-desthio and 1,2,4-triazole (detected in the water layer) and prothioconazole-S-methyl (in sediment).
Usage: Prothioconazole was developed by Bayer Crop Science. It is used to protect Wheat, barley, rapeseed, peanut, rice and beans crops against a wide spectrum of fungal diseases. Also control the rapeseed and peanut soil borne disease, such as Sclerotinia sclerotiorum, and foliar diseases, such as Botrytis cinerea, black spot, brown spot, black shank, Sclerotinia sclerotiorum and rust.
Application: Biochemistry Steroid demethylation (ergosterol biosynthesis) inhibitor. Mode of action Systemic fungicide with protective, curative, eradicative and long-lasting activity. Uses Under development for control of diseases such as eyespot (Pseudocercosporella herpotrichoides), Fusarium ear blight (Fusarium spp., Microdochium nivale), leaf blotch diseases (Septoria tritici, Leptosphaeria nodorum, Pyrenophora spp, Rhynchosporium secalis, etc), rust (Puccinia spp.), and powdery mildew (Blumeria graminis) by foliar application in wheat, barley and other crops. As a seed dressing, for control of Ustilago spp., Tilletia spp., Fusarium spp. and Microdochium nivale.