Cyromazine

鏢茯健
Introduction: Cyromazine is a triazine insect growth regulator used as an insecticide and an acaricide. It is a cyclopropyl derivative of melamine. Cyromazine works by affecting the nervous system of the immature larval stages of certain insects.
Common name: Cyromazine
Another name: CGA 72662; AI-52713;
Chemical Name: N-cyclopropyl-1,3,5-triazine-2,4,6-triamine
Structural formula: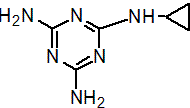 Empirical formula: C6H10N6
Mol. Weight: 166.2
CAS No.: 66215-27-8
Specifications
Leading Cyromazine supplier
99% CyromazineTC,
75% Cyromazine WP
Customerized Packing label
Packing: Required by customer
Cyromazine FAO standard
Professional registration

HAZARDS IDENTIFICATION:
Notes to physician:
There is no specific antidote if this product is ingested.
If a large amount has been ingested and emesis is inadequate,lavage stomach.
Treat symptomatically.
An aqueous suspension of activated charcoal can be administered to absorb remaining toxicant.
Symptoms of Acute Exposure:
Exposure may cause irritation of eyes, skin or upper respiratory tract.
Hazardous Decomposition Products:
None known
Physician Properties:
Appearance: gray white powder
Odor: sweet, musty odor
Unusual Fire, Explosion and Reactivity Hazards:
This material presents a slight dust explosion hazard

ANALYSIS
Product analysis by hplc. Residues determined by glc or hplc. Details available from Syngenta.
MAMMALIAN TOXICOLOGY
Reviews FAO/WHO 59, 61 (see part 2 of the Bibliography). Oral Acute oral LD50 for rats 3387 mg/kg. Skin and eye Acute percutaneous LD50 for rats >3100 mg/kg. Mild skin irritant; non-irritating to eyes (rabbits). Inhalation LC50 (4 h) for rats >2.720 mg/l air. NOEL (2 y) for rats 300, mice 1000 mg/kg diet. ADI (JMPR) 0.02 mg/kg b.w. [1990]. Toxicity class WHO (a.i.) U; EPA (formulation) III
ECOTOXICOLOGY
Birds Acute oral LD50 for bobwhite quail 1785, Japanese quail 2338, Pekin ducks >1000, mallard ducks >2510 mg/kg. Fish LC50 (96 h) for bluegill sunfish >90, carp, catfish and rainbow trout >100 mg/l. Daphnia LC50 (48 h) >9.1 mg/l. Algae LC50 124 mg/l. Bees Non-toxic to adult honeybees (no contact action up to 5 mg/bee). Worms LC50 >1000 mg/kg. Other beneficial spp. Non-toxic.
ENVIRONMENTAL FATE
Animals In rats, cyromazine is efficiently excreted, mainly as the parent compound. Plants Rapidly metabolised in plants. The principal metabolite is melamine. Soil/Environment Cyromazine and its main metabolite melamine are moderately mobile. Numerous studies conducted (laboratory and field) demonstrate that cyromazine is efficiently degraded by biological mechanisms.

Usage: Cyromazine is used for controlling of Diptera larvae in chicken manure by feeding to the poultry or treating the breeding sites. Also used to control flies on animals. Used as a foliar spray to control leaf miners (Liriomyza spp.) in vegetables (e.g. celery, melons, tomatoes, lettuce), mushrooms, potatoes and ornamentals, at 75-225 g/ha; also used at 190-450 g/ha in drench or drip irrigation.

Application: Biochemistry Chitin synthesis inhibitor. Mode of action Insect growth regulator with contact action, which interferes with moulting and pupation. When used on plants, action is systemic: applied to the leaves, it exhibits a strong translaminar effect; applied to the soil, it is taken up by the roots and translocated acropetally.