DIPHACINONE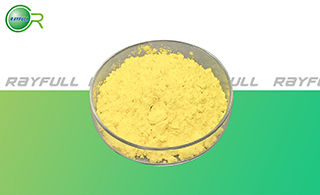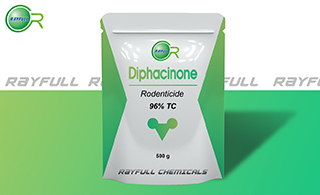 敌鼠
Introduction: An anticoagulant rodenticide used to control rats, mice, voles, squirrels and other small rodents.
Common name: Diphacinone
Another name: Diphenandione, Diphenacin, Promar, Diphenadion, Didion, Didandin, Dipaxin, Diphacin, Oragulant, Ratindan, Diphac, Ramik, Solvan, Ratindan 1, difenadion, diphacine, Diphacins, Parakakes, Rodent Cake, Gold Crest, Contrax-D, diphacinon, Difenadiona, Difenadione, Diphenadionum, etc.
Chemical name: 2-(diphenylacetyl)indan-1,3-dione
Empirical formula: C23H16O3
Structural formula: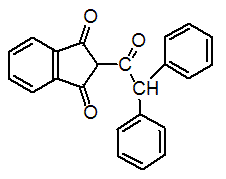 Mol. Weight: 340.37 g/mol
CAS No.: 82-66-6
Specifications
Leading Diphacinone supplier
Diphacinone 96% TC
Packing:
BULK PACKING
Solid: 25kg/Bag, 25kg/Drum, 50kg/Drum etc.
SMALL PACKING
Solid: 1kg/Alu bag, 500g/Alu bag, 200g/Alu bag, 100g/Alu bag, 50g/Alu bag, 15g/Alu bag etc.
Customerized packing label
Diphacinone FAO standard
Professional registration
HAZARDS IDENTIFICATION
Hazard statement(s)
H300: Fatal if swallowed.
H372: Causes damage to organs through prolonged or repeated exposure.
Precautionary statement(s)
P260: Do not breathe dust/fume/gas/mist/vapors/spray.
P264: Wash ... thoroughly after handling.
P270: Do not eat, drink or smoke when using this product.
P301+P310: IF SWALLOWED: Immediately call a POISON CENTER/doctor/...
P314: Get medical advice/attention if you feel unwell.
P321: Specific treatment (see ... on this label).
P330: Rinse mouth.
P405: Store locked up.
P501: Dispose of contents/container to ...
Supplemental Hazard Statements: none
MAMMALIAN TOXICOLOGY
Acute toxicity: 1) Acute oral LD50 for rat: 2.3 a.i.mg/kg. 2) Acute dermal LD50 for rat: 200 a.i.mg/kg. 3) Inhalation LC50 (4 h) for rat: 2.0 a.i.mg/L. 4) Not a skin irritant (rabbits). 5) Not a eye irritant (rabbits). 6) Not a skin sensitiser (guinea pigs).
NOEL: Chronic LD50 for albino rats is 0.1 mg/kg daily. Non-mutagenic in the Ames test.
Classification:
Toxicity class WHO (a.i.): Ia (Extremely hazardous)
US EPA Classification (formulation): I (Danger - Highly toxic)
EC Risk Classification: T+ - Very toxic: R28; T - Toxic: R48/23/24/25
ECOTOXICOLOGY
Effect on birds: low toxicity to birds, acute oral LD50 for Mallard ducks is 3158 a.i.mg/kg. Effect on fish: moderate toxicity to fish, acute 96 hour LC50 for Rainbow trout is 2.8 a.i.mg/L. Effect on aquatic invertebrates: moderate toxicity to aquatic invertebrates, acute 48 hour EC50 for Daphnia magna is 1.8 a.i.mg/L.
ENVIRONMENTAL FATE
Diphacinone's production may result in its release to the environment through various waste streams; its use as a rodenticide will result in its direct release to the environment. If released to air, a vapor pressure of 1.03×10-10 mm Hg at 25 deg C indicates diphacinone will exist solely in the particulate phase in the atmosphere. Particulate-phase diphacinone will be removed from the atmosphere by wet and dry deposition. Diphacinone is rapidly decomposed in water by sunlight and, therefore, may be susceptible to direct photolysis by sunlight. If released to soil, diphacinone is reported to be immobile based upon a column study. A laboratory study indicated most of the chemical would remain in the top 0-6 cm soil layer of packed columns. Volatilization from moist soil surfaces is not expected to be an important fate process based upon a Henry's Law constant of 1.5×10-10 atm-cu m/mole at 25 deg C. Diphacinone is not expected to volatilize from dry soil surfaces based upon its vapor pressure. A biodegradation half-life of 28.3 to 31.7 days when incubated aerobically in sandy loam soils for 3.5 months, suggests that biodegradation may be an important environmental fate process in soil and water. If released into water, diphacinone is expected to adsorb to suspended solids and sediment based upon a column study. Volatilization from water surfaces is not expected to be an important fate process based upon this compound's Henry's Law constant of 1.5×10-10 atm-cu m/mole at 25 deg C. An estimated BCF of 76 suggests the potential for bioconcentration in aquatic organisms is moderate. Diphacinone is stable at pH 7 and 9; a half-life of 44 days was observed at pH 5.
Usage: Rodenticide reported by J. T. Correll et al. (Proc. Soc. Exp. Biol. Med., 1952, 80, 139). Introduced by Velsicol Chemical Corp. (became Novartis Crop Protection AG) and Upjohn Co. (both companies ceased to manufacture and market it). Patents: US 2672483. Manufacturers: Bell. Biochemistry: Anticoagulant; inhibits the vitamin K-dependent steps in the synthesis of coagulation factors II, VII and X.
Application: Requires multiple feedings to produce lethal effects. Duration of action much longer than that of warfarin. Control of rats, mice, voles, prairie dogs (Cynomys spp.), ground squirrels, and other rodents.