Common name: Isoxaflutole
Another name: Merlin; UNII-0T9R0O0EYT, AK279545, IFT cpd , HSDB 7275, (5-Cyclopropylisoxazol-4-yl)(2-(methylsulfonyl)-4-(trifluoromethyl)phenyl)methanone
Chemical Name: (5-cyclopropyl-1,2-oxazol-4-yl)-[2-methylsulfonyl-4-(trifluoromethyl)phenyl]methanone
Empirical formula: C15H12F3NO4S
Structural formula: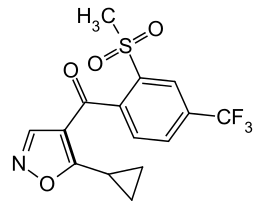 Mol. Weight: 359.319 g/mol
CAS No.: 141112-29-0
Specifications
Leading Isoxaflutole supplier
Isoxaflutole 480 g/L EC
Isoxaflutole 480 g/L SC
Isoxaflutole 75% WDG
Isoxaflutole 95% TC
Packing:
BULK PACKING
Powder: 25KG/Bag, 25KG/Drum, 50KG/Drum etc.
Liquid: 200L/Drum, 20L/Drum, 10L/Drum ect.
SMALL PACKING
Powder: 1kg/Alu bag, 500g/Alu bag, 200g/Alu bag, 100g/Alu bag, 50g/Alu bag, 15g/Alu bag etc.
Liquid: 5L/Drum, 1L/Bottle, 500ml/Bottle, 250ml/Bottle, 100ml/Bottle, 50ml/Bottle etc.
Customerized Packing label
Isoxaflutole FAO standard
Professional registration
HAZARDS IDENTIFICATION
Hazard statement(s)
H361: Suspected of damaging fertility or the unborn child.
H400: Very toxic to aquatic life.
H410: Very toxic to aquatic life with long lasting effects.
Precautionary statement(s)
P201: Obtain special instructions before use.
P202: Do not handle until all safety precautions have been read and understood.
P260: Do not breathe dust/fume/gas/mist/vapors/spray.
P273: Avoid release to the environment.
P281: Use personal protective equipment as required.
P308+P313: IF exposed or concerned: Get medical advice/attention.
P314: Get medical advice/attention if you feel unwell.
P391: Collect spillage.
P405: Store locked up.
P501: Dispose of contents/container to ...
Supplemental Hazard Statements: none
MAMMALIAN TOXICOLOGY
Acute toxicity: 1) Acute oral LD50 for rat: >5000 a.i.mg/kg; 2) Acute dermal LD50 for Rabbit : >2000 a.i.mg/kg; 3) Inhalation LC50 (4 h) for rat: >5.23 a.i. mg/L; 4) Non-irritating to skin (rabbits); 5) Minimal-irritating to eye (rabbits); 6) Not a skin sensitiser (guinea pigs). Isoxaflutole is unlikely to pose a carcinogenic risk to humans from the diet. isoxaflutole is unlikely to be genotoxic, teratogenic, neurotoxicity or systemic toxicity and neurotoxic.
ADI (JMPR): 0.02 mg/kg b.w. [2013]
Classification:
US EPA Classification (formulation): III (Caution - Slightly toxic)
EC Risk Classification: Reproduction risk category 3: R63; N - Dangerous for the environment: R50, R53.
ECOTOXICOLOGY
Effect on birds: low toxicity to birds, acute oral LD50 for mallard ducklings is >2150 a.i.mg/kg. Effect on fish: moderate toxicity to fish, acute 96 hour LC50 for rainbow trout is > 1.7 a.i.mg/L. Effect on aquatic invertebrates: moderate toxicity to aquatic invertebrates, acute 48 hour EC50 for Daphnia magna is >1.5 a.i.mg/L. Effect on algae: moderate toxicity to algae, acute 72 hour EC50 for Pseudokirchneriella subcapitata is > 0.843 a.i.mg/L. Effect on honeybees: Low toxicity to honeybee, contact acute 48 hour LD50 is >100 a.i.μg/bee; oral acute 48 hour LD50 is >73.1 a.i.μg/bee. Effect on earthworms: Low toxicity to earthworms, acute 14 day LC50 for Eisenia foetida is 567 a.i.mg/kg.
ENVIRONMENTAL FATE
Isoxaflutole's production may result in its release to the environment through various waste streams; it's use as a herbicide will result in its direct release to the environment. If released to air, a vapor pressure of 7.50×10-9 mm Hg at 25 deg C indicates isoxaflutole will exist solely in the particulate phase in the ambient atmosphere. Particulate-phase isoxaflutole will be removed from the atmosphere by wet and dry deposition. If released to soil, isoxaflutole is expected to have moderate mobility based upon an estimated Koc of 440. Neither isoxaflutole nor any of its metabolites were detected in the soil below 10 cm during a soil field dissipation study. Volatilization from moist soil surfaces is not expected to be an important fate process based upon a Henry's Law constant of 1.85×10-10 atm-cu m/mole. Isoxaflutole is not expected to volatilize from dry soil surfaces based upon its vapor pressure. Half-lives of isoxaflutole in laboratory soil degradation studies range from 12 hours to 13.9 days. The effects of moisture and temperature on isoxaflutole degradation and the similarity of the degradation patterns between sterile and non-sterile samples indicate that chemical hydrolysis to the active product (2-cyano-3-cyclopropyl-1-(2-methylsulfonyl-4-trifluoromethylphenyl)-propane-1,3-dione) is the primary route of isoxaflutole degradation in soil. If released into water, isoxaflutole may adsorb to suspended solids and sediment based upon the estimated Koc. Biodegradation in water is not expected to compete with hydrolysis based on the results from soil laboratory studies. Volatilization from water surfaces is not expected to be an important fate process based upon this compound's Henry's Law constant. An estimated BCF of 34 suggests the potential for bioconcentration in aquatic organisms is moderate. The half-lives reported for the hydrolysis of isoxaflutole in aqueous mineral buffered solutions were 433, 241, 95, 43, 65, and 5 hours at pH values of 5.2, 6.0, 7.2, 8.0, 8.3, and 9.3, respectively, at 22 deg C. The half-lives at these same pH values were 182, 87, 18, 8, 9, and 1.2 hours, respectively, at 35 deg C. Occupational exposure to isoxaflutole may occur through inhalation and dermal contact with this compound at workplaces where isoxaflutole is produced or used.
Usage: Pyraclostrobin was developed by FMC to control broad-spectrum grass and broad-leaved weed in maize and sugar cane.
Application: Isoxaflutole Mode of action Systemic by either root or foliar uptake. Isoxaflutole Uses, Broad-spectrum grass and broad-leaved weed control in maize and sugar cane. Applied at 75-140 g/ha pre-emergence or pre-plant; the spectrum can be enhanced by mixture with other active ingredients.