Pyrethrum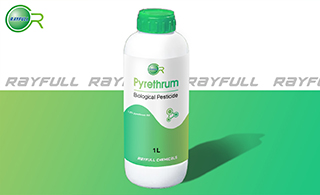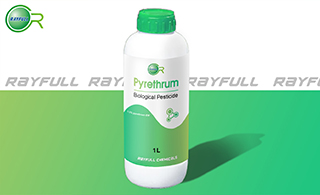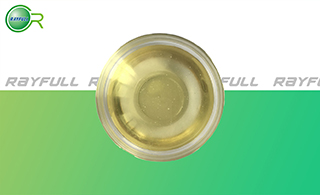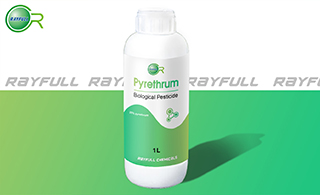 除虫菊
Introduction: Pyrethrum is the crude extract form obtained from flowers of the plant Chrysanthemum cinerariifolium. Pyrethrin refers to a more refined extract of pyrethrum. While pyrethrum extract is composed of 6 esters, both organic compounds mediate insecticidal activities. Pyrethrum-containing mixtures are used as a common insecticide to control specific pest species. Pyrethrum extract is also used used to treat head, body, and pubic lice infections. The active compound is absorbed by the lice and destroys them by acting on their nervous systems but is thought to exert minimal effect on humans.
Common name: Pyrethrum
Another name: Pyrethrin
Chemical name:
Pyrethrin I: (Z)-(S)-2-methyl-4-oxo-3-(penta-2,4-dienyl)cyclopent-2-enyl (1R,3R)- 2,2-dimethyl-3-(2-methylprop-1-enyl)cyclopropanecarboxylate;
Pyrethrin II: (Z)-(S)-2-methyl-4-oxo-3-(penta-2,4-dienyl)cyclopent-2-enyl (E)-(1R, 3R)-3-(2-methoxycarbonylprop-1-enyl)-2,2-dimethylcyclopropanecarboxylate
Empirical formula: C21H28O3
Structural formula: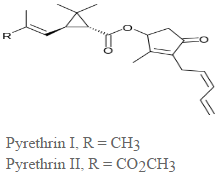 Mol. Weight: 328.45 g/mol
CAS No.: 8003-34-7
Specifications
Leading Pyrethrum supplier
Pyrethrum 1% RR
Pyrethrum 1.5% EW
Pyrethrum 25%
Packing:
BULK PACKING
Powder: 25kg/Bag, 25kg/Drum, 50kg/Drum etc.
Liquid: 200L/Drum, 20L/Drum, 10L/Drum etc.
SMALL PACKING
Powder: 1kg/Alu bag, 500g/Alu bag, 200g/Alu bag, 100g/Alu bag, 50g/Alu bag, 15g/Alu bag etc.
Liquid: 5L/Drum, 1L/Bottle, 500ml/Bottle, 250ml/Bottle, 100ml/Bottle, 50ml/Bottle etc.
Customerized packing label
Pyrethrum FAO standard
Professional registration
HAZARDS IDENTIFICATION
Hazard statement(s)
H302 (100%): Harmful if swallowed.
H312 (100%): Harmful in contact with skin.
H332 (100%): Harmful if inhaled.
H400 (100%): Very toxic to aquatic life.
H410 (100%): Very toxic to aquatic life with long lasting effects.
Precautionary statement(s)
P261: Avoid breathing dust/fume/gas/mist/vapors/spray.
P264: Wash ... thoroughly after handling.
P271: Use only outdoors or in a well-ventilated area.
P273: Avoid release to the environment.
P280: Wear protective gloves/protective clothing/eye protection/face protection.
P301+P312: IF SWALLOWED: call a POISON CENTER/doctor/... IF you feel unwell.
P302+P352: IF ON SKIN: wash with plenty of water.
P304+P340: IF INHALED: Remove person to fresh air and keep comfortable for breathing.
P312: Call a POISON CENTER or doctor/... if you feel unwell.
P322: Specific measures (see ...on this label).
P330: Rinse mouth.
P363: Wash contaminated clothing before reuse.
P391: Collect spillage.
P501: Dispose of contents/container to ...
Supplemental Hazard Statements: none.
MAMMALIAN TOXICOLOGY
Acute toxicity: 1) Acute oral LD50 for rats is 700 mg/kg. 2) Acute dermal LD50 for rats is >2000 mg/kg. 3) Acute inhalation toxicity LC50 (4 h) for rats is 3.4 mg/L. 4) Skin irritation: Non-irritating to skin (rabbits). 5) Eye irritation: Non-irritating to eyes (rabbits). 6) Skin sensitization for guinea pig: Non-sensitizing.
ADI: 0-0.04 mg/kg b.w.
Classification:
WHO Classification: II (Moderately hazardous)
EC Risk Classification: Xn - Harmful: R20/22; N - Dangerous for the environment: R50, R53
US EPA Classification (formulation): III (Caution - Slightly toxic)
ECOTOXICOLOGY
Effect on birds: Acute oral LD50 for Mallard is >5000 mg/kg. Effect on fish: Acute LC50 (96 h) for Rainbow trout is 0.005 mg/l. Effects on aquatic invertebrates: Acute EC50 (48 h) for Daphnia magna is 0.012 mg/l. Effects on algae: Acute 72 hour EC50 is 320 mg/l. Effects on bees: contact acute 48 hour LD50 is 0.013 μg/bee. Effects on earthworms: Acute 14 day LC50 is 23.7 mg/kg.
ENVIRONMENTAL FATE
Two pyrethroid synthetic insecticides, permethrin and cypermethrin, break down in plants to produce a variety of products. Pyrethrins have little residual effect. In stored grain, 50% or more of the applied pyrethrins disappear during the first three or four months of storage. At least 80% of what remains is removed by handling, processing, and cooking. Pyrethrins alone provide limited crop protection because they are not stable. As a result, they are often combined with small amounts of antioxidants to prolong their effectiveness. Pyrethrum compounds are broken down in water to nontoxic products. Pyrethrins are inactivated and decomposed by exposure to light and air. Pyrethrins are also rapidly decomposed by mild acids and alkalis. Stored pyrethrin powders lose about 20% of their potency in one year. As the pyrethrins are purified, their stability decreases; thus, pure pyrethrin-I and pyrethrin-II are the least stable of the pyrethrins. Purified pyrethrins are very expensive and are only available for laboratory uses.
Usage: Pyrethrum is a non-persistent insecticide, used to control a variety of pests on crops, in domestic and public health situations.
Application: Mostly a contact insecticide for household insects, flies, mosquitoes and livestock. Usually applied as aerosols or space sprays but some formulations can be applied to agricultural crops Because of their safety, pyrethrum extracts are used extensively in stock sprays, pet sprays, household sprays, and aerosols, industrial sanitation sprays, and to protect stored food in warehouses, etc.