Specifications
Leading Bacillus thuringiensis supplier
20000ITU/mg Bacillus thuringiensis WP
30000IU/mg Bacillus thuringiensis WP
6.4% Bacillus thuringiensis WP
8000 ITU/mgBacillus thuringiensis WP
Introduction:Bacillus thuringiensis (B.t.) is a naturally-occurring soil bacterium that produces poisons which cause disease in insects. B.t. is considered ideal for pest management because of its specificity to pests and because of its lack of toxicity to humans or the natural enemies of many crop pests. There are different strains of B.t., each with specific toxicity to particular types of insects: B.t. aizawai (B.t.a.) is used against wax moth larvae in honeycombs; B.t. israelensis (B.t.i.) is effective against mosquitoes, blackflies and some midges; B.t. kurstaki (B.t.k.) controls various types of lepidopterous insects, including the gypsy moth and cabbage looper. A newer strain, B.t. san diego, is effective against certain beetle species and the boll weevil. To be effective, B.t. must be eaten by insects during their feeding stage of development, when they are larvae. B.t. is ineffective against adult insects. More than 150 insects, mostly lepidopterous larvae, are known to be susceptible in some way to B.t.
Common name: Bacillus thuringiensis
Another name:B.t.
Empirical formula: C22H32N5O16P
Structural formula: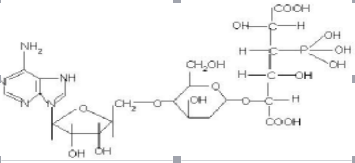 Mol. Weight: 625.90
CAS No.: 68038-71-1
HAZARDS IDENTIFICATION:
NOTE TO PHYSICIAN:
There is no specific antidote if this product is ingested. If a large amount has been ingested and emesis is inadequate, lavage stomach. Treat symptomatically.
SYMPTOMS OF ACUTE EXPOSURE: Exposure may result in eye irritation. A skin sensitization (allergic) reaction may occur in sensitive individuals.
Bacillus thuringiensis ANALYSIS
Bacillus thuringiensis
Activity of B. thuringiensis is measured in i.u. relative to that of a standard product against Trichoplusia ni, Spodoptera exigua, Leptinotarsa decemlineata, Aedes aegypti or other appropriate susceptible species in standardised bioassays. Assays based on the number of spores are not satisfactory for potency determination.
subsp. kurstaki
The active ingredient of Ecogen's B. thuringiensis subsp. kurstaki strains is measured by a modified sodium dodecyl sulfate-polyacrylamide gel electrophoresis technique described by S. Brussock & T. Currier in Analytical chemistry of Bacillus thuringiensis, Hickle and Fitch, Eds. Insect bioassays can also be used to quantify the potency of formulations.
MAMMALIAN TOXICOLOGY
Bacillus thuringiensis
Extensive studies on B. thuringiensis-containing pesticides demonstrate that isolates are not toxic or pathogenic. No adverse effects observed in body weight gain, clinical effects, or on necropsy. Infectivity/pathogenicity studies show that rodents gradually eliminate B. thuringiensis from the body after oral, inhalation or intravenous application.
Observed toxicity at high doses is attributed to the vegetative growth stage, not to the insecticidal protein or to the spores. Early formulations, produced from B. thuringiensis subsp. thuringiensis contained a toxic b-exotoxin.
See review by US EPA, J. T. McClintock et al., Pestic. Sci., 45, 95 (1995). Some data are given under individual subspp. Toxicity class EPA (formulation) III
subsp. kurstaki
Oral No infectivity or toxicity observed in rats at 4.7 ´ 1011 spores/kg. No adverse effects at doses of 1 ´ 108 up to 7 ´ 1012 cfu per rat. Skin and eye No infectivity or toxicity observed in rats at 3.4 ´ 1011 spores/kg. Inhalation No infectivity or toxicity at 5.4 mg/l (2.6 ´ 107 spores/l). NOEL (2 y) for rats 8.4 g/kg b.w. daily; (13 w) for rats 1.3 ´ 109 spores/kg b.w. daily.
subsp. aizawai
Oral No adverse effects at >1 ´ 108 cfu per rat.
subsp. tenebrionis
Oral No adverse effects at >2 ´ 108 cfu per rat (tech.) or at >5 g WP/kg. Skin and eye No skin effects and no systemic involvement (108-109 cfu).
subsp. israelensis
Oral Acute oral LD50 for rats >2.67 g/kg, 1 ´ 1011 spores/kg; for rabbits >2.00 ´ 109 spores/rabbit. Skin and eye Acute percutaneous LD50 for rats >2000 mg/kg (4.6 ´ 1010 spores/kg), rabbits >6.28 g/kg. Inhalation LC50 8.0 ´ 107 spores/rat. NOEL for rats (3 mo) 4 g/kg b.w. daily.
ECOTOXICOLOGY
Bacillus thuringiensis
Fish LC50 >12 ´ 109 spores/l.
subsp. kurstaki
Birds In 63-day feeding trials, chickens receiving up to 5.1 ´ 107 spores/g diet showed no ill-effects. Fish LC50 (96 h) for water gobie (Pomatoschistus minutus) >400 mg/l (as 'Thuricide HP'). Bees Non-toxic to bees; LD50 (oral) >0.1 mg/bee ('Delfin WG').
subsp. tenebrionis
Fish After 28 d exposure to106 cfu/ml, rainbow trout showed no mortality, no pathogenicity. Bees LD50 >100 mg/bee.
subsp. israelensis
Fish LC50 for rainbow trout >370, bluegill >600 (both in mg/l, as 'VectoBac'). LC50 (96 h) for water feeder guppies (Toecilia retriculata) >156 mg/l (as 'Teknar'). Daphnia LC50 (96 h) >25 mg/l (tech.).
ENVIRONMENTAL FATE
Soil/Environment In clay loam of low nutrient status (pH 7.3, pF2, 25 ºC), insecticidal activity declined rapidly in 20 d due to deterioration of the crystals; at pF3, it declined slowly for 500 d; at higher nutrient status, there was a brief 10-fold increase of inoculum applied to soil. As a natural part of the ecosystem, it decays to complex and non-toxic organic compounds.
Packing: 25kg/drum or as required by customer
Usage:
Use sites: Terrestrial food and non-food crops, aquatic food and non-food crops, greenhouse food and non-food crops, forestry, domestic outdoor, indoor stored product use. A reasonable upper bound for possible acres treated would be about 2.1 million acres. An additional 30,000 (50,000 likely maximum) acres of nursery and greenhouse plants and cut flowers and greens are treated annually. B.t. is also applied for mosquito and black fly control on an average of approximately 1 million acres (1.5 million likely maximum) and for use in forests and parks, mostly for gypsy moth control. The forest and park average use is 750,000 acres (1.5 million likely maximum). Base acres are those treated at least once. Some crop acreage is treated more than once annually.
Agricultural sites with a large number of base acres treated are corn, cotton, grapevines and leafy vegetables. Crops with treated include artichokes, blackberries, raspberries, celery, spinach, and cabbage. The remaining usage is primarily on fruits and vegetables.
Application:
Mode of action Insecticide with stomach action. Following ingestion, the crystals of endotoxin are solubilised; the epithelial cells of the gut are damaged, insects stop feeding and eventually starve to death.
Customerized Packing label
Bacillus thuringiensis FAO standard
Professional registration