Streptomycin sulfate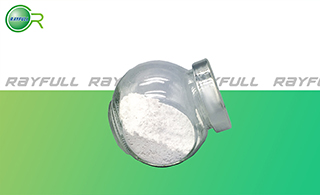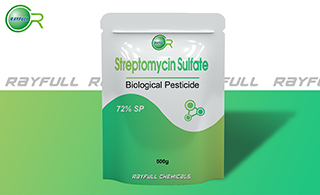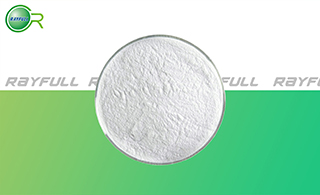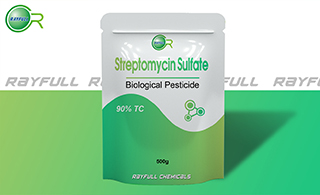 硫酸链霉素
Introduction: Streptomycin sulfate is the sulfate form of streptomycin. Streptomycin class antibiotics are produced by the soil-living Actinomyces Streptomyces. Streptomycin is the first emerging drug which has been proven to be an effective chemotherapy drug in treating tuberculosis. This product must be injected intramuscularly which makes it be limited for long-term application. Streptomycin, obtained from Streptomyces, is currently the most effective and also the least toxic antibiotics for application outside the gastrointestinal tract.This product is a kind of fungicides which may be due to its direct effect on the bacterial ribosome, and the resulting effective inhibition of protein synthesis. It is mainly used for treating extracellular (including the cavity) Mycobacterium tuberculosis.
Common name: Streptomycin sulfate
Another name: Estreptomicina; Phytomycin; Plantomycin; Strepsulfat; Streptomycin sulfate (2:3); etc.
Chemical name: 2-[(1R,2R,3S,4R,5R,6S)-3-(diaminomethylideneamino)-4-[(2R,3R,4R,5S)-3-[(2S,3S,4S,5R,6S)-4,5-dihydroxy-6-(hydroxymethyl)-3-(methylamino)oxan-2-yl]oxy-4-formyl-4-hydroxy-5-methyloxolan-2-yl]oxy-2,5,6-trihydroxycyclohexyl]guanidine;sulfuric acid
Empirical formula: C42H84N14O36S3
Structural formula: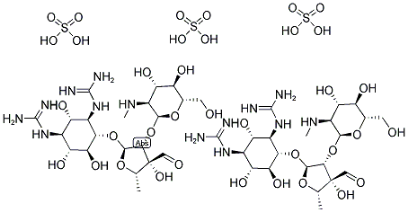 Mol. Weight: 1457.4 g/mol
CAS No.: 3810-74-0
Specifications
Leading Streptomycin sulfate supplier
Streptomycin sulfate 90% TC
Streptomycin sulfate 72% SP
Streptomycin sulfate 10% SP
Streptomycin sulfate 20% SP
Packing:
BULK PACKING
Powder: 25kg/Bag, 25kg/Drum, 50kg/Drum etc.
Liquid: 200L/Drum, 20L/Drum, 10L/Drum etc.
SMALL PACKING
Powder: 1kg/Alu bag, 500g/Alu bag, 200g/Alu bag, 100g/Alu bag, 50g/Alu bag, 15g/Alu bag etc.
Liquid: 5L/Drum, 1L/Bottle, 500ml/Bottle, 250ml/Bottle, 100ml/Bottle, 50ml/Bottle etc.
Customerized packing label
Streptomycin sulfate FAO standard
Professional registration
HAZARDS IDENTIFICATION
Hazard statement(s)
H302 (59.86%): Harmful if swallowed.
H317 (46.94%): May cause an allergic skin reaction.
H335 (40.14%): May cause respiratory irritation.
H361 (27.89%): Suspected of damaging fertility or the unborn child.
Precautionary statement(s)
P201: Obtain special instructions before use.
P202: Do not handle until all safety precautions have been read and understood.
P280: Wear protective gloves/protective clothing/eye protection/face protection.
P281: Use personal protective equipment as required.
P308+P313: IF exposed or concerned: Get medical advice/attention.
P405: Store locked up.
Supplemental Hazard Statements: none.
MAMMALIAN TOXICOLOGY
Acute toxicity: 1) Acute oral LD50 for rats is >9000 mg/kg. 2) Acute dermal LD50 for rats is >600 mg/kg. 3) Acute inhalation toxicity LC50 (4 h) for rats is >4.49 mg/L. 4) Irritation: may cause mild skin irritation or allergic skin reactions.
Classification:
WHO Classification: NL (Not listed)
EC Risk Classification: Xn - Harmful: R22; Xi - Irritant: R36/37/38
US EPA Classification (formulation): Not available
ECOTOXICOLOGY
Effect on birds: Acute oral LD50 for Mallard is >4640 mg/kg. Effect on fish: Acute LC50 (96 h) for Rainbow trout is >180 mg/l. Effects on aquatic invertebrates: Acute EC50 (48 h) for Daphnia magna is 650 mg/l. Effects on bees: contact acute 48 hour LD50 is >100 μg/bee.
ENVIRONMENTAL FATE
Animals Poorly absorbed following oral administration. Not metabolised and most is recovered unchanged in urine and faeces.
Usage: Streptomycin sulfate is used for treating tuberculosis, Brinell and non-hemolytic hammer bacillus caused infectious endocarditis, plague and tularemia, Haemophilus influenzae and gram-negative bacilli caused infections.
Application: Biochemistry Inhibits protein synthesis by binding to the 30S ribosomal sub-unit, causing a mis-reading of the genetic code. Mode of action Bactericide with systemic action. Uses Control of bacterial shot-hole, bacterial rots, bacterial canker, bacterial wilts, fire blight, and other bacterial diseases (especially those caused by gram-positive species of bacteria) in pome fruit, stone fruit, citrus fruit, olives, vegetables, potatoes, tobacco, cotton, and ornamentals, at 50-1000 ppm.