Specifications 
Leading Streptomycin sulfate supplier
72% Streptomycin sulfate SPX
10% Streptomycin sulfate SPX
20% Streptomycin sulfate SPX
Introduction:Streptomycin is an aminocyclitol glycoside antibiotic which interferes with protein synthesis in prokaryotes. This antibiotic is effective against both gram-positive and gram-negative bacteria and is frequently used in cell culture media. Streptomycin inhibits protein synthesis by binding to the 30S ribosomal subunit at the S12 protein thereby inducing a misreading of the genetic code, inhibiting the initiation of translation of DNA which then results in death for a susceptible bacterium.
Common name: Streptomycin Sulfate
Another name:streptomycine, streptomycin sulfate or streptomycin nitrate
Empirical formula: C42H84N14O36S3
Structural formula: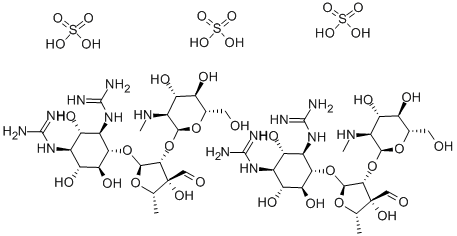 Mol. Weight: 1457.38
CAS No.: 3810-74-0
Hazards identification:
EU Indication of danger:
Harmful
Irritant
Toxic to reproduction: Category 1
EU Risk Phrases:
R22 - Harmful if swallowed.
R43 - May cause sensitization by skin contact.
R61 - May cause harm to the unborn child.
Streptomycin sulfate ANALYSIS
Product analysis by bioassay with suitable bacteria.
MAMMALIAN TOXICOLOGY
Streptomycin
Oral Acute oral LD50 for mice >10 000 mg/kg. Skin and eye Acute percutaneous LD50 for male mice 400, female mice 325 mg/kg. May cause allergic skin reaction. NOEL In chronic toxicity studies on rats, NOEL was 125 mg/kg. Other Acute i.p. LD50 for male mice 340, female mice 305 mg/kg.
streptomycin sesquisulfate
Oral Acute oral LD50 for rats 9000, mice 9000, hamsters 400 mg/kg.
ECOTOXICOLOGY
streptomycin
Birds Practically non-toxic. Fish Slightly toxic. Bees Practically non-toxic.
ENVIRONMENTAL FATE
Animals Poorly absorbed following oral administration. Not metabolised and most is recovered unchanged in urine and faeces.
Packing: 25kg/drum or as required by customer
Usage: Streptomycin is also used as a pesticide, to combat the growth of bacteria, fungi, and algae. Streptomycin controls bacterial and fungal diseases of certain fruit, vegetables, seed, and ornamental crops, and controls algae in ornamental ponds and aquaria. A major use is in the control of fire blight on apple and pear trees. As in medical applications, extensive use can be associated with the development of resistant strains.
APPLICATIONS
Biochemistry Inhibits protein synthesis by binding to the 30S ribosomal sub-unit, causing a mis-reading of the genetic code. Mode of action Bactericide with systemic action. Uses Control of bacterial shot-hole, bacterial rots, bacterial canker, bacterial wilts, fire blight, and other bacterial diseases (especially those caused by gram-positive species of bacteria) in pome fruit, stone fruit, citrus fruit, olives, vegetables, potatoes, tobacco, cotton, and ornamentals, at 50-1000 ppm. Phytotoxicity Chlorosis may occur on grapes, pears, peaches, and some ornamentals. Phytotoxicity is reduced by mixture with ferric chloride or citrate. Formulation types WP; Liquid. Compatibility Incompatible with pyrethrins and alkaline materials.
Customerized Packing label
Streptomycin sulfate FAO standard 
Professional registration