Deltamethrin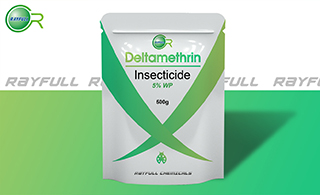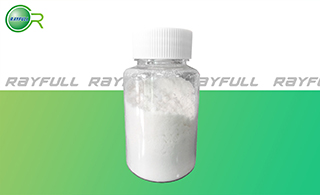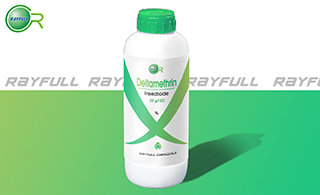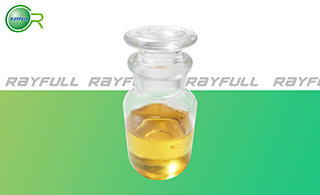 溴氰菊酯
Introduction: Deltamethrin is a synthetic insecticide based structurally on natural pyrethrins, which rapidly paralyze the insect nervous system giving a quick knockdown effect. Deltamethrin has a rapidly disabling effect on feeding insects and for this reason there is hope that it may be useful to control the vectors of "non-persistent" viruses (viruses that can be passed on by the vector within a few minutes of starting to feed on the plant). Deltamethrin's mode of action is thought to be mainly central in action, or at least originate in higher nerve centers of the brain. Death of insects seems to be due to irreversible damage to the nervous system occurring when poisoning lasts more than a few hours. Deltamethrin poisoning occurs through cuticular penetration or oral uptake. The susceptibility of insects is dependent on a variety of factors and can vary, as with many insecticides, according to the environmental conditions. Flies are most susceptible to pyrethroid poisoning shortly before dawn. The LD50 drops by the factor of 2 as compared to full daylight activity.
Common name: Deltamethrin
Another name: Decamethrin; Decamethrine; Butox; Decis; K-Othrine; K-Othrin; Deltamethrine; Crackdown; Deltagran; Esbecythrin; Cislin; Suspend; Zorcis; DeltaGard; New Musigie; etc.
Chemical name: (S)-α-cyano-3-phenoxybenzyl (1R,3R)-3-(2,2-dibromovinyl)-2,2- dimethylcyclopropanecarboxylate
Empirical formula: C22H19Br2NO3
Structural formula:

Mol. Weight: 505.2 g/mol
CAS No.: 52918-63-5
Specifications
Leading Deltamethrin supplier
Deltamethrin 98% TC
Deltamethrin 5% WP
Deltamethrin 25 g/l EC
Packing:
BULK PACKING
Powder: 25kg/Bag, 25kg/Drum, 50kg/Drum etc.
Liquid: 200L/Drum, 20L/Drum, 10L/Drum etc.
SMALL PACKING
Powder: 1kg/Alu bag, 500g/Alu bag, 200g/Alu bag, 100g/Alu bag, 50g/Alu bag, 15g/Alu bag etc.
Liquid: 5L/Drum, 1L/Bottle, 500ml/Bottle, 250ml/Bottle, 100ml/Bottle, 50ml/Bottle etc.
Customerized packing label
Deltamethrin FAO standard
Professional registration
HAZARDS IDENTIFICATION
Hazard statement(s)
H301: Toxic if swallowed.
H331: Toxic if inhaled.
H400: Very toxic to aquatic life.
H410: Very toxic to aquatic life with long lasting effects.
Precautionary statement(s)
P261: Avoid breathing dust/fume/gas/mist/vapors/spray.
P264: Wash ... thoroughly after handling.
P270: Do not eat, drink or smoke when using this product.
P271: Use only outdoors or in a well-ventilated area.
P273: Avoid release to the environment.
P301+P310: IF SWALLOWED: Immediately call a POISON CENTER or doctor/physician.
P304+P340: IF INHALED: Remove victim to fresh air and keep at rest in a position comfortable for breathing.
P311: Call a POISON CENTER or doctor.
P321: Specific treatment (see ... on this label).
P330: Rinse mouth.
P405: Store locked up.
P501: Dispose of contents/container to.
Supplemental Hazard Statements: none.
MAMMALIAN TOXICOLOGY
Acute toxicity: 1) Acute oral LD50 for rats is 87 mg/kg. 2) Acute dermal LD50 for rats is >2000 mg/kg. 3) Acute inhalation toxicity LC50 (4 h) for rats is 0.6 mg/l. 4) Skin irritation: Non-irritating to skin (rabbits). 5) Eye irritation: Slightly irritating to eyes (rabbits). 6) Skin sensitization for guinea pig: Not a skin sensitiser.
NOEL: NOEL (2 y) for rats is 1 mg/kg bw per day, (1 y) for dogs is 1 mg/kg bw per day. Other No genotoxic potential. No carcinogenic potential.
ADI (JMPR) 0-0.01 mg/kg b.w.[1982, 2000, 2002]
Classification:
WHO Classification: II (Moderately hazardous)
EC Risk Classification: T - Toxic: R23/25; N - Dangerous for the environment: R50, R53.
US EPA Classification (formulation): II (Warning - Moderately toxic)
ECOTOXICOLOGY
Effect on birds: Acute oral LD50 for Bobwhite quail is >2250 mg/kg. Effect on fish: Acute LC50 (96 h) for Rainbow trout is 0.00026 mg/l. Effects on aquatic invertebrates: Acute EC50 (48 h) for Daphnia magna is 0.00056 mg/l. Effects on algae: Acute EC50 (72 h) is 9.1 mg/l. Effects on bees: Contact acute (48 h) LD50 is 0.0015 μg/bee, Oral acute (48 h) LD50 is 0.079 μg/bee. Effects on earthworms: Acute 14 day LC50 is >1290 mg/kg.
ENVIRONMENTAL FATE
Breakdown of Chemical in Soil and Groundwater: In soil, degradation occurs within 1-2 weeks. Breakdown of Chemical in Surface Water: Deltamethrin in pond water was rapidly adsorbed, mostly by sediment, in addition to uptake by plants and evaporation into the air. Breakdown of Chemical in Vegetation: About 10 days after use, there are no deltamethrin residues observed on plants. There is no known phytotoxicity to crops.
Usage: Deltamethrin was developed by Roussel Uclaf. It is a fast-acting insecticide used to control a wide range of pests such as cockroaches, spiders, ants, fleas, silverfish, bed bugs, bird mites, mosquitoes, house flies, and beetles, on commercial, industrial and public buildings, public health situations, stored produce.
Application: Biochemistry Like all pyrethroids, prevents the sodium channels from functioning, so that no transmission of nerve impulses can take place. Mode of action Non-systemic insecticide with contact and stomach action. Fast-acting. Uses A potent insecticide, effective by contact and ingestion against a wide range of pests. Crop protection uses include: Coleoptera (2.5-7.5 g/ha), Heteroptera (5.0-7.5 g/ha), Homoptera (6.2-12.5 g/ha), Lepidoptera (5.0-21 g/ha) and Thysanoptera (5-10 g/ha) in cereals, citrus, cotton, grapes, maize, oilseed rape, soya beans, top fruit and vegetables. It controls Acrididae (5.0-12.5 g/ha), and is recommended against locusts. Soil surface sprays (2.5-5.0 g/ha) control Noctuidae. It is used against indoor crawling and flying insects (12.5 mg/m2) and pests of stored grain (0.25-0.5 g/t) and timber (Blattodea, Culicidae, Muscidae). Dip or spray (12.5-75 mg/l), and pour-on (0.75 mg/kg b.w.) applications give good control of Muscidae, Tabanidae, Ixodidae and other Acari on cattle, sheep and pigs, etc.