Eugenol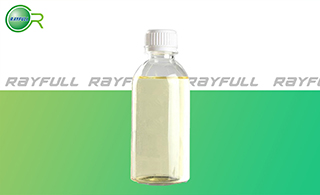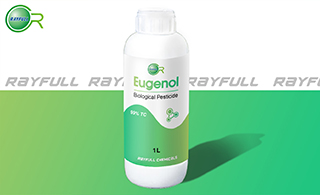 丁香酚
Introduction: Eugenol is an allyl chain-substituted guaiacol, i.e. 2-methoxy-4-(2-propenyl)phenol. Eugenol is a member of the allylbenzene class of chemical compounds. It is a clear to pale yellow oily liquid extracted from certain essential oils especially from clove oil, nutmeg, cinnamon, and bay leaf. It is slightly soluble in water and soluble in organic solvents. It has a pleasant, spicy, clove-like odor. Eugenol is used in perfumeries, flavorings, essential oils and in medicine as a local antiseptic and anaesthetic. It was used in the production of isoeugenol for the manufacture of vanillin, though most vanillin is now produced from petrochemicals or from by-products of paper manufacture.
Common name: Eugenol
Another name: 4-Allyl-2-methoxyphenol; 4-Allylguaiacol; Eugenic acid; Allylguaiacol ; etc.
Chemical name: 4-allyl-2-methoxyphenol
Empirical formula: C10H12O2
Structural formula:

Mol. Weight: 164.2 g/mol
CAS No.: 97-53-0
Specifications
Leading Eugenol supplier
Eugenol 99% TC
Eugenol 0.3% SL
2.1% Eugenol +Carvacrol AS
Packing:
BULK PACKING
Powder: 25kg/Bag, 25kg/Drum, 50kg/Drum etc.
Liquid: 200L/Drum, 20L/Drum, 10L/Drum etc.
SMALL PACKING
Powder: 1kg/Alu bag, 500g/Alu bag, 200g/Alu bag, 100g/Alu bag, 50g/Alu bag, 15g/Alu bag etc.
Liquid: 5L/Drum, 1L/Bottle, 500ml/Bottle, 250ml/Bottle, 100ml/Bottle, 50ml/Bottle etc.
Customerized packing label
Eugenol FAO standard
Professional registration
HAZARDS IDENTIFICATION
Hazard statement(s)
H317 (99.88%): May cause an allergic skin reaction.
H319 (95.01%): Causes serious eye irritation.
Precautionary statement(s)
P261: Avoid breathing dust/fume/gas/mist/vapors/spray.
P264: Wash ... thoroughly after handling.
P272: Contaminated work clothing should not be allowed out of the workplace.
P280: Wear protective gloves/protective clothing/eye protection/face protection.
P302+P352: IF ON SKIN: wash with plenty of water.
P305+P351+P338: IF IN EYES: Rinse cautiously with water for several minutes. Remove contact lenses if present and easy to do - continue rinsing.
P321: Specific treatment (see ... on this label).
P333+P313: IF SKIN irritation or rash occurs: Get medical advice/attention.
P337+P313: IF eye irritation persists: Get medical advice/attention.
P363: Wash contaminated clothing before reuse.
P501: Dispose of contents/container to an approved waste disposal plant.
Supplemental Hazard Statements: none.
MAMMALIAN TOXICOLOGY
Acute toxicity: 1) Acute oral LD50 for rats is >1930 mg/kg. 2) Acute dermal LD50 for rats is >2000 mg/kg. 3) Acute inhalation toxicity LC50 (4 h) for rats is >2.58 mg/L. 4) Skin irritation: Irritant to skin (rabbits). 5) Eye irritation: No data available, considered eye irritant based on skin irritation potential (rabbits). 6) Skin sensitization: Sensitising (Maximisation test with guinea pigs, Local Lymph Node Assay with mice, human reports).
NOEL: (2 y) for rats is 300 mg/kg/day; (2 y) for mice is 450 mg/kg/day. Other No carcinogenic potential for humans.
ADI 0-1.0 mg/kg b.w.
Classification:
WHO Classification: NL (Not listed)
EC Risk Classification: Xn - Harmful: R22, R43; Xi - Irritant: R36, R38; N - Dangerous for the environment: R52
US EPA Classification (formulation): III (Caution - Slightly toxic)
ECOTOXICOLOGY
Effect on birds: Acute oral LD50 for Bobwhite quail is >10000 mg/kg. Effect on fish: Acute LC50 (96 h) for Rainbow trout is 5.6 mg/l. Effects on aquatic invertebrates: Acute EC50 (48 h) for Daphnia magna is 01.9 mg/l. Effects on algae: Acute 72 hour EC50 for Pseudokirchneriella subcapitata is 15.4 mg/l. Effects on bees: contact acute 48 hour LD50 is >200 μg/bee. Effects on earthworms: Acute 14 day LC50 is >1000 mg/kg.
ENVIRONMENTAL FATE
No data on the mobility of eugenol were presented in the dossier. Different eugenol QSAR Koc estimations were considered during the peer review. These estimations revealed the high uncertainty associated with them, and were not considered appropriate for the environmental assessment. Therefore, it was agreed that a batch soil adsorption/desorption study in four soils must be performed with eugenol. In the absence of experimental data, it was agreed to use worst case estimates for environmental modelling (Koc = 10 mL/g (1/n = 0.9) for PEC SW and PEC GW and Koc = 10000 mL/g (1/n = 0.9) for PEC sed ) to represent an appropriate worst case for each of the compartments.
Usage: Eugenol is a natural plant extract which exhibits insecticidal, fungicidal and anti-bacterial activity. At high concentrations it can also be used as a herbicide.
Application: Mode of action: Prohibits the growth of both Gram-positive and Gram-negative bacteria and fungi. Strong insect repellent. Function mechanism: It has good effect on controlling pests. After spraying, it kills the brachsporozoites and pathogen, meanwhile it changes the procedure of disease producing germ invasion, finally it will weaken and eliminate the disease. Product Feature: 1. High-efficiency, Broad-spectrum, Rapid-killing and Safe to the environment. 2. It has special effect on preventing and curing diseases caused by fungi. Best result being achieved if using it at the initial stage of diseases. After 24 hours of spraying, the disease-spot will lose water, then it will turn withered, finally it will be well cured.