Cnidiadin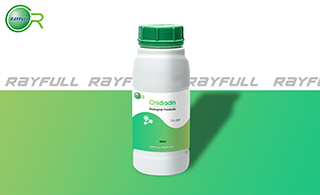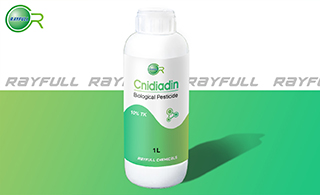 蛇床子素
Introduction: Cnidiadin is a new type pesticide containing insecticidal & fungicidal ingredients, which is extracted from dry and mature seeds of the natural Fructus Cnidii with advanced production technology. As pure botanical insecticide and fungicide certificated by the SIPO, this compound is known as the ideal and no pollution new pesticide against crops pests at present due to its low toxicity to animals and excellent tolerance of environment.
Common name: Cnidiadin
Another name: Osthole; etc.
Chemical name: 7-Methoxy-8-(3-methyl-2-butenyl)-coumarin
Empirical formula: C15H16O3
Structural formula:

Mol. Weight: 244.29 g/mol
CAS No.: 484-12-8
Specifications
Leading Cnidiadin supplier
Cnidiadin 10% TK
Cnidiadin 0.4% EC
Cnidiadin 1.0% EW
6% Cnidiadin+Jinggangmycin WP
Packing:
BULK PACKING
Powder: 25kg/Bag, 25kg/Drum, 50kg/Drum etc.
Liquid: 200L/Drum, 20L/Drum, 10L/Drum etc.
SMALL PACKING
Powder: 1kg/Alu bag, 500g/Alu bag, 200g/Alu bag, 100g/Alu bag, 50g/Alu bag, 15g/Alu bag etc.
Liquid: 5L/Drum, 1L/Bottle, 500ml/Bottle, 250ml/Bottle, 100ml/Bottle, 50ml/Bottle etc.
Customerized packing label
Cnidiadin FAO standard
Professional registration
HAZARDS IDENTIFICATION
Hazard statement(s)
H302: Harmful if swallowed.
H410: Very toxic to aquatic life with long lasting effects.
Precautionary statement(s)
P264: Wash skin thoroughly after handling.
P270: Do not eat, drink or smoke when using this product.
P273: Avoid release to the environment.
P301+P312: IF SWALLOWED: Call a POISON CENTER or doctor ⁄ physician if you feel unwell.
P330: Rinse mouth.
P391: Collect spillage.
P501: Dispose of contents ⁄ container to an approved waste disposal plant.
Supplemental Hazard Statements: none.
MAMMALIAN TOXICOLOGY
Acute toxicity: 1) Acute oral LD50 for rats is 2905 mg/kg. 2) Intraperitoneal LD50 for rats is 600 mg/kg. 3) Intraperitoneal LD50 for mice is 190 mg/kg. 4) Subcutaneous LD50 for mice is 16 mg/kg.
ECOTOXICOLOGY
Toxicity to aquatic organisms.
ENVIRONMENTAL FATE
Not available.
Usage: Cnidiadin is of herbal pesticide and fungicide prepared against the major pests and diseases of plants, whose active ingredients extracted from dry seeds of natural Cnidii plant with an advanced process. It acts as a stomach and contact poison against a broad spectrum of insects, such as Aphid, Cabbage worm, and Tea geometrid. It still has good efficacy to many plant fungal diseases, which can effectively retard multiplication of fungus and reduces the penetration capacity of fungal hyphae so as to develop the immune system of plants. Cnidiadin is a formulated natural bio product, so it is eco friendly to environment and very safe for crops and mammal.
Application: Cnidiadin is a purely natural product which is manufactured with some materials extracted from plant cnidiadin by advanced production process and other high active and strong infiltrative materials. It functions as a stomach and contact poison with a broad spectrum of control to many kinds of insects. It is easily absorbed by soil particles, and easily decomposed by soil microorganism. It is a perfect pesticide with long controlling period and low poisonous.