Rotenone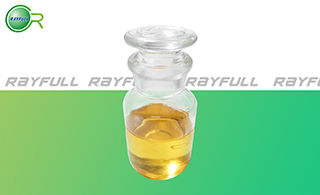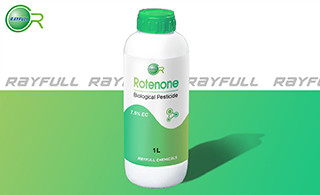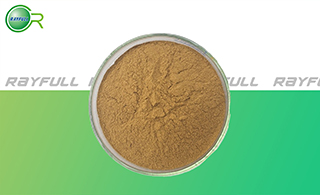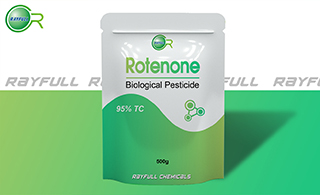 鱼藤酮
Introduction: Rotenone is a selective, non-specific insecticide with some acaricidal properties. Rotenone is used in home gardens for insect control, for lice and tick control on pets and for fish eradications as part of water body management. The use of the pesticide for control of fish and in cranberries is restricted by the Environmental Protection Agency. Rotenone is a rotenoid plant extract obtained from such species as barbasco, cub, haiari, nekoe, and timbo. These plants are members of the pea (Leguminosae) family. Rotenone containing extracts are taken from the roots, seeds and leaves of the various plants. Rotenone is generally classified as a botanical insecticide. Rotenone is a general use pesticide.
Common name: Rotenone
Another name: Dactinol; Paraderil; (-)-Rotenone; Tubatoxin; etc.
Chemical name: (2R,6aS,12aS)-1,2,6,6a,12,12a-hexahydro-2-isopropenyl-8,9-dimethoxy chromeno[3, 4-b]furo[2,3-h]chromen-6-one
Empirical formula: C23H22O6
Structural formula: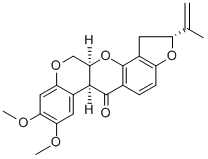 Mol. Weight: 394.42 g/mol
CAS No.: 83-79-4
Specifications
Leading Rotenone supplier
Rotenone 95% TC
Rotenone 2.5% EC
Rotenone 7.5% EC
Packing:
BULK PACKING
Powder: 25kg/Bag, 25kg/Drum, 50kg/Drum etc.
Liquid: 200L/Drum, 20L/Drum, 10L/Drum etc.
SMALL PACKING
Powder: 1kg/Alu bag, 500g/Alu bag, 200g/Alu bag, 100g/Alu bag, 50g/Alu bag, 15g/Alu bag etc.
Liquid: 5L/Drum, 1L/Bottle, 500ml/Bottle, 250ml/Bottle, 100ml/Bottle, 50ml/Bottle etc.
Customerized packing label
Rotenone FAO standard
Professional registration
HAZARDS IDENTIFICATION
Hazard statement(s)
H300: Fatal if swallowed.
H310: Fatal in contact with skin.
H315: Causes skin irritation.
H319: Causes serious eye irritation.
H335: May cause respiratory irritation.
H370: Causes damage to organs.
H372: Causes damage to organs through prolonged or repeated exposure.
H373: Causes damage to organs through prolonged or repeated exposure.
H400: Very toxic to aquatic life.
H410: Very toxic to aquatic life with long lasting effects.
Precautionary statement(s)
P261: Avoid breathing dust/fume/gas/mist/vapors/spray.
P264: Wash ... thoroughly after handling.
P270: Do not eat, drink or smoke when using this product.
P273: Avoid release to the environment.
P280: Wear protective gloves/protective clothing/eye protection/face protection.
P301+P310: IF SWALLOWED: Immediately call a POISON CENTER/doctor/...
P302+P352: IF ON SKIN: wash with plenty of water.
P304+P340: IF INHALED: Remove person to fresh air and keep comfortable for breathing.
P305+P351+P338: IF IN EYES: Rinse cautiously with water for several minutes. Remove contact lenses if present and easy to do - continue rinsing.
P312: Call a POISON CENTER or doctor/... if you feel unwell.
P321: Specific treatment (see ... on this label).
P330: Rinse mouth.
P332+P313: IF SKIN irritation occurs: Get medical advice/attention.
P337+P313: IF eye irritation persists: Get medical advice/attention.
P363: Wash contaminated clothing before reuse.
P391: Collect spillage.
P501: Dispose of contents/container to an approved waste disposal plant.
Supplemental Hazard Statements: none.
MAMMALIAN TOXICOLOGY
Acute toxicity: 1) Acute oral LD50 for rats is >132 mg/kg. 2) Acute dermal LD50 for rats is >5000 mg/kg. 3) Acute inhalation toxicity LC50 (4 h) for rats is 0.0019 mg/L. 4) Skin irritation: Non-irritating to skin (rabbits). 5) Eye irritation: Non-irritating to eyes (rabbits). 6) Skin sensitization for guinea pig: Non-sensitizing.
NOEL: (2 y) for rats is 0.375 mg/kg/day. Other Not mutagenic in bacterial reversion tests.
ADI Not available
Classification:
WHO Classification: II (Moderately hazardous)
EC Risk Classification: T - Toxic: R25; Xi - Irritant: R36/37/38; N - Dangerous for the environment: R50, R53
US EPA Classification (formulation): I, III (Danger - Highly toxic, Caution - Slightly toxic)
ECOTOXICOLOGY
Effect on birds: Acute oral LD50 for Mallard is >2600 mg/kg. Effect on fish: Acute LC50 (96 h) for Rainbow trout is 0.0019 mg/l. Effects on aquatic invertebrates: Acute EC50 (48 h) for Daphnia magna is 0.004 mg/l. Effects on algae: Acute 72 hour EC50 is 0.6 mg/l. Effects on bees: contact acute 48 hour LD50 is >0.24 μg/bee. Effects on earthworms: Acute 14 day LC50 is >150 mg/kg.
ENVIRONMENTAL FATE
Rotenone breaks down readily by exposure to sunlight. Nearly all of the toxicity of the compound is lost in five to six days of spring sunlight or two to three days of summer sunlight. Rotenone is a highly active but short-lived photosensitizer. This means that an organism consuming the compound develops a strong sensitivity to the sun for a short time. A number of photodecomposition products are formed when bean leaves are exposed to light. It is also sensitive to heat with, much of the rotenone quickly lost at high temperatures. Rotenone is rapidly broken down in soil and in water. The half-life in both of these environments is between one and three days. Because of its short half-life and because it does not readily leach from soil, it is not expected to be a groundwater pollutant.
Usage: Rotenone was produced by extraction from Derris roots, Derris root has long been used as a fish poison and its insecticidal properties were known to the Chinese well before it was isolated by E. Geoffrey. It is a insecticide of low persistence now used mainly in fish management and for the control of a wide range of arthropod pests including aphids, thrips and spider mites. Also has livestock applications.
Application: Biochemistry Respiratory inhibitor acting by inhibiting electron transport at NADH-ubiquinone oxidoreductase (complex I). Selectivity appears to originate from different rates of detoxification. Mode of action Selective non-systemic insecticide with contact and stomach action. Secondary acaricidal activity. Uses Now used mainly to control fish populations in fish management; applied at 0.005-0.250 ppm.