Specifications
Leading Rotenone supplier
2.5% rotenone EC
7.5% rotenone EC
95% rotenone TC
Introduction:Rotenone is a selective, non-specific botanical insecticide with some acaricidal properties. Rotenone is used in home gardens for insect control, for lice and tick control on pets, and for fish eradications as part of water body management. Rotenone is a rotenoid plant extract obtained from such species as barbasco, cub, haiari, nekoe, and timbo. These plants are members of the pea (Leguminosae) family. Rotenone-containing extracts are taken from the roots, seeds, and leaves of the various plants.
Common name: Rotenone
another name:tubatoxin
Chemical Name: (2R,6aS,12aS)-1,2,6,6a,12,12a-hexahydro-2-isopropenyl -8,9-dimethoxychromeno[3,4-b]furo[2,3-h]chromen-6-one
Empirical formula: C23H22O6
Structural formula: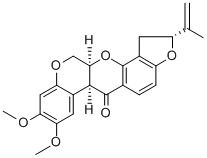 Mol. Weight: 394.42
CAS No.: 83-79-4
Hazards identification:
Hazard statement(s)
H301 Toxic if swallowed.
H315 Causes skin irritation.
H319 Causes serious eye irritation.
H335 May cause respiratory irritation.
H410 Very toxic to aquatic life with long lasting effects.
Precautionary statement(s)
P261 Avoid breathing dust/ fume/ gas/ mist/ vapours/ spray.
P273 Avoid release to the environment.
P301 + P310 IF SWALLOWED: Immediately call a POISON CENTER or doctor/
physician.
P305 + P351 + P338 IF IN EYES: Rinse cautiously with water for several minutes. Remove
contact lenses, if present and easy to do. Continue rinsing.
P501 Dispose of contents/ container to an approved waste disposal plant.
MAMMALIAN TOXICOLOGY
Oral Acute oral LD50 for white rats 132-1500, white mice 350 mg/kg. Skin and eye Acute percutaneous LD50 for rabbits >5.0 g/kg. Inhalation LC50 for male rats 0.0235, female rats 0.0194 mg/l. Other Estimated lethal dose for humans 300-500 mg/kg; more toxic when inhaled than when ingested. Very toxic to pigs. Toxicity class WHO (a.i.) II; EPA (formulation) III, I (EC) EC classification T; R25| Xi; R36/37/38| N; R50, R53
ECOTOXICOLOGY
Fish LC50 (96 h) for rainbow trout 1.9, bluegill sunfish 4.9 mg/l. Bees Not toxic alone to bees, but toxic in combination with pyrethrum.
ENVIRONMENTAL FATE
Animals In rat liver and in insects, the furan ring is enzymically opened and cleaved, leaving behind a methoxy group. The principal metabolite is rotenonone. An alcohol has been found as a further metabolite, this being formed via oxidation of a methyl group of the isopropenyl residue (I. Yamamoto, Residue Rev., 1969, 25, 161, J-I. Fukami et al., Sci., 1967, 155, 713).
Packing: 25kg/drum or as required by customer
Usage: Rotenone is used in solution as a pesticide and insecticide, or in emulsified liquid form as a piscicide. It has a good specificity in toxicology , especially to the cabbage butterfly larvae, diamondback moth and aphids for a strong both contact and stomach poison effect. Rotenone is an excellent organic pesticide dust for the garden. It kills potato beetles, cucumber beetles, flea beetles, cabbage worms, raspberry bugs, and asparagus bugs to name a few. Rotenone bio-degrades naturally in a few days so there is no harmful residue. A light dusting on the leaves of plants will control insects for several days. It is not harmful to humans when used properly.
APPLICATIONS
Biochemistry Respiratory inhibitor acting by inhibiting electron transport at NADH-ubiquinone oxidoreductase (complex I). Selectivity appears to originate from different rates of detoxification. Mode of action Selective non-systemic insecticide with contact and stomach action. Secondary acaricidal activity. Uses Now used mainly to control fish populations in fish management; applied at 0.005-0.250 ppm. Formulation types DP; EC; WP. Compatibility Not compatible with alkaline substances.
Customerized Packing label
Rotenone FAO standard
Professional registration