Matrine 苦参碱 ماترين Матрин
Specifications
Leading Matrine supplier
98% matrineTC ;
4% matrine TK;
0.5% matrine AS;
0.3% matrine AS;
Matrine 0.5%SL
Matrine 0.3%SL
Introduction:Matrine is an alkaloid found in plants of the Sophora familiy. Matrine depresses both glutamate-induced responses and neurally evoked excitatory junctional potentials. This compound acts is also a selective κ-opioid receptor agonist.
Common name: Matrine
another name:Chamomile alkali
Chemical Name: (7aα,13aR,13bα,13cα)-Dodecahydro-1H,5H,10H-dipyrido [2,1-f:3',2',1'-ij][1,6]naphthyridine-10-one
Empirical formula: C15H24N2O
Structural formula: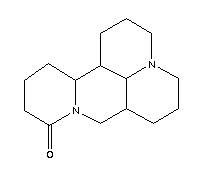 Mol. Weight: 248.36
CAS No.: 519-02-8
HAZARDS IDENTIFICATION:
R-phrase(s)
R22 Harmful if swallowed.
S-phrase(s)
S36/37 Wear suitable protective clothing and gloves.
Information on toxicological effects
Acute toxicity
LD50 Intraperitoneal - rat - 125 mg/kg
LD50 Intraperitoneal - mouse - 150 mg/kg
Skin corrosion/irritation
no data available
Serious eye damage/eye irritation
no data available
Respiratory or skin sensitization
Prolonged or repeated exposure may cause allergic reactions in certain sensitive individuals.
Packing: required by customer
Usage: Matrine is an alkaloid found in plants from the Sophora genus. It has a variety of pharmacological effects, including anti-cancer effects, and action as a kappa opioid receptor and µ-receptor agonist.
Matrine possesses strong antitumor activities in vitro and in vivo. Inhibition of cell proliferation and induction of apoptosis are the likely mechanisms responsible for matrine's antitumor activities.Matrine is a component of the traditional Chinese medical herb Sophora flavescens Ait.
Application:
It is often can be used as suppository, lotion form.
Improve the leucocyte deficiency symptoms so as to enhance the body's immune function.
Resist fungi, antibiotic, It is effective in dealing with trichomonad vaginitis, flagellate disease, amoeba dysentery and fungus dysentery, etc.
It can cure tonsillitis, mastitis, smooth the asthma etc. When taken orally.
Customerized Packing label
Matrine FAO standard
Professional registration