Transfluthrin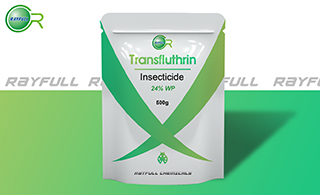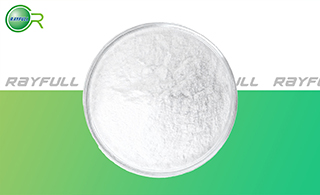 四氟苯菊酯
Introduction: Transfluthrin is a broad spectrum pyrethroid insecticide, usually classified as a biocide and used in domestic and public hygiene situations to control moths, mosquitoes, flies coachroaches - also kills their larvae and eggs.
Common name: Transfluthrin
Another name: UNII-QWL3SKA6EG, QWL3SKA6EG, NCGC00181025-01, 2,3,5,6-tetrafluorobenzyl(1R,3S)-3-(2,2-dichloroethenyl)-2,2-dimethylcyclopropanecarboxylate.
Chemical name: 2,3,5,6-tetrafluorobenzyl (1R,3S)-3-(2,2-dichlorovinyl)-2,2-dimethylcyclopropanecarboxylate
Empirical formula: C15H12Cl2F4O2
Structural formula: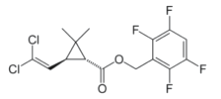 Mol. Weight: 371.15 g/mol
CAS No.: 118712-89-3
Specifications
Leading Transfluthrin supplier
Transfluthrin 24% WP
Transfluthrin 93% TC
Packing:
BULK PACKING
Powder: 25KG/Bag, 25KG/Drum, 50KG/Drum etc.
Liquid: 200L/Drum, 20L/Drum, 10L/Drum ect.
SMALL PACKING
Powder: 1kg/Alu bag, 500g/Alu bag, 200g/Alu bag, 100g/Alu bag, 50g/Alu bag, 15g/Alu bag etc.
Liquid: 5L/Drum, 1L/Bottle, 500ml/Bottle, 250ml/Bottle, 100ml/Bottle, 50ml/Bottle etc.
Customerized Packing label
Transfluthrin FAO standard
Professional registration
HAZARDS IDENTIFICATION
Hazard statement(s)
H315: Causes skin irritation.
H400: Very toxic to aquatic life.
H410: Very toxic to aquatic life with long lasting effects.
Precautionary statement(s)
P264: Wash ... thoroughly after handling.
P273: Avoid release to the environment.
P280: Wear protective gloves/protective clothing/eye protection/face protection.
P302+P352: IF ON SKIN: wash with plenty of water.
P321: Specific treatment (see ... on this label).
P332+P313: IF SKIN irritation occurs: Get medical advice/attention.
P362: Take off contaminated clothing.
P391: Collect spillage.
P501: Dispose of contents/container to ...
Supplemental Hazard Statements: none
MAMMALIAN TOXICOLOGY
Acute toxicity: 1) Acute oral LD50 for rat: >5000 a.i.mg/kg. 2) Acute dermal LD50 for rat: >5000 a.i.mg/kg. 3) Inhalation LC50 (4 h) for rat: 0.513 a.i. mg/L. 4) Non-irritating to skin (rabbits). 5) Non-irritating to eyes (rabbits). 6) Not a skin sensitiser (guinea pigs). Developmental studies in both the rat and rabbit provided no evidence of teratogenicity. In a dietary multi-generation reproductive toxicity study in the rat, there was no evidence of teratogenicity, foetoxicity or reproductive toxicity in rats administered transfluthrin at doses up to 191 mg/kg bw/d. Transfluthrin was not mutagenic in vitro in bacteria, yeast or mammalian cells with or without metabolic activation.
ADI (Australian authorities): 0.003 mg/kg b.w.[TGA 2001]
Classification:
Toxicity class WHO (a.i.): U (Unlikely to present an acute hazard)
EC Risk Classification: Xi - Irritant: R38; N - Dangerous for the environment: R50, R53
ECOTOXICOLOGY
Effect on birds: moderate toxicity to birds, acute LD50 for Bobwhite quail >1890 a.i.mg/kg. Effect on fish: high toxicity to fish, acute 96 hour LC50 for rainbow trout is >0.0007 a.i.mg/L. Effect on aquatic invertebrates: high toxicity to aquatic invertebrates, acute 48 hour EC50 for Daphnia magna is >0.0017 a.i.mg/L. Effect on algae: moderate toxicity to algae, acute 72 hour EC50 for Pseudokirchneriella subcapitata is >0.1 a.i.mg/L. Effect on honeybees: moderate toxicity to honeybees, contact acute 48 hour LD50 >2.0 a.i.μg/bee. Effect on earthworms: moderate toxicity to earthworms, acute 14 day LC50 for Eisenia foetida is 184 a.i.mg/kg.
ENVIRONMENTAL FATE
Tests of hydrolysis for transfluthrin at 25℃ for 36 d gave a half-life of 14 d at pH 9 and >1 year at pH 7 and 5. Under the test conditions transfluthrin did not readily hydrolyse and, considering the very low water solubility and strong adsorption characteristics of the compound, hydrolysis is expected to play a minor role in the degradation of transfluthrin in the environment. Transfluthrin underwent photolysis when irradiated with light of wavelengths > 290 nm with an extrapolated half-life of 17 h. A calculation to determine the rate of degradation of transfluthrin in air estimated the half-life to be 4.1 d.
Usage: Transfluthrin is a broad spectrum pyrethroid insecticide to control ontrol moths, mosquitoes, flies coachroaches in domestic and public hygiene situations. It has strong inspiratory, contact killing and repelling function. The activity is much better than allethrin.
Application: Transfluthrin is a high effective and low toxic pyrethroid insecticide with a broad spectrum of activity. it can control public health pests and warehouse pests effectively. It has a rapid knockdown effect on dipteral (e.g. mosquito) and long lasting residual activity to cockroach or bug. It can be formulated as mosquito coils, mats, mats. Aerosoletc. Because of the high vapor under the normal temperature. Transfluthrin can also be used in the manufacture of insecticide products using for the outside and travelling. expanding the use of pesticide from inside to outside.