CYPROCONAZOLE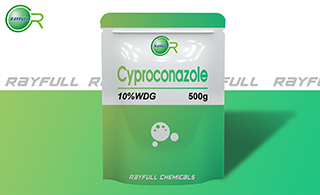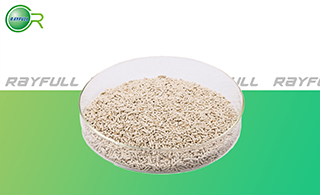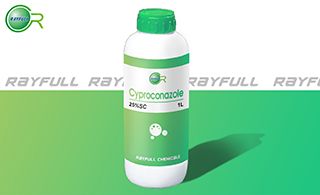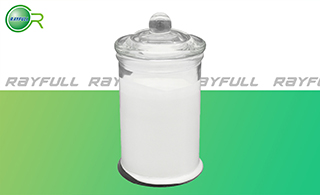 环唑醇
Introduction: A broad spectrum fungicide for cereals including wheat, barley, oats, rye and other field crops (Vegetables including peas & beans, asparagus; Oilseed rape; Sugarbeet; Fruit including apples, peach; Almonds) used to control spetoria, net blotch, brown rust, yellow rust, eyespot, powdery mildews, chocolate spot, ear disease, glume blotch.
Common name: Cyproconazole
Another name: Alto, Cyproconazol, Atemi, Atemi C, Cyproconazole [ISO]
Chemical name: (2RS,3RS;2RS,3SR)-2-(4-chlorophenyl)-3-cyclopropyl-1-(1H-1,2,4-triazol-1-yl)butan-2-ol
Empirical formula: C15H18ClN3O
Structural formula: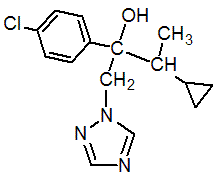 Mol. Weight: 291.78 g/mol
CAS No.: 94361-06-5
Specifications
Leading Cyproconazole supplier
Cyproconazole 10% WDG
Cyproconazole 250 g/L SC
Cyproconazole 95% TC
Packing:
BULK PACKING
Solid: 25kg/Bag, 25kg/Drum, 50kg/Drum etc.
Liquid: 200L/Drum, 20L/Drum, 10L/Drum ect.
SMALL PACKING
Solid: 1kg/Alu bag, 500g/Alu bag, 200g/Alu bag, 100g/Alu bag, 50g/Alu bag, 15g/Alu bag etc.
Liquid: 5L/Drum, 1L/Bottle, 500ml/Bottle, 250ml/Bottle, 100ml/Bottle, 50ml/Bottle etc.
Customerized packing label
Cyproconazole FAO standard
Professional registration
HAZARDS IDENTIFICATION
Hazard statement(s)
H301: Toxic if swallowed.
H360D: May damage the unborn child.
H373: Causes damage to organs through prolonged or repeated exposure.
H400: Very toxic to aquatic life.
H410: Very toxic to aquatic life with long lasting effects.
Precautionary statement(s)
P201: Obtain special instructions before use.
P202: Do not handle until all safety precautions have been read and understood.
P260: Do not breathe dust/fume/gas/mist/vapors/spray.
P264: Wash ... thoroughly after handling.
P270: Do not eat, drink or smoke when using this product.
P273: Avoid release to the environment.
P281: Use personal protective equipment as required.
P301+P310: IF SWALLOWED: Immediately call a POISON CENTER/doctor/...
P308+P313: IF exposed or concerned: Get medical advice/attention.
P314: Get medical advice/attention if you feel unwell.
P321: Specific treatment (see ... on this label).
P330: Rinse mouth.
P391: Collect spillage.
P405: Store locked up.
P501: Dispose of contents/container to ...
Supplemental Hazard Statements: none
MAMMALIAN TOXICOLOGY
Acute toxicity: 1) Acute oral LD50 for rat: <350 a.i.mg/kg. 2) Acute dermal LD50 for rat: >2000 a.i.mg/kg. 3) Inhalation LC50 (4 h) for rat: >5.47 a.i. mg/L. 4) Not irritant to skin (rabbits). 5) Not irritant to eyes (rabbits). 6) Not a skin sensitiser (guinea pigs). NOEL: (1 y) for dogs is 1 mg/kg b.w. daily; (2 y) for rats is 1 mg/kg b.w. daily. Not mutagenic in the Ames assay.
ADI(JMPR): 0.02 mg/kg b.w. [2010]
Classification:
Toxicity class WHO (a.i.): II (Moderately hazardous)
US EPA Classification (formulation): III (Caution - Slightly toxic)
EC Risk Classification: Carcinogen category 3: R40; Reproduction risk category 3: R63; Xn - Harmful: R22; N - Dangerous for the environment: R50, R53
ECOTOXICOLOGY
Effect on birds:high toxicity to birds, acute oral LD50 for Bobwhites quail is 94 a.i.mg/kg. Effect on fish: moderate toxicity to fish, acute 96 hour LC50 for Rainbow trout is 19.0 a.i.mg/L. Effect on aquatic invertebrates: moderate toxicity to aquatic invertebrates, acute 48 hour EC50 for Daphnia magna is >22 a.i.mg/L. Effect on algae: moderate toxicity to algae, acute 72 hour EC50 for Scenedemus subspicatus is 0.099 a.i.mg/L. Effect on honeybees: low toxicity to honeybees, contact acute 48 hour LD50 is >100 a.i.μg/bee; oral acute 48 hour LD50 is >100 a.i.μg/bee. Effect on earthworms: moderate toxicity to earthworms, acute 14 day LC50 for Eisenia foetida is168 a.i.mg/kg.
ENVIRONMENTAL FATE
Cyproconazole's production may result in its release to the environment through various waste streams; its use in the US as a broad spectrum fungicide resulted in its direct release to the environment. If released to air, a vapor pressure of 2.59×10-7 mm Hg at 20 deg C indicates cyproconazole will exist in both the vapor and particulate phases in the atmosphere. Vapor-phase cyproconazole will be degraded in the atmosphere by reaction with photochemically-produced hydroxyl radicals; the half-life for this reaction in air is estimated to be 26 hours. Particulate-phase cyproconazole will be removed from the atmosphere by wet or dry deposition. Cyproconazole does not contain chromophores that absorb at wavelengths >290 nm and therefore is not expected to be susceptible to direct photolysis by sunlight. If released to soil, cyproconazole is expected to have very low mobility based upon an estimated Koc of 900. Volatilization from moist soil surfaces is not expected to be an important fate process based upon an estimated Henry's Law constant of 7.1×10-10 atm-cu m/mole. Cyproconazole may not volatilize from dry soil surfaces based upon its vapor pressure. The half-life of cyproconazole decreased from 129 days in bare soil to 12 days in a full bentgrass turf. If released into water, cyproconazole is expected to adsorb to suspended solids and sediment based upon the estimated Koc. Volatilization from water surfaces is not expected to be an important fate process based upon this compound's estimated Henry's Law constant. An estimated BCF of 38 suggests the potential for bioconcentration in aquatic organisms is moderate. Hydrolysis is not expected to be an important environmental fate process since this compound lacks functional groups that hydrolyze under environmental conditions. Occupational exposure to cyproconazole may occur through inhalation and dermal contact with this compound at workplaces where cyproconazole is produced or used. The general population may be exposed to cyproconazole via ingestion of contaminated food. (SRC)
Usage: Fungicide reported by U. Gisi et al. (Proc. Br. Crop Prot. Conf., 1986, 1, 33; 2, 857). Introduced in France and Switzerland (1989) by Sandoz AG (now Syngenta AG). Patents: US 4664696. Manufacturers: Syngenta
Application: Steroid demethylation inhibitor. Systemic fungicide with protective, curative, and eradicant action. Absorbed rapidly by the plant, with translocation acropetally. Foliar, systemic fungicide for control of Septoria, rust, powdery mildew, Rhynchosporium, Cercospora, and Ramularia in cereals and sugar beet, at 60-100 g/ha; and rust, Mycena, Sclerotinia and Rhizoctonia in coffee and turf.