IPRODIONE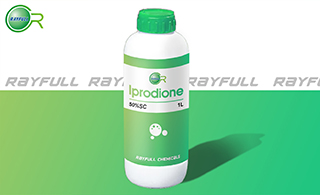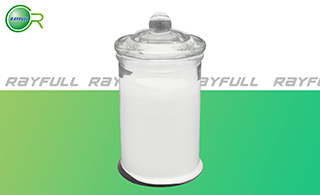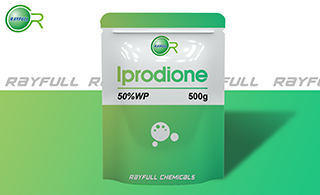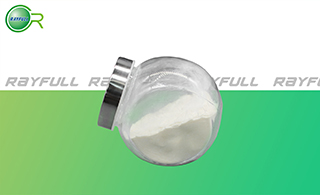 异菌脲
Introduction: Iprodione is a post-harvest fungicide used to control diseases such as Botrytis, Minilia, Rhizoctonia, Sclerotinia - damping-off on vegetables including carrots, lettuce, ornamentals, fruit including apples, pears, plums, apricots and peaches, root crops, cotton, sunflowers and turf.
Common name: Iprodione
Another name: Rovral, Glycophene, Glycophen, Iprodial, Promidione, Verisan, Kidan, Rovral flo, Rovral PM, Anfor, Rovrol, Iprodine, glycophen anphor, Rovral HN, Turbair roval, Roval green, Roval dust, Roval flo, Iprodione-d3
Chemical name: 3-(3,5-dichlorophenyl)-N-isopropyl-2,4-dioxoimidazolidine-1-carboxamide
Empirical formula: C13H13Cl2N3O3
Structural formula: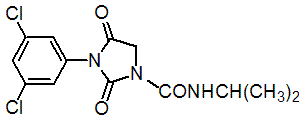 Mol. Weight: 330.17 g/mol
CAS No.: 36734-19-7
Specifications
Leading Iprodione supplier
Iprodione 500 g/L SC
Iprodione 50% WP
Iprodione 97% TC
Packing:
BULK PACKING
Solid: 25KG/Bag, 25KG/Drum, 50KG/Drum etc.
Liquid: 200L/Drum, 20L/Drum, 10L/Drum ect.
SMALL PACKING
Solid: 1kg/Alu bag, 500g/Alu bag, 200g/Alu bag, 100g/Alu bag, 50g/Alu bag, 15g/Alu bag etc.
Liquid: 5L/Drum, 1L/Bottle, 500ml/Bottle, 250ml/Bottle, 100ml/Bottle, 50ml/Bottle etc.
Customerized packing label
Iprodione FAO standard
Professional registration
HAZARDS IDENTIFICATION
Hazard statement(s)
H351: Suspected of causing cancer.
H400: Very toxic to aquatic life.
H410: Very toxic to aquatic life with long lasting effects.
Precautionary statement(s)
P201: Obtain special instructions before use.
P202: Do not handle until all safety precautions have been read and understood.
P273: Avoid release to the environment.
P281: Use personal protective equipment as required.
P308+P313: IF exposed or concerned: Get medical advice/attention.
P391: Collect spillage.
P405: Store locked up.
P501: Dispose of contents/container to ...
Supplemental Hazard Statements: none
MAMMALIAN TOXICOLOGY
Acute toxicity: 1) Acute oral LD50 for rat: >2000 a.i.mg/kg. 2) Acute dermal LD50 for rat: >2000 a.i.mg/kg. 3) Inhalation LC50 (4 h) for rat: >5.16 a.i. mg/L. 4) Non- irritating to skin (rabbits). 5) Non- irritating to eyes (rabbits). 6) Not a skin sensitiser (guinea pigs). NOEL: (2 y) for rats is 150 mg/kg diet; (1 y) for dogs is 18 mg/kg b.w.
ADI (JMPR): 0.05 mg/kg b.w./day [1995]
Classification:
Toxicity class WHO (a.i.): III (Slightly hazardous)
US EPA Classification (formulation): III (Caution - Slightly toxic)
EC Risk Classification: Carcinogen category 3: R40; N - Dangerous for the environment: R50, R53
ECOTOXICOLOGY
Effect on birds:
low
toxicity to birds, acute oral LD50 for
Bobwhite
s
quail
is >2000
a.i.
mg/kg. Effect on fish: moderate toxicity to fish, acute 96 hour LC50 for
Bluegill sunfish
is
3.7
a.i.mg/L. Effect on aquatic invertebrates:
moderate
toxicity to aquatic invertebrates, acute 48 hour EC50 for Daphnia magna is
0.66
a.i.mg/L. Effect on algae:
moderate
toxicity to algae, acute 72 hour EC50 for Raphidocelis subcapitata is
1.8
a.i.mg/L. Effect on honeybees:
low-moderate
toxicity to honeybees,
contact acute
48 hour LD50 is
>200
a.i.μg/bee
, oral acute
48 hour LD50 is
>25
a.i.μg/bee
.
Effect on earthworms:
low
toxicity to earthworms, acute 14 day LC50 is
>1000
a.i.mg/kg.
ENVIRONMENTAL FATE
Iprodione's production and use as a fungicide is expected to result in its direct release to the environment through various waste streams. If released to air, a vapor pressure of 3.75×10-9 mm Hg at 25 deg C indicates iprodione will exist solely in the particulate phase in the ambient atmosphere. Particulate-phase iprodione will be removed from the atmosphere by wet and dry deposition. If released to soil, iprodione is expected to have moderate mobility based upon a Koc of 700. Volatilization from moist soil surfaces is not expected to be an important fate process based upon a Henry's Law constant of 3.12×10-9 atm-cu m/mole. Iprodione is not expected to volatilize from dry soil surfaces based upon its vapor pressure. The US Dept of Agric's Pesticide Properties Database lists a soil half-life of 14 days for iprodione however, in acclimated soil, the half-life can be as low as 2 days; in non-acclimated soil, the half-life can be >35 days. If released into water, iprodione is expected to adsorb to suspended solids and sediment based upon the Koc. Volatilization from water surfaces is not expected to be an important fate process based upon this compound's Henry's Law constant. An estimated BCF of 41 suggests the potential for bioconcentration in aquatic organisms is moderate. The high rate of hydrolysis, however, should be considered especially when determining BCF. Under basic conditions, iprodione will rapidly hydrolyze decreasing the potential for bioconcentration. Based upon experimental measurements at 60 deg C and conversion to pseudo first-order rate constants at 25 deg C, the aqueous hydrolysis half-lives of iprodione at respective pHs of 3, 5, 7, and 9 are 545.2, 37.4, 1.1, and 0.015 days. Occupational exposure to iprodione may occur through dermal contact and inhalation of sprays, especially to workers applying the compound as a pesticide. The general population may be exposed to iprodione through fungicide use on fruit and vegetable gardens, ornamentals, turfgrass, professional use at residential sites, and other sites where non-occupational exposure may occur (e.g. golf courses, parks, and recreational areas). (SRC)
Usage: Fungicide reported by L. Lacroix et al. (Phytiatr. Phytopharm., 1974, 23, 165). Introduced by Rhône-Poulenc Agrochimie (now Bayer CropScience). Some rights, primarily in Europe, acquired by BASF AG in 2003. Manufacturers: BASF; Sannong; Sharda; Sinon; Sundat.
Application: Contact fungicide with protective and curative action. Inhibits germination of spores and growth of fungal mycelium. Used to control of Botrytis, Monilia, Sclerotinia, Alternaria, Corticium, Fusarium, Helminthosporium, Phoma, Rhizoctonia, Typhula spp., etc. Used mainly on sunflowers, cereals, fruit trees, berry fruit, oilseed rape, rice, cotton, vegetables, and vines as a foliar spray, at 0.5-1.0 kg/ha, and on turf, at 3-12 kg/ha. Can also be used as a post-harvest dip, as a seed treatment, or as a dip or spray at planting.