Metalaxy-M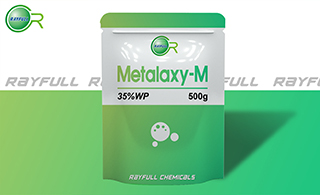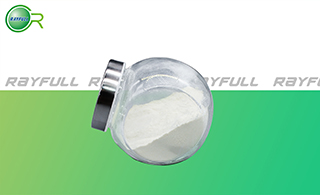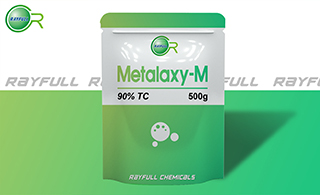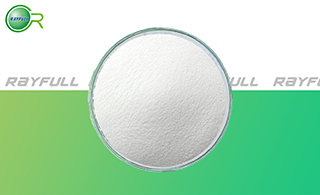 精甲霜灵,高效甲霜灵
Introduction: A fungicide used to control diseases caused by air- and soil-borne pathogens such as foliar and tuber blight, downey mildews, pseudoperonospora humuli, phytophthora infestans, peronospora tabacina on potatoes, tomatoes, hops, lettuce, vegetables, tobacco.
Common name: Metalaxy-M
Another name: Mefenoxam, (-)-Metalaxyl, Methenoxam, Ridomil Gold, Subdue Maxx, R-metalaxyl, Metalaxyl-M [ISO:BSI]
Chemical name: methyl N-(methoxyacetyl)-N-(2,6-xylyl)-D-alaninate
Empirical formula: C15H21NO4
Structural formula: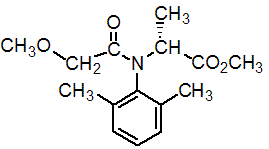 Mol. Weight: 279.33 g/mol
CAS No.: 70630-17-0
Specifications
Leading Metalaxy-M supplier
Metalaxy-M 35% WP
Metalaxy-M 90% TC
Packing:
BULK PACKING
Solid: 25kg/Bag, 25kg/Drum, 50kg/Drum etc.
SMALL PACKING
Solid: 1kg/Alu bag, 500g/Alu bag, 200g/Alu bag, 100g/Alu bag, 50g/Alu bag, 15g/Alu bag etc.
Customerized Packing label
Metalaxy-M FAO standard
Professional registration
HAZARDS IDENTIFICATION
Hazard statement(s)
H302: Harmful if swallowed.
H318: Causes serious eye damage.
Precautionary statement(s)
P264: Wash ... thoroughly after handling.
P270: Do not eat, drink or smoke when using this product.
P280: Wear protective gloves/ eye protection/ face protection.
P301+P312: IF SWALLOWED: call a POISON CENTER/doctor/... IF you feel unwell.
P305+P351+P338: IF IN EYES: Rinse cautiously with water for several minutes. Remove contact lenses, if present and easy to do. Continue rinsing.
P310: Immediately call a POISON CENTER or doctor/physician.
P330: Rinse mouth.
P501: Dispose of contents/container to ...
Supplemental Hazard Statements: none
MAMMALIAN TOXICOLOGY
Acute toxicity: 1) Acute oral LD50 for rat: 375 a.i.mg/kg. 2) Acute dermal LD50 for rat: >2000 a.i.mg/kg. 3) Inhalation LC50 (4 h) for rat: >2.29 a.i. mg/L. 4) Non- irritating to skin (rabbits). 5) Risk of serious damage to eyes (rabbits). 6) Not a skin sensitiser (guinea pigs). NOEL for rats is 2.5, mice is 35.7, dogs is 8.0 mg/kg b.w. daily.
ADI: 0.08 mg/kg b.w./day [Dog, SF=100]
Classification:
EC Risk Classification: Xn - Harmful: R22, R41
ECOTOXICOLOGY
Effect on birds: moderate toxicity to birds, acute oral LD50 for Bobwhites quail is 981 a.i.mg/kg. Effect on fish: low toxicity to fish, acute 96 hour LC50 for Rainbow trout is >100 a.i.mg/L. Effect on aquatic invertebrates: low toxicity to aquatic invertebrates, acute 48 hour EC50 for Daphnia magna is >100 a.i.mg/L. Effect on algae: low toxicity to algae, acute 72 hour EC50 is 36 a.i.mg/L. Effect on honeybees: low-moderate toxicity to honeybees, contact acute 48 hour LD50 is >100 a.i.μg/bee; Oral acute 48 hour LD50 is >97.3 a.i.μg/bee. Effect on earthworms: moderate toxicity to earthworms, acute 14 day LC50 for Eisenia foetida is 830 a.i.mg/kg.
ENVIRONMENTAL FATE
Animals: In mammals, following oral administration, rapidly absorbed and also rapidly and almost completely eliminated in urine and faeces. Metabolism proceeds via hydrolysis of the ester bond, oxidation of the 2-(6)-methyl group and of the phenyl ring and N-dealkylation. Residues in tissues were generally low and there was no evidence for accumulation or retention of metalaxyl-M or its metabolites. Plants: Metabolised by more than 4 types of phase I reaction (oxidation of the phenyl ring, oxidation of the methyl group, cleavage of the methyl ester and N-dealkylation) to form eight metabolites; at phase II, most of the metabolites are sugar conjugated. Soil/Environment DT50 in soil 21 d (realistic range 5-30 d). Koc 45 ml/g (realistic range 30-300 ml/g). Stable to photolysis.
Usage: Reported by C. Nuninger et al. (Proc. Br. Crop Prot. Conf. - Pests Dis., 1996, 1, 41). Developed by Ciba-Geigy AG (now Syngenta AG) and introduced in the US in 1996. Manufacturers: Syngenta.
Application: Inhibits protein synthesis in fungi, by interference with the synthesis of ribosomal RNA. The (R)- (metalaxyl-M) and (S)- isomers have the same mode of action, but differ considerably in effectiveness. Systemic fungicide with protective and curative action, absorbed through the leaves, stems, and roots. Used to control diseases caused by air- and soil-borne Peronosporales on a wide range of temperate, subtropical and tropical crops. Foliar sprays with mixtures of metalaxyl-M and protectant fungicides are recommended to control air-borne diseases caused by Pseudoperonospora humuli on hops, Phytophthora infestans on potatoes and tomatoes, Peronospora tabacina on tobacco, Plasmopara viticola on vines, downy mildews of vegetables, and Bremia lactucae on lettuce, at 100-140 g metalaxyl-M/ha. Soil applications of metalaxyl-M alone are used to control soil-borne pathogens causing root and lower stem rots on avocado and citrus, Phytophthora nicotianae on tobacco, Phytophthora spp. on peppers, and Pythium spp. on many different crops, including ornamentals, at 250-1000 g/ha. Seed treatments control systemic Peronosporaceae on maize, peas, sorghum and sunflowers, at 35 - 300 g/100 kg seed, as well as damping-off (Pythium spp.) of various crops, at 8.25-17.5 g/100 kg seed.