ETOFENPROX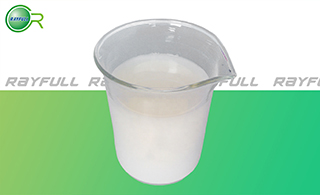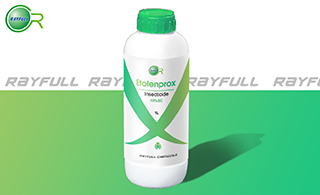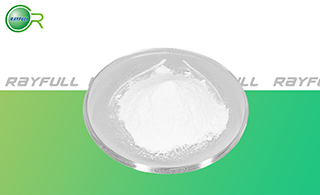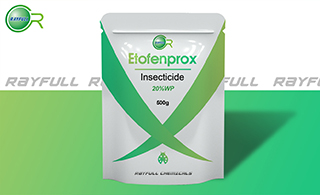 醚菊酯
Introduction: Etofenprox is an insecticide used to control a range of pests including aphids, moths, leaf miners on fruit, vegetables and in paddy fields.
Common name: Etofenprox
Another name: Ethofenprox, Ethophenprox, Trebon, Etofenprox [INN], Etofenproxum [Latin], Etofenprox (INN).
Chemical name: 2-(4-ethoxyphenyl)-2-methylpropyl 3-phenoxybenzyl ether
Empirical formula: C25H28O3
Structural formula: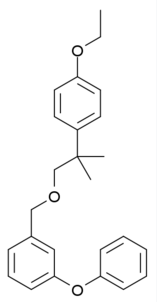 Mol. Weight: 376.49 g/mol
CAS No.: 80844-07-1
Specifications
Leading Etofenprox supplier
Etofenprox 100 g/L SC
Etofenprox 20% WP
Etofenprox 95% TC
Packing:
BULK PACKING
Powder: 25kg/Bag, 25kg/Drum, 50kg/Drum etc.
Liquid: 200L/Drum, 20L/Drum, 10L/Drum ect.
SMALL PACKING
Powder: 1kg/Alu bag, 500g/Alu bag, 200g/Alu bag, 100g/Alu bag, 50g/Alu bag, 15g/Alu bag etc.
Liquid: 5L/Drum, 1L/Bottle, 500ml/Bottle, 250ml/Bottle, 100ml/Bottle, 50ml/Bottle etc.
Customerized packing label
Etofenprox FAO standard
Professional registration
HAZARDS IDENTIFICATION
Hazard statement(s)
H362: May cause harm to breast-fed children.
H400: Very toxic to aquatic life.
H410: Very toxic to aquatic life with long lasting effects.
Precautionary statement(s)
P201: Obtain special instructions before use.
P260: Do not breathe dust/fume/gas/mist/vapors/spray.
P263: Avoid contact during pregnancy/while nursing.
P264: Wash ... thoroughly after handling.
P270: Do not eat, drink or smoke when using this product.
P273: Avoid release to the environment.
P308+P313: IF exposed or concerned: Call a POISON CENTER/doctor/...
P391: Collect spillage.
P501: Dispose of contents/container to ...
Supplemental Hazard Statements: none
MAMMALIAN TOXICOLOGY
Acute toxicity: 1) Acute oral LD50 for rat: >2000 a.i.mg/kg. 2) Acute dermal LD50 for rat: >2000 a.i.mg/kg. 3) Inhalation LC50 (4 h) for rat: >5.88 a.i. mg/L. 4) Non - irritating to skin (rabbits). 5) Non - irritating to eyes (rabbits). 6) Not a skin sensitiser (guinea pigs). Etofenprox is not a human carcinogen (EPA Category C). It is not listed as a carcinogen by NTP or IARC and is not regulated by OSHA. Etofenprox is not a mutagen. Etofenprox is not a teratogen, it is does not have adverse effects on reproduction.
ADI(JMPR): 0.03 mg/kg b.w. [1993, 2011]
Classification:
Toxicity class WHO (a.i.): U (Unlikely to present an acute hazard)
US EPA Classification (formulation): IV (Caution - Not acutely toxic)
EC Risk Classification: N - Dangerous for the environment: R50, R53
ECOTOXICOLOGY
Effect on birds: low toxicity to birds, acute oral LD50 for Colinus virginianus is >2000 a.i.mg/kg. Effect on fish: high toxicity to fish, acute 96 hour LC50 for Rainbow trout is 0.0027 a.i.mg/L. Effect on aquatic invertebrates: high toxicity to aquatic invertebrates, acute 48 hour EC50 for Daphnia magna is 0.0012 a.i.mg/L. Effect on algae: moderate toxicity to algae, acute 72 hour EC50 for Pseudokirchneriella subcapitata is >0.15 a.i.mg/L. Effect on honeybees: high toxicity to honeybees, contact acute 48 hour LD50 is >0.13 a.i.μg/bee; Oral acute 48 hour LD50 is 0.27 a.i.μg/bee. Effect on earthworms: moderate toxicity to earthworms, acute 14 day LC50 is >24.6 a.i.mg/kg.
ENVIRONMENTAL FATE
The low vapor pressure of 1.0×10-7 mmHg indicates that this insecticide is nonvolatile. In addition, the low Henry's law constant of 6.5×10-11 atm m3/mole, indicates that it has low volatility from water. Therefore, it is unlikely to be dispersed in air over a large area from volatilization. There is a possibility for drift when imidacloprid-treated plant materials are dispersed by planting equipment.The hydrolysis half-life of imidacloprid can range from 33–44 days at pH 7 and 25ºC. The aqueous photolysis half-life is less than 3 hours. Imidacloprid has a photolysis half-life of 39 days at the soil surface, with a range of 26.5-229 days when incorporated into the soil. Persistence in soil allows for continual availability for uptake by plant roots. The combination of low Koc between 132-310 and high water solubility of 514 ppm suggests a potential to leach to ground water.
Usage: Etofenprox is a pyrethroid derivative which is used as an insecticide. Mitsui Chemicals Agro Inc. is the main manufacturer of the Chemical. It is also used as an ingredient in flea medication for cats.
Application: Control of rice water weevils, skippers, leaf beetles, leafhoppers, planthoppers, and bugs on paddy rice; and aphids, moths, butterflies, whitefly, leaf miners, leaf rollers, leafhoppers, thrips, borers, etc. on pome fruit, stone fruit, citrus fruit, tea, soya beans, sugar beet, brassicas, cucumbers, aubergines, and other crops. Also used to control public health pests, and on livestock. Etofenprox 10% SC 120-150 g/ha can be used to control rice hopper in rice, 45-60g/ha can be used to control cabbageworm in cabbage, 33-50 mg/kg can be used to control pine caterpillar in forest.