COPPER HYDROXIDE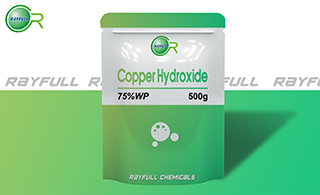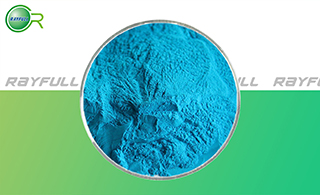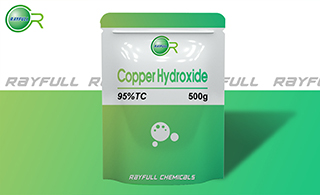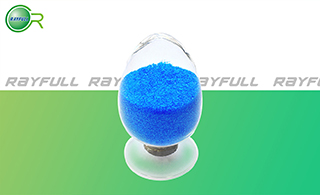 氢氧化铜
Introduction: Copper is used on numerous crops against fungal and bacterial diseases.e.g.: early blight, canker, angular leaf spot, wildfire; Used against disease complexes in tomato, citrus, cucumber, tobacco, and many crops.
Common name: Copper Hydroxide
Another name: copper(II) hydroxide, cupric hydroxide
Chemical name: copper(II) hydroxide
Empirical formula: H2O2Cu
Structural formula:

Mol. Weight: 97.56 g/mol
CAS No.: 20427-59-2
Specifications
Leading Copper Hydroxide supplier
Copper Hydroxide 75% WP
Copper Hydroxide 95% TC
Packing:
BULK PACKING
Solid: 25kg/Bag, 25kg/Drum, 50kg/Drum etc.
SMALL PACKING
Solid: 1kg/Alu bag, 500g/Alu bag, 200g/Alu bag, 100g/Alu bag, 50g/Alu bag, 15g/Alu bag etc.
Customerized Packing label
Copper Hydroxide FAO standard
Professional registration
HAZARDS IDENTIFICATION
Hazard statement(s)
H302: Harmful if swallowed.
H313: May be harmful in contact with skin.
H318: Causes serious eye damage.
Precautionary statement(s)
P280: Wear protective gloves/ eye protection/ face protection.
P305+P351+P338: IF IN EYES: Rinse cautiously with water for several minutes. Remove contact lenses, if present and easy to do. Continue rinsing.
Supplemental Hazard Statements: none
MAMMALIAN TOXICOLOGY
Acute toxicity: 1) Acute oral LD50 for rat: >489 a.i.mg/kg. 2) Acute dermal LD50 for rat: >2000 a.i.mg/kg. 3) Inhalation LC50 (4 h) for rat: 0.45 a.i. mg/L. 4) mild- irritating to skin (rabbits). 5) Severely irritating and corrosive to eyes (rabbits).
ADI: 0.15 mg/kg b.w./day [Dog, SF=100]
Classification:
Toxicity class WHO (a.i.): II (Moderately hazardous)
US EPA Classification (formulation): III (Caution - Slightly toxic)
EC Risk Classification: T - Toxic: R23; Xn - Harmful: R22, R41; N - Dangerous for the environment: R50-53
ECOTOXICOLOGY
Effect on birds: moderate toxicity to birds, acute oral LD50 for Bobwhites quail is 223 a.i.mg/kg. Effect on fish: high toxicity to fish, acute 96 hour LC50 for Rainbow trout is 0.017 a.i.mg/L. Effect on aquatic invertebrates: high toxicity to aquatic invertebrates, acute 48 hour EC50 for Daphnia magna is 0.038 a.i.mg/L. Effect on algae: high toxicity to algae, acute 72 hour EC50 for Pseudokirchneriella subcapitata is 0.009 a.i.mg/L. Effect on honeybees: moderate toxicity to honeybees, contact acute 48 hour LD50 is >44.46 a.i.μg/bee; Oral acute 48 hour LD50 is 49.0 a.i.μg/bee. Effect on earthworms: moderate toxicity to earthworms, acute 14 day LC50 for Eisenia foetida is >677 a.i.mg/kg.
ENVIRONMENTAL FATE
Animals Copper is an essential element and is under homeostatic control in mammals. Plants Plants resist copper accumulation and translocation to stems, leaves or seeds. Most plants growing on soils containing up to 1000 ppm copper showed only slight elevation in copper content compared to plants grown in normal soils. Soil/Environment Copper is a basic chemical element and does not dissipate in the soil. Soluble copper ions in the soil water are rapidly complexed by organic matter, precipitated as hydroxides, or insolubilised as precipitates with sulfides, hydroxides, carbonates, or phosphates.
Usage: Fungicide introduced in USA (1968) by Kennecott Corp. Manufacturers: Crystal; Griffin; Ingeniería Industrial; Sulcosa
Application: Copper-II-ion (Cu++) is taken up by the spores during germination and accumulates until a sufficiently high concentration is achieved to kill the spore cell; the activity is limited to the prevention of spore germination. Protectant fungicide and bactericide. Deposits must be on the crop before fungal spores begin to germinate. For control of Peronosporaceae in vines, hops, and brassicas; Alternaria and Phytophthora in potatoes; Septoria in celery; and Septoria, Leptosphaeria, and Mycosphaerella in cereals, at 2-4 kg/ha or 300-400 g/100 l.