CARBOXIN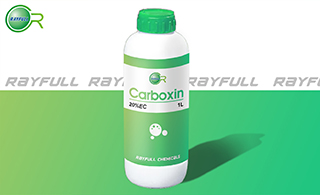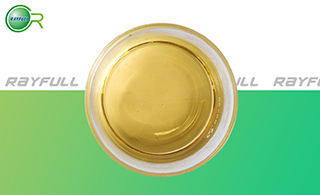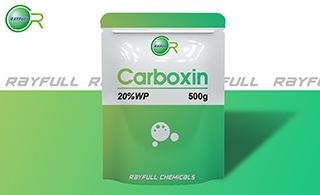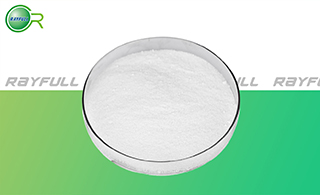 萎锈灵
Introduction: Inhibits mitochondrial function by disrupting complex II (succinate dehydrogenase) in the respiratory electron transport chain. Systemic fungicide. An anilide fungicide for bunts and smuts normally that is normally used as a seed treatment.
Common name: Carboxin
Another name: Carbathiin, Carboxine, Vitavax, Kisvax, Oxatin, Vitavax 75W, DCMO, DMOC, Vitavax 100, Vitavax 735D, Kemikar, Vitaflo 250, Cerevax, Enhance, Murganic, Vitaflow, Cerevax Extra, Enhance Plus, Germate Plus, RTV Vitavax, Pro-Gro, Carbathiine
Chemical name: 5,6-dihydro-2-methyl-1,4-oxathiine-3-carboxanilide
Empirical formula: C12H13NO2S
Structural formula: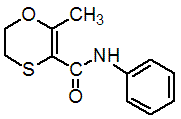 Mol. Weight: 235.30 g/mol
CAS No.: 5234-68-4
Specifications
Leading Carboxin supplier
Carboxin 200 g/L EC
Carboxin 250 g/L SL
Carboxin 20% WP
Carboxin 97% TC
Packing:
BULK PACKING
Solid: 25KG/Bag, 25KG/Drum, 50KG/Drum etc.
Liquid: 200L/Drum, 20L/Drum, 10L/Drum ect.
SMALL PACKING
Solid: 1kg/Alu bag, 500g/Alu bag, 200g/Alu bag, 100g/Alu bag, 50g/Alu bag, 15g/Alu bag etc.
Liquid: 5L/Drum, 1L/Bottle, 500ml/Bottle, 250ml/Bottle, 100ml/Bottle, 50ml/Bottle etc.
Customerized Packing label
Professional registration
HAZARDS IDENTIFICATION
Hazard statement(s)
H302 (81.82%): Harmful if swallowed.
H317 (18.18%): May cause an allergic skin reaction.
H373 (18.18%): Causes damage to organs through prolonged or repeated exposure .
H400 (18.18%): Very toxic to aquatic life.
H410 (18.18%): Very toxic to aquatic life with long lasting effects.
Precautionary statement(s)
P260: Do not breathe dust/fume/gas/mist/vapors/spray.
P261: Avoid breathing dust/fume/gas/mist/vapors/spray.
P264: Wash ... thoroughly after handling.
P270: Do not eat, drink or smoke when using this product.
P272: Contaminated work clothing should not be allowed out of the workplace.
P273: Avoid release to the environment.
P280: Wear protective gloves/ eye protection/ face protection.
P301+P312: IF SWALLOWED: call a POISON CENTER/doctor/... IF you feel unwell.
P302+P352: IF ON SKIN: wash with plenty of water.
P314: Get medical advice/attention if you feel unwell.
P321: Specific treatment (see ... on this label).
P330: Rinse mouth.
P333+P313: IF SKIN irritation or rash occurs: Get medical advice/attention.
P363: Wash contaminated clothing before reuse.
P391: Collect spillage.
P501: Dispose of contents/container to ...
Supplemental Hazard Statements: none
MAMMALIAN TOXICOLOGY
Acute toxicity: 1) Acute oral LD50 for rat: 2588 a.i.mg/kg. 2) Acute dermal LD50 for rat: >4000 a.i.mg/kg. 3) Inhalation LC50 (4 h) for rat: >4.7 a.i. mg/L. 4) Non- irritating to skin (rabbits). 5) Non-irritating to eyes (rabbits). 6) Not a skin sensitiser (guinea pigs). NOEL for chronic toxicity (2 y) for rats is 1 mg/kg b.w. daily.
ADI: 0.0008 mg/kg b.w.[Rat, 2 years, SF=100]
Classification:
oxicity class WHO (a.i.): III (Slightly hazardous)
US EPA Classification (formulation): III (Caution - Slightly toxic)
EC Risk Classification: Carcinogen category 3: R40; Xn - Harmful: R43; N - Dangerous for the environment: R50, R53
ECOTOXICOLOGY
Effect on birds: low toxicity to birds, acute oral LD50 for Bobwhites quail is >2150 a.i.mg/kg. Effect on fish: moderate toxicity to fish, acute 96 hour LC50 forRainbow trout is 2.3 a.i.mg/L. Effect on aquatic invertebrates: moderate toxicity to aquatic invertebrates, acute 48 hour EC50 for Daphnia magna is >57 a.i.mg/L. Effect on algae: moderate toxicity to algae, acute 72 hour EC50 for Pseudokirchneriella subcapitata is 0.48 a.i.mg/L. Effect on honeybees: low toxicity to honeybees, contact acute 48 hour LD50 is >100 a.i.μg/bee; oral acute 48 hour LD50 is >100 a.i.μg/bee. Effect on earthworms: moderate toxicity to earthworms, acute 14 day LC50 for Eisenia foetida is >250 a.i.mg/kg.
ENVIRONMENTAL FATE
Carboxin's production may result in its release to the environment through various waste streams; it's use as a fungicide for commercial seed treatment and on-farm seed treatment will result in its direct release to the environment. If released to air, a vapor pressure of 1.5×10-7 mm Hg at 25 deg C indicates carboxin will exist in both the vapor and particulate phases in the ambient atmosphere. Vapor-phase carboxin will be degraded in the atmosphere by reaction with photochemically-produced hydroxyl radicals and ozone molecules. The half-life for this reaction in air withhydroxyl radicals is estimated to be 3 hours and the half-life for the reaction with atmospheric ozone is estimated to be 5 hours. Vapor-phasecarboxin may also undergo direct photolysis in the atmosphere, based on an aqueous photolysis half-life of 1.5 hours measured in distilled water. Particulate-phase carboxin will be removed from the atmosphere by wet and dry deposition. If released to soil, carboxin is expected to have high mobility based upon a Koc of 71. Volatilization from moist soil surfaces is not expected to be an important fate process based upon an estimated Henry's Law constant of 3.2×10-10 atm-cu m/mole. Carboxin is not expected to volatilize from dry soil surfaces based upon its vapor pressure.Carboxin degrades rapidly in soils under aerobic conditions with a mean half-life of 1.25 days measured in two soils, but its rate of degradation is considerably slower under anaerobic conditions (half-life of about 129 days). If released into water, carboxin is not expected to adsorb to suspended solids and sediment based upon the Koc value. Volatilization from water surfaces is not expected to be an important fate process based upon this compound's estimated Henry's Law constant. Aquatic dissipation half-lives of 34 and 239 days were noted for carboxin under aerobic and anaerobic conditions, respectively. Carboxin did not undergo hydrolysis in aqueous buffered solutions at pH 5,7, and 9. A photolysis half-life of 1.5 hours was observed when carboxin in distilled water was irradiated with light from a xenon arc lamp, suggesting that photolysis in sunlit surface water may be an important environmental fate process. An estimated BCF of 9 suggests the potential for bioconcentration in aquatic organisms is low. Occupational exposure to carboxin may occur through inhalation and dermal contact with this compound at workplaces where it is produced and used. The greatest potential for dermal and inhalation exposure to carboxin is expected for workers who treat seeds with this fungicide in both commercial and farm settings. The EPA has assessed the dietary risk posed by carboxin and determined that carboxin exposure to the general population from food and water are well below the Agency's level of concern for all populations. (SRC)
Usage: Fungicide reported by B. von Schmeling & M. Kulka (Science, 1966, 152, 659). Introduced by Uniroyal Chemical Co., Inc. (now Crompton Corp.) in 1969. Manufacturers: Crompton; Fengle; Hindustan; Jin Hung; Kemira FC; Sundat.
Application: Used to seed treatment for control of smuts and bunts (particularly loose smut, Ustilago spp.), at 50-200 g/100 kg seed, on barley, wheat, and oats; seedling diseases (particularly Rhizoctonia spp.) of barley, wheat, oats, rice, cotton, peanuts, soya beans, vegetables, maize, sorghum, and other crops. The dimorphic forms do not differ in fungicidal activity.