DINICONAZOLE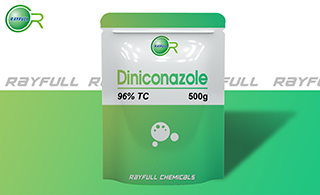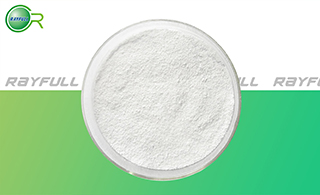 烯唑醇
Introduction: Steroid demethylation (ergosterol biosynthesis) inhibitor. Systemic fungicide with protective and curative action. Used to control of leaf and ear diseases (e.g. powdery mildew, Septoria, Fusarium, smuts, bunt, rusts, scab, etc.) in cereals; powdery mildew in vines; powdery mildew, rust, and black spot in roses; leaf spot in peanuts; Sigatoka disease in bananas; and Uredinales in coffee.
Common name: Diniconazole
Another name: Spotless, Mixor, Ortho spotless, Sumi, Nb (pesticide), Sumi-8, Nb 2, Diclopentezol
Chemical name: (E)-(RS)-1-(2,4-dichlorophenyl)-4,4-dimethyl-2-(1H-1,2,4-triazol-1-yl)pent-1-en-3-ol
Empirical formula: C15H17Cl2N3O
Structural formula: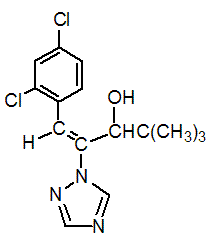 Mol. Weight: 326.22 g/mol
CAS No.: 83657-24-3
Specifications
Leading Diniconazole supplier
Diniconazole 12.5% WP
Diniconazole 96% TC
Packing:
BULK PACKING
Solid: 25KG/Bag, 25KG/Drum, 50KG/Drum etc.
SMALL PACKING
Solid: 1kg/Alu bag, 500g/Alu bag, 200g/Alu bag, 100g/Alu bag, 50g/Alu bag, 15g/Alu bag etc.
Customerized packing label
Professional registration
HAZARDS IDENTIFICATION
Hazard statement(s)
H302: Harmful if swallowed.
H400: Very toxic to aquatic life.
H410: Very toxic to aquatic life with long lasting effects.
Precautionary statement(s)
P264: Wash ... thoroughly after handling.
P270: Do not eat, drink or smoke when using this product.
P273: Avoid release to the environment.
P301+P312: IF SWALLOWED: call a POISON CENTER/doctor/... IF you feel unwell.
P330: Rinse mouth.
P391: Collect spillage.
P501: Dispose of contents/container to ...
Supplemental Hazard Statements: none
MAMMALIAN TOXICOLOGY
Acute toxicity: 1) Acute oral LD50 for rat: 474 a.i.mg/kg. 2) Acute dermal LD50 for rat: >5000 a.i.mg/kg. 3) Inhalation LC50 (4 h) for rat: 2.77 a.i. mg/L. 4) Non- irritating to skin (rabbits). 5) mild-irritating to eyes (rabbits). 6) Not a skin sensitiser (guinea pigs). Available evidence suggests that Dinoconazloe is not carcinogenic.
Classification:
Toxicity class WHO (a.i.): II (Moderately hazardous)
US EPA Classification (formulation): III (Caution - Slightly toxic)
EC Risk Classification: Xn - Harmful: R22; N - Dangerous for the environment: R50, R53
ECOTOXICOLOGY
Effect on birds:
moderate
toxicity to birds, acute oral LD50 for
Bobwhite
s
quail
is
1490
a.i.
mg/kg. Effect on fish: moderate toxicity to fish, acute 96 hour LC50 for
Rainbow trout
is
1.58
a.i.mg/L. Effect on aquatic invertebrates:
moderate
toxicity to aquatic invertebrates, acute 48 hour EC50 for Daphnia magna is
7.4
a.i.mg/L. Effect on honeybees:
moderate
toxicity to honeybees,
contact acute
48 hour LD50 is
20
a.i.μg/bee
.
ENVIRONMENTAL FATE
Animals In rats, following oral administration, diniconazole is rapidly metabolised by hydroxylation of the tert-butyl methyl groups. Within 7 days, 52-87% is excreted in the faeces and 13-46% in the urine. Plants Half-life in cereals is a few weeks.
Usage: Fungicide reported by H. Takano et al. (Noyaku Kagaku, 1983, 8, 575); diniconazole-M is more potent than diniconazole. Introduced by Sumitomo Chemical Co., Ltd and Valent.
Application: Fungicide with protectant, curative, eradicant, translaminar and systemic properties. Inhibits spore germination and mycelial growth, and also shows antisporulant activity. Used to controls the following pathogens at application rates between 100 to 375 g/ha: Erysiphe graminis, Puccinia spp., Leptosphaeria nodorum, Septoria tritici and Pyrenophora teres on temperate cereals; Pyricularia oryzaeand Rhizoctonia solani on rice; Plasmopara viticola and Uncinula necator on vines; Sphaerotheca fuliginea and Pseudoperonospora cubensis on cucurbitaceae; Phytophthora infestans and Alternaria solani on potato and tomato; Mycosphaerella arachidis, Rhizoctonia solani and Sclerotium rolfsii on peanut; Monilinia spp. andCladosporium carpophilum on peach; Pythium spp. and Rhizoctonia solani on turf; Mycosphaerella spp. on banana; Cladosporium caryigenum on pecan; Elsino?fawcettii, Colletotrichum spp. andGuignardia citricarpa on citrus; Colletotrichum spp. and Hemileia vastatrix on coffee. Phytotoxicity Good crop safety, except on some varieties of apple (e.g. McIntosh, Cox).