FOSETYL-ALUMINIUM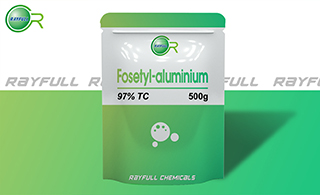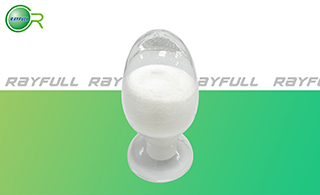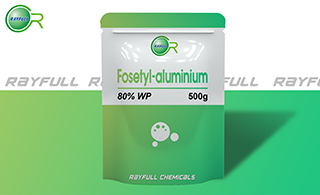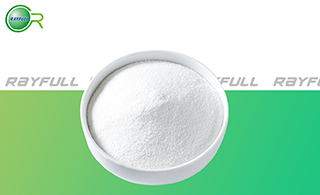 乙磷铝, 三乙膦酸铝
Introduction: Fosetyl-aluminium is a fungicide for various horticultural crops used to control a range of plant pathogens including hytophthora and Pythium root and crown rots, Pseudomonas apple blister spot, Alternaria, etc.
Common name: Fosetyl-aluminium
Another name: Fosetyl-al, Aliette, Phosethyl Al, Phosethyl aluminum, Aluminium phosethyl, FOSETYL AL, Valiant, Rhodax, Mikal, Epal, Aliette Extra, Efosite aluminum, Fosetyl aluminum, Rhone-Poulenc, Aluminum tris(O-ethylphosphonate), Efosite-Al, Aluminum phosethyl, Hy-Cote, Hy-Tona, R6 Triplo, Aluminium tris(ethyl phosphonate), Aluminium triethyl triphosphonate, aluminum tris(ethyl phosphonate), Phosphonic acid monoethyl ester aluminum salt, Phosethyl, Sinophos, Yilinlu, Fosetylaluminium, Fosetyl Aluminium Salt, aluminum;ethoxyphosphinate, Fosetyl-aluminium [ISO]
Chemical name: aluminium tris(ethyl phosphonate)
Empirical formula: C6H18AlO9P3
Structural formula:

Mol. Weight: 354.10 g/mol
CAS No.: 39148-24-8
Specifications
Leading Fosetyl-aluminium supplier
Fosetyl-aluminium 80% WP
Fosetyl-aluminium 97% TC
Packing:
BULK PACKING
Soild: 25kg/Bag, 25kg/Drum, 50kg/Drum etc.
SMALL PACKING
Soild: 1kg/Alu bag, 500g/Alu bag, 200g/Alu bag, 100g/Alu bag, 50g/Alu bag, 15g/Alu bag etc.
Customerized packing label
Fosetyl-aluminium FAO standard
Professional registration
HAZARDS IDENTIFICATION
Hazard statement(s)
H318 (100%): Causes serious eye damage.
Precautionary statement(s)
P280: Wear protective gloves/ eye protection/ face protection.
P305+P351+P338: IF IN EYES: Rinse cautiously with water for several minutes. Remove contact lenses, if present and easy to do. Continue rinsing.
P310: Immediately call a POISON CENTER or doctor/physician.
Supplemental Hazard Statements: none
MAMMALIAN TOXICOLOGY
Acute toxicity: 1) Acute oral LD50 for rat: >2000 a.i.mg/kg. 2) Acute dermal LD50 for rat: >2000 a.i.mg/kg. 3) Inhalation LC50 (4 h) for rat: >5.11 a.i. mg/L. 4) Non-irritating to skin (rabbits). 5) Mild irritating to eyes (rabbits). 6) Not a skin sensitiser (guinea pigs). NOEL: NOAEL (2 y) for dogs is 298 mg/kg b.w. Non-teratogenic and non-mutagenic. Non-carcinogenic.
ADI(JMPR): 1 mg/kg b.w. [2017]
Classification:
Toxicity class WHO (a.i.): U (Unlikely to present an acute hazard)
US EPA Classification (formulation): III (Caution - Slightly toxic)
EC Risk Classification: Xn- Harmful: R41
ECOTOXICOLOGY
Effect on birds: low toxicity to birds, acute LD50 for Bobwhites quail is >8000 a.i.mg/kg. Effect on fish: low toxicity to fish, acute 96 hour LC50 for Rainbow trout is >122 a.i.mg/L. Effect on aquatic invertebrates: low toxicity to aquatic invertebrates, acute 48 hour EC50 for Daphnia magna is >100 a.i.mg/L. Effect on algae: moderate toxicity to algae, acute 72 hour EC50 for Scenedesmus acutus is 5.9 a.i.mg/L. Effect on honeybees: low toxicity to honeybees, contact acute 48 hour LD50 is >100 a.i.μg/bee; Oral acute 48 hour LD50 is 462 a.i.μg/bee. Effect on earthworms: low toxicity to earthworms, acute 14 day LC50 for Eisenia foetida is > 1000 a.i.mg/kg.
ENVIRONMENTAL FATE
Fosetyl-aluminum's production may result in its release to the environment through various waste streams; its use as a fungicide will result in its direct release to the environment. If released to air, a vapor pressure of <7.5×10-10 mm Hg at 25 deg C indicates fosetyl-aluminum will exist solely in the particulate phase in the ambient atmosphere. Particulate-phase fosetyl-aluminum will be removed from the atmosphere by wet or dry deposition. If released to soil, fosetyl-aluminum is expected to have very high to moderate mobility based upon Koc values ranging from 20 to 311. Volatilization from moist soil surfaces is not expected based upon an estimated Henry's Law constant of 3.2×10-15 atm-cu m/mole. Volatilization of fosetyl-aluminum from dry soil surfaces is not expected based upon its vapor pressure. Half-lives ranging from <1 to <1.8 hours have been reported for fosetyl-aluminum in soil. If released into water, fosetyl-aluminum is not expected to adsorb to suspended solids and sediment based upon its Koc values. Volatilization from water surfaces is not expected based upon this compound's estimated Henry's Law constant. An estimated BCF of 3.2 suggests the potential for bioconcentration in aquatic organisms is low. A rate constant of 0.122 d-1 had been reported for the hydrolysis of fosetyl-aluminum; this corresponds to a half-life of 5.7 days. Occupational exposure to fosetyl-aluminum may occur through inhalation and dermal contact with this compound at workplaces where fosetyl-aluminum is produced or used. (SRC)
Usage: Fungicidal activity of aluminium salt reported by D. Horrière et al. (Phytiatr.-Phytopharm., 1977, 26, 3). Fosetyl-aluminium was introduced by Rhône-Poulenc Agrochimie (now Bayer CropScience); first registered in 1977 in France. Manufacturers: Bayer CropScience; Sannong.
Application: Acts by inhibiting germination of spores or by blocking development of mycelium and sporulation. Systemic fungicide, rapidly absorbed through the plant leaves or roots, with translocation both acropetally and basipetally. Used to control of diseases caused by e.g. Phytophthora, Pythium, Plasmopara, Bremia spp., etc. on a variety of crops including vines, fruit (citrus, pineapples, avocados, stone fruit and pome fruit), berries, vegetables, hops, ornamentals and turf. Application rates range from 1-7 kg/ha in citrus, 2 kg/ha in tree nuts, up to 3.6 kg/ha in pome fruit, 2 kg/ha in grapes and 2.4-4.5 kg/ha in cucumber. Also useful activity against several bacterial plant pathogens.