Hexaconazole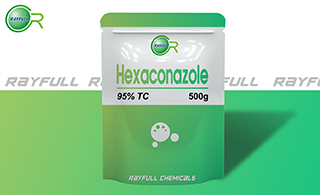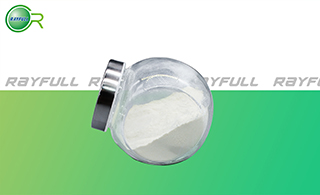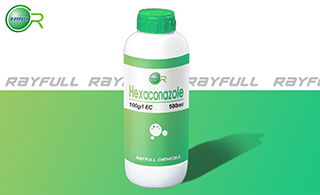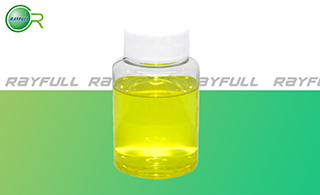 己唑醇
Introduction: Hexaconazole is a kind of broad-spectrum systemic trazole fungicide. It can be used for the treatment of many kind of fungi diseases caused by ascomycetes, basidiomycetes, and imperfect fungi. It is especially suitable for the treatment of fungi diseases such as powdery mildew, rust, scab, brown blotch and anthracnose caused by ascomycetes and basidiomycetes. In China, India and some other Asian countries, it is mainly used for the control of rice sheath blight. It is applicable to apples, grapes, bananas, vegetables, peanuts, and cereal crops as well as ornament plants. Its mechanism of action is through inhibiting the biosynthesis of ergosterol (a key component of the fungi membrane) of fungi.
Common name: Hexaconazole
Another name: Contaf; Sitara; Anvil; Anvil L; Contaf 5EC; Chlortriafol; Anvil Liquid; Anvil (fungicide); PP 523; Hexaconazol; Hexaconazole [BSI:ISO]; etc.
Chemical name: 1-[(EZ)-2-cyano-2-methoxyiminoacetyl]-3-ethylurea
Empirical formula: C14H17Cl2N3O
Structural formula:

Mol. Weight: 314.21 g/mol
CAS No.: 79983-71-4
Specifications
Leading Hexaconazole supplier
Hexaconazole 95% TC
Hexaconazole 100 g/L EC
Hexaconazole 5% EC
Hexaconazole 5% SC
Hexaconazole 50% SC
Packing:
BULK PACKING
Powder: 25kg/Bag, 25kg/Drum, 50kg/Drum etc.
Liquid: 200L/Drum, 20L/Drum, 10L/Drum etc.
SMALL PACKING
Powder: 1kg/Alu bag, 500g/Alu bag, 200g/Alu bag, 100g/Alu bag, 50g/Alu bag, 15g/Alu bag etc.
Liquid: 5L/Drum, 1L/Bottle, 500ml/Bottle, 250ml/Bottle, 100ml/Bottle, 50ml/Bottle etc.
Customerized packing label
Hexaconazole FAO standard
Professional registration
HAZARDS IDENTIFICATION
Hazard statement(s)
H302 (100%): Harmful if swallowed.
H317 (100%): May cause an allergic skin reaction.
H411 (100%): Toxic to aquatic life with long lasting effects.
Precautionary statement(s)
P261: Avoid breathing dust/fume/gas/mist/vapors/spray.
P264: Wash ... thoroughly after handling.
P270: Do not eat, drink or smoke when using this product.
P272: Contaminated work clothing should not be allowed out of the workplace.
P273: Avoid release to the environment.
P280: Wear protective gloves/protective clothing/eye protection/face protection.
P301+P312: IF SWALLOWED: call a POISON CENTER/doctor/... IF you feel unwell.
P302+P352: IF ON SKIN: wash with plenty of water.
P321: Specific treatment (see ... on this label).
P330: Rinse mouth.
P333+P313: IF SKIN irritation or rash occurs: Get medical advice/attention.
P363: Wash contaminated clothing before reuse.
P391: Collect spillage. Hazardous to the aquatic environment
P501: Dispose of contents/container in accordance with local/regional/national/ international regulations.
Supplemental Hazard Statements: none.
MAMMALIAN TOXICOLOGY
Acute toxicity: 1) Acute oral LD50 for rats is 2189 mg/kg. 2) Acute dermal LD50 for rats is >2000 mg/kg. 3) Acute inhalation toxicity LC50 (4 h) for rats is >5.9 mg/L. 4) Skin irritation: Non-irritating to skin (rabbits). 5) Eye irritation: Slightly irritating to eyes (rabbits). 6) Skin sensitization for guinea pig: Non-sensitizing.
NOEL: (104 w) for rats is 5.6 mg/kg/day; (90 d) for dogs is 5.9 mg/kg/day. Other Not carcinogenic. Not genotoxic.
ADI (JMPR) 0-0.005 mg/kg b.w. [1990]
Classification:
WHO Classification: III (Slightly hazardous)
EC Risk Classification: Xn - Harmful: R22, R43; N - Dangerous for the environment: R51, R53
US EPA Classification (formulation): IV (Caution - Not acutely toxic)
ECOTOXICOLOGY
Effect on birds: Acute oral LD50 (8 d) for Mallard is >4000 mg/kg. Effect on fish: Acute LC50 (96 h) for Rainbow trout is 3.4 mg/l. Effects on aquatic invertebrates: Acute EC50 (48 h) for Daphnia magna is >2.9 mg/l. Effects on algae: Acute 72 hour EC50 is >1.7 mg/l. Effects on bees: oral acute 48 hour LD50 is >100 μg/bee. Effects on earthworms: Acute 14 day LC50 is 414 mg/kg.
ENVIRONMENTAL FATE
Animals Readily excreted by mammals, with no significant retention in organs or tissues. Plants For details of the metabolism of hexaconazole in cereals, see M. W. Skidmore et al., Br. Crop Prot. Conf. - Pests Dis., 1990, 3, 1035-1040. Soil/Environment Rapidly degraded in soils in laboratory tests.
Usage: Hexaconazole was developed by ICI Agrochemicals (now Syngenta AG). It is a conazole (imidazole) fungicide used to control both seed-borne and soil-borne diseases especially Ascomycetes and Basidiomycetes spp.
Application: Biochemistry Inhibits ergosterol biosynthesis (steroid demethylation inhibitor). Mode of action Systemic fungicide with protective and curative action. Uses Control of many fungi, particularly Ascomycetes and Basidiomycetes, e.g. Podosphaera leucotricha and Venturia inaequalis on apples, Guignardia bidwellii and Uncinula necator on vines, Hemileia vastatrix on coffee, and Cercospora spp. on peanuts, at 15-250 g/ha. Also used on bananas, cucurbits, peppers and other crops. Phytotoxicity Non-phytotoxic when used as directed. Some injury noted on McIntosh apples.