Propineb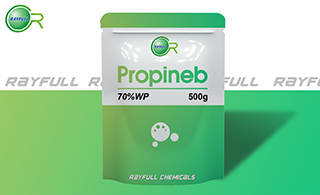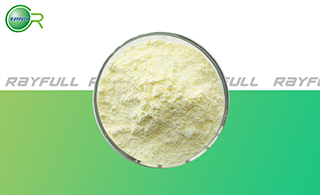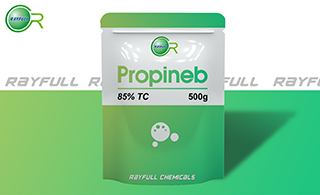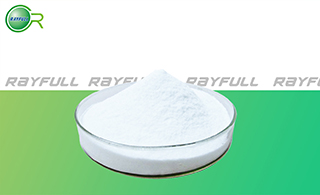 丙森锌
Introduction: Propineb is a protectant foliar-applied fungicide with long residual activity and belongs to the dithiocarbamate group of compounds. It is used as a protective treatment on several crops for the control of various fungi, especially Oomycetes, Ascomycetes, Basidiomycetes and Fungi imperfecti. Propineb controls blight on potatoes and tomatoes, downy mildew on hops and vines, apple scab, blue mould on tobacco and Sigatoka disease of bananas. It can also be used on gooseberries, black currants, celery and cereals.
Common name: Propineb
Another name: Propinebe; Airone; Taifen; Antracol; Propylenebis (dithiocarbamato)zinc; Methylzineb; Mezineb; Bayer 46131; Zinc propylene bisdithiocarbamate; etc.
Chemical name: polymeric zinc propylenebis(dithiocarbamate)
Empirical formula: (C5H8N2S4Zn)x
Structural formula:

Mol. Weight: 289.80 g/mol (monomer)
CAS No.: 12071-83-9
Specifications
Leading Propineb supplier
Propineb 85% TC
Propineb 70% WP
Packing:
BULK PACKING
Powder: 25kg/Bag, 25kg/Drum, 50kg/Drum etc.
Liquid: 200L/Drum, 20L/Drum, 10L/Drum etc.
SMALL PACKING
Powder: 1kg/Alu bag, 500g/Alu bag, 200g/Alu bag, 100g/Alu bag, 50g/Alu bag, 15g/Alu bag etc.
Liquid: 5L/Drum, 1L/Bottle, 500ml/Bottle, 250ml/Bottle, 100ml/Bottle, 50ml/Bottle etc.
Customerized packing label
Propineb FAO standard
Professional registration
HAZARDS IDENTIFICATION
Hazard statement(s)
H312 (100%): Harmful in contact with skin.
H317 (25%): May cause an allergic skin reaction.
H373 (25%): Causes damage to organs through prolonged or repeated exposure.
H400 (25%): Very toxic to aquatic life.
Precautionary statement(s)
P260: Do not breathe dust/fume/gas/mist/vapors/spray.
P261: Avoid breathing dust/fume/gas/mist/vapors/spray.
P272: Contaminated work clothing should not be allowed out of the workplace.
P273: Avoid release to the environment.
P280: Wear protective gloves/protective clothing/eye protection/face protection.
P302+P352: IF ON SKIN: wash with plenty of water.
P312: Call a POISON CENTER or doctor/... if you feel unwell.
P314: Get medical advice/attention if you feel unwell.
P321: Specific treatment (see ... on this label).
P322: Specific measures (see ...on this label).
P333+P313: IF SKIN irritation or rash occurs: Get medical advice/attention.
P363: Wash contaminated clothing before reuse.
P391: Collect spillage.
P501: Dispose of contents/container to an approved waste disposal plant.
Supplemental Hazard Statements: none.
MAMMALIAN TOXICOLOGY
Acute toxicity: 1) Acute oral LD50 for rats is >5000 mg/kg. 2) Acute dermal LD50 for rats is >5000 mg/kg. 3) Acute inhalation toxicity LC50 (4 h) for rats is > 2.42 mg/L. 4) Skin irritation: Non-irritating to skin (rabbits). 5) Eye irritation: Non-irritating to eyes (rabbits). 6) Skin sensitization for guinea pig: Not a sensitizer.
NOEL: (2 y) for rats is 2.5 mg/kg/day; (1 y) for dogs is 4.3 mg/kg/day. Other Not carcinogenic. Not genotoxic.
ADI (JMPR) 0-0.007 mg/kg b.w. [1993, 2004]
Classification:
WHO Classification: U (Unlikely to present an acute hazard)
EC Risk Classification: Xn - Harmful: R20, R48/22, R43; N - Dangerous for the environment: R50
US EPA Classification (formulation): IV (Caution - Not acutely toxic)
ECOTOXICOLOGY
Effect on birds: Acute oral LD50 for Japanese quail is >5000 mg/kg. Effect on fish: Acute LC50 (96 h) for Rainbow trout is 0.33 mg/l. Effects on aquatic invertebrates: Acute EC50 (48 h) for Daphnia magna is 1.5 mg/l. Effects on algae: Acute 72 hour EC50 for Pseudokirchneriella subcapitata is 0.055 mg/l. Effects on bees: contact acute 48 hour LD50 is >100 μg/bee, oral acute 48 hour LD50 is >107.9 μg/bee. Effects on earthworms: Acute 14 day LC50 is >700 mg/kg.
ENVIRONMENTAL FATE
EHC 78 (WHO, 1988; general review of dithiocarbamates). Animals Elimination is quick; almost 91% is excreted within 48 h in the urine and faeces, and 7% with exhaled air. Plants Residues of the applied compound including its metabolite propylenethiourea (PTU) were found mainly on the plant surface. Only the metabolites propyleneurea and 4-methyl-imidazoline were taken up into the plant, in very small amounts. PTU has to be considered as a relevant residue with regard to its toxicological properties. Soil/Environment For behaviour in soil, degradation is very rapid. Propineb can be classified as not mobile in soils.
Usage: Propineb was introduced by Bayer AG. Propineb is a fungicide, it is used to control a wide range of fungal diseases, including downy mildew, brown rot, black rot, red fire, leaf spot, and blight in crops such as grape , tomatoes, potatoes, berries, citrus, rice and tea.
Application: Biochemistry Non-specific, multi-site fungicide. Mode of action Basic foliar fungicide with protective action. Conidia or germinating conidia are killed by contact. Uses Control of downy mildew, black rots, red fire disease, and grey mould on vines; scab and brown rot on apples and pears; leaf spot diseases on stone fruit; Alternaria and Phytophthora blights, downy mildew, Septoria leaf spot, and leaf mould in tomatoes; Phytophthora and Alternaria blight of potatoes; downy mildew (blue mould) on tobacco; rusts and leaf spot diseases on ornamentals; rusts, leaf spot diseases and downy mildews on vegetables. Also used on citrus fruit and berry fruit, rice and tea. Phytotoxicity Non-phytotoxic when used as recommended, also in young sensitive growing stages.