Triadimenol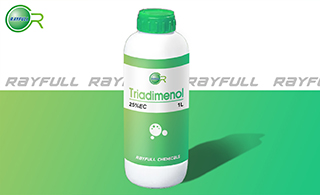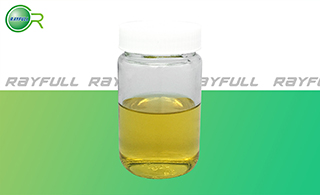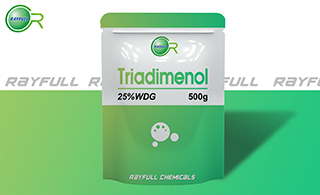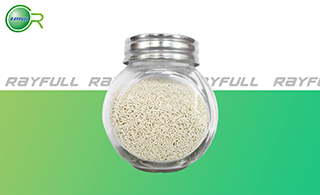 三唑醇
Introduction: Triadimenol It is a systemic broad-spectrum seed treatment fungicide which can kill pathogens attached to the internal and external surface of seed. It works through the inhibition of fungal ergosterol biosynthesis. It's used on cereal grains to control powdery mildew and smut diseases such as loose smut, stinking smut and root rot on wheat, loose smut, rust, leaf stripe disease and net blotch etc on barley, and it is more than 90% effective when 100kg of seeds are treated with 30 ~ 50g of 25% DS. It is more than 90% effective when 100kg of seeds are treated with 42 ~ 75g of 25% DS to control smut on corn and sorghum head smut. If 100kg of seeds are treated with 30g of triadimenol and 5g of furidazol, it will be 92% to 100% effective for the control of loose smut, stripe disease, net blotch and root rot on spring barley , loose smut, stinking smut, snow mold on winter wheat, and leaf stripe disease, loose smut on spring oat.
Common name: Triadimenol
Another name: Baytan; Bayfidan; Spinnaker; Summit; Triafol; Baytan 15; Triaphol; Tridan Fungicide; Bayfrdan EW; Baytan TF 3479B; Caswell No. 074A; BAY KWG 0519; Baytoan; etc.
Chemical name: (1RS,2RS;1RS,2SR)-1-(4-chlorophenoxy)-3,3-dimethyl-1-(1H-1,2,4-triazol-1-yl) butan-2-ol
Empirical formula: C14H18ClN3O2
Structural formula: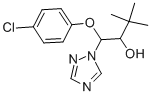 Mol. Weight: 295.76 g/mol
CAS No.: 55219-65-3
Specifications
Leading Triadimenol supplier
Triadimenol 95% TC
Triadimenol 25% EC&WDG
Packing:
BULK PACKING
Powder: 25kg/Bag, 25kg/Drum, 50kg/Drum etc.
Liquid: 200L/Drum, 20L/Drum, 10L/Drum etc.
SMALL PACKING
Powder: 1kg/Alu bag, 500g/Alu bag, 200g/Alu bag, 100g/Alu bag, 50g/Alu bag, 15g/Alu bag etc.
Liquid: 5L/Drum, 1L/Bottle, 500ml/Bottle, 250ml/Bottle, 100ml/Bottle, 50ml/Bottle etc.
Customerized packing label
Triadimenol FAO standard
Professional registration
HAZARDS IDENTIFICATION
Hazard statement(s)
H302 (100%): Harmful if swallowed.
H312+H332 (46.94%): Harmful in contact with skin or if inhaled.
H332 (71.43%): Harmful if inhaled.
H412 (71.43%): Harmful to aquatic life with long lasting effects.
Precautionary statement(s)
P261: Avoid breathing dust/fume/gas/mist/vapors/spray.
P264: Wash ... thoroughly after handling.
P270: Do not eat, drink or smoke when using this product.
P271: Use only outdoors or in a well-ventilated area.
P273: Avoid release to the environment.
P280: Wear protective gloves/protective clothing/eye protection/face protection.
P301+P312: IF SWALLOWED: call a POISON CENTER/doctor/... IF you feel unwell.
P302+P352: IF ON SKIN: wash with plenty of water.
P304+P312: IF INHALED: Call a POISON CENTER/doctor/... if you feel unwell.
P304+P340: IF INHALED: Remove person to fresh air and keep comfortable for breathing.
P312: Call a POISON CENTER or doctor/... if you feel unwell.
P322: Specific measures (see ...on this label).
P330: Rinse mouth.
P363: Wash contaminated clothing before reuse.
P501: Dispose of contents/container to an approved waste disposal plant.
Supplemental Hazard Statements: none.
MAMMALIAN TOXICOLOGY
Acute toxicity: 1) Acute oral LD50 for rats is 721 mg/kg. 2) Acute dermal LD50 for rats is >5000 mg/kg. 3) Acute inhalation toxicity LC50 (4 h) for rats is >0.954 mg/L. 4) Skin irritation: Non-irritating to skin (rabbits). 5) Eye irritation: Non-irritating to eyes (rabbits). 6) Skin sensitization for guinea pig: Not sensitizing (Magnusson & Kligman maximization test).
NOEL: (2 y) for rats is 25 mg/kg/day; (13 w) for dogs is 21.1 mg/kg/day. Other Not carcinogenic. Not genotoxic.
ADI (JMPR) 0-0.03 mg/kg b.w. [2004]
Classification:
WHO Classification: II (Moderately hazardous)
EC Risk Classification: Reproduction risk category 2: R62, R64, R63; Xn - Harmful: R22
US EPA Classification (formulation): III (Caution - Slightly toxic)
ECOTOXICOLOGY
Effect on birds: Acute oral LD50 for Bobwhite quail is >2000 mg/kg. Effect on fish: Acute LC50 (96 h) for Rainbow trout is 21.3 mg/l. Effects on aquatic invertebrates: Acute EC50 (48 h) for Daphnia magna is 51 mg/l. Effects on algae: Acute 72 hour EC50 for Pseudokirchneriella subcapitata is 9.6 mg/l. Effects on bees: contact acute 48 hour LD50 is >200 μg/bee, oral acute 48 hour LD50 is >224.8 μg/bee. Effects on earthworms: Acute 14 day LC50 is >390.5 mg/kg.
ENVIRONMENTAL FATE
Animals In rats, triadimenol was metabolised mainly by oxidation of the tert-butyl moiety to the corresponding alcohol and then to carboxylic acid. A small fraction of these compounds was conjugated. Oxidation at the hydroxyl group to the corresponding keto compound (triadimefon, q.v.) and its subsequent oxidation at the tert-butyl moiety was of secondary importance. Plants The most important breakdown reactions of triadimenol in plants after seed treatment and spray application are conjugation of the a.i. with various sugar compounds (especially hexose) and oxidation at the tert-butyl moiety. The resulting primary alcohol is likewise partly conjugated. After seed treatment, the 1,2,4-triazole formed in the soil by hydrolysis was taken up into the plant via the roots and conjugated with various endogenous plant substances. Soil/Environment In soil, triadimenol is a degradation product of triadimefon (q.v.) and degradation depends on microbial activity. The first step is the oxidation of t-butyl moiety, followed by rapid degradation steps like the loss of t-butyl moiety and cleavage of the triazole ring; degradation involving hydrolytic cleavage leads to the formation of 4-chlorophenol. Metabolism of the individual triadimenol enantiomers proceeds at different rates. DT50 in sandy loam 110-375 d; in loam 240-270 d.
Usage: Triadimenol was introduced by Bayer AG. Triadimenol is a broad-spectrum fungicide with high efficiency and low toxicity. It is used on wheat and rice to control rust, powdery mildew, sheath blight and other diseases, and has a significant yield increasing effect. It can be also used as a cereal seed treatment and for the control of cereal smut.
Application: Biochemistry Inhibits gibberellin and ergosterol biosynthesis and hence the rate of cell division. Mode of action Systemic fungicide with protective, curative and eradicant action. Absorbed by the roots and leaves, with ready translocation in young growing tissues, but less ready translocation in older, woody tissues. Uses Control of powdery mildews, rusts and Rhynchosporium in cereals, and, when applied as a seed treatment, control of bunt, smuts, Typhula spp., seedling blight, leaf stripe, net blotch and other cereal diseases. Also used on vegetables, ornamentals, coffee, hops, vines, fruit, tobacco, sugar cane, bananas and other crops, mainly against powdery mildews, rusts and various leaf spot diseases. Application rates as a spray are in the range 100-250 g/ha for bananas and cereals, 125-250 g/ha protective and 250-500 g/ha eradicative for coffee, 0.0025-0.0125% for grapes, pome and stone fruit and vegetables; application rates as a seed treatment are in the range 20-60 g/100 kg seed for cereals, 30-60 g/100 kg seed for cotton.