Tridemorph十三吗啉
Specifications
Leading Tridemorph supplier
750g/L Tridemorph EC
98% Tridemorph TC
86% Tridemorph OL
Introduction:Tridemorph is applied onto many crops across the world, but very little data on usage and production is in the public domain. It was developed in the 1960s by the German multinational BASF who sell tridemorph under the trade name Calixin. In Europe, it is used in Austria, Belgium, Finland, Germany, Greece, Italy, Ireland, Luxembourg, Netherlands, Spain and UK. It is applied widely on banana plantations Latin America, especially Costa Rica and Ecuador.
Common name: Tridemorph
another name:e-236;CALIXIN;CALAXIN;Calixine;bas2205-f;BAFS 220F;Basf 220f;Nsc232676;TRIDEMORPH;TRIDEMORPN
Chemical Name: 2,6-dimethyl-4-tridecyl-morpholin
Empirical formula: C19H39NO
Structural formula: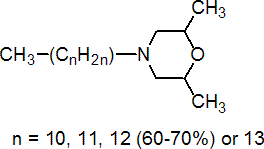 Mol. Weight: 297.52
CAS No.: 24602-86-6
HAZARDS IDENTIFICATION:
ANALYSIS
Product analysis by acid-base titration. Residues in cereal straw and soil determined by colorimetry of a derivative or by gc-ms. Details available from BASF.
MAMMALIAN TOXICOLOGY
Oral Acute oral LD50 for rats 480 mg/kg. Skin and eye Acute percutaneous LD50 for rats >4000 mg/kg. Skin irritant; not an eye irritant (rabbits). Inhalation LC50 (4 h) for rats 4.5 mg/l air. NOEL (2 y) for rats 30 mg/kg diet (c. 1.8 mg/kg daily), for dogs 50 ppm diet. ADI 0.016 mg/kg b.w. Toxicity class WHO (a.i.) II; EPA (formulation) III EC classification R61| Xn; R20/22| Xi; R38| N; R50, R53 (for 4-tridecyl- component)
ECOTOXICOLOGY
Birds LD50 for quail 1388, ducks >2000 mg/kg. Fish LC50 (96 h) for trout 3.4 mg/l. Daphnia LC50 (48 h) 1.3 mg/l. Algae EC50 (96 h) 0.28 mg/l. Bees LD50 (24 h) >200 mg/bee. Worms LC50 (14 d) for Eisenia foetida 880 mg/kg.
ENVIRONMENTAL FATE
Animals In rats, following oral administration, tridemorph is rapidly absorbed, and is almost completely eliminated within 2 days. Plants Residues in cereal grains at harvest are <0.05 mg/kg, mostly polar material. Metabolism proceeds via oxidation of the 4-alkyl side-chain and/or by opening of the morpholine ring. Soil/Environment DT50 (lab.) 20-50 d, (field) 14-34 d. Koc 2500-10 000.
Packing: required by customer
Usage: It is mainly used for the control of cereal powdery mildew and banana leaf spot.
Application:Biochemistry Ergosterol biosynthesis inhibitor, by inhibition of steroid reduction (sterol-D14-reductase) and isomerisation (D8 to D7-isomerase). Mode of action Systemic fungicide with eradicant action. Absorbed by the leaves and roots, giving some protective action. Uses control of Erysiphe graminis in cereals, Mycosphaerella spp. in bananas, Corticium salmonicolor and Exobasidium vexans in tea, and Oidium heveae in hevea. Mixed with carbendazim to extend spectrum of cereal diseases controlled. Phytotoxicity Scorch may occur on some winter wheat varieties under certain climatic conditions. Formulation types OL.
Customerized Packing label
Tridemorph FAO standard
Professional registration