Validamycin 井冈霉素
Specifications
LeadingValidamycin supplier
5% Validamycin AS
10% Validamycin AS
60% Validamycin TC
Introduction:Validamycin is a systemic fungicide for agriculture use to control rice sheath blight, wheat sheath blight as well as Rhizoctonia disease from corn,cotton vegetable and so on. It can be absorbed by the cells of the pathogenic fungus as nutrilite and transmitted through the hypha, whose growth are affected when contacting with the active ingredient, which make the hyphal top abnormal and inhibit the growth of the hypha. through inhibiting the synthesis of inositol which is the essential for the growth of fungi. Validamycin is non-pollute and residue to environment, it is widely used in the crop diseases control.
Common name:Validamycin
Another name:Jinggangmycin
Chemical Name (IUPAC):
(1R,2R,3S,4S,6R)-2,3-dihydroxy-6-hydroxymethyl-4-[(1S,4R,5S,6S)-4,5,6-trihydroxy-3-hydroxymethylcyclohex-2-enylamino]cyclohexyl β-D-glucopyranoside
CAS No.: 37248-47-8
Molecular mass (g mol-1): 497.23
Empirical formula: C20H35NO13
Structural formula: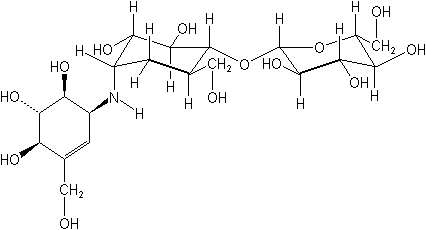 Hazards identification:
Emergency overview:Harmful if swallowed.
Potential Health Effects:The toxicological properties of this material have not been investigated.Use appropriate procedures to prevent opportunities for direct contact with the skin or eyes and to prevent inhalation.Compound is Non-hazardous,Non-Toxic/Non-flammable.
Validamycin ANALYSIS
Product and residue analysis by glc of a derivative with FID (K. Nishi & K. Konishi, Anal. Methods Pestic. Plant Growth Regul., 1976, 8, 309).
MAMMALIAN TOXICOLOGY
Oral Acute oral LD50 for rats and mice >20 000 mg/kg. Skin and eye Acute percutaneous LD50 for rats >5000 mg/kg. Non-irritating to skin (rabbits). Not a skin sensitiser (guinea pigs). Inhalation LC50 (4 h) for rats >5 mg/l air. NOEL In 90 d feeding trials, rats receiving 1000 mg/kg diet and mice receiving 2000 mg/kg diet showed no ill-effects. In 2 y feeding trials, NOEL for rats was 40.4 mg/kg b.w. daily. Other Non-mutagenic in bacterial reversion assay systems. Non-teratogenic. Toxicity class WHO (a.i.) U; EPA (formulation) IV
ECOTOXICOLOGY
Birds No effect on chickens or quail at 12.5 g/kg administered orally. Fish LC50 (72 h) for carp >40 mg/l. Daphnia LC50 (24 h) for D. pulex >40 mg/l.
ENVIRONMENTAL FATE
Animals In rats, following oral administration, cleavage to glucose and validoxylamine A occurs. Plants As for animals. Soil/Environment Stable in sunlight. Rapid microbial degradation in soil, forming validoxylamine A; DT50 £5 h.
Packing: 25kg/drum or as required by customer
Use:The main control Rhizoctonia solani, Sclerotinia sclerotiorum wheat, corn leaf diseases, Blight vegetables, cotton, beans Blight, BAI Juan disease, such as ginseng Blight.
Application:Biochemistry Inhibitor of trehalase, an enzyme which mediates the digestion of the carbohydrate trehalose and transport of glucose to the hyphals tips. Mode of action Non-systemic antibiotic with fungistatic action. Causes abnormal branching of the tips of the pathogen, followed by cessation of further development. Uses Control of Rhizoctonia solani in rice, potatoes, vegetables, strawberries, tobacco, ginger and other crops; damping-off diseases of cotton, rice and sugar beet, etc. Applied as a foliar spray, soil drench, seed dressing, or by soil incorporation, at 1.25-1.56 g/ha (liquid), 9-12 g/ha (DL formulation), and 0.090 mg/kg (DL or seed dressing).
Customerized Packing label
Jingangmycin FAO standard
Professional registration