Validamycin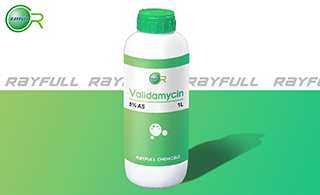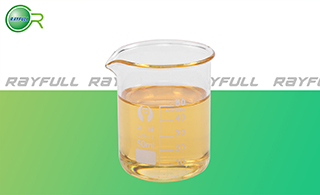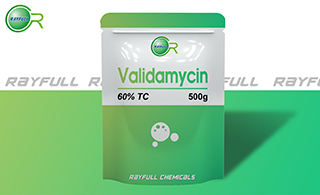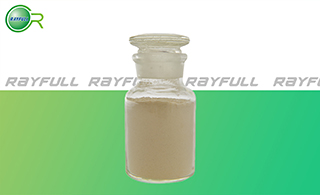 井冈霉素
Introduction: Validamycin is a fungicidal, aminoglycoside antibiotic known to inhibit trehalases in plants, insects, and fungi as well as enhance trehalose accumulation in transgenic plants. It is effective against Pellicularia sasakii and Rhizoctonia solani in plants, but only decreases their virulence instead of exhibiting a fungicidal effect. In addition, validamycin is used to control sheath-blight disease in rice and is most effective against soil-borne pathogens. It is used to study trehalase activity and the synthesis of trehalose. Aminoglycoside antibiotics are composed of amino groups attached to glycosides. They bind the 30s ribosomal subunit, causing misreading of the mRNA sequence and inhibition of translocation. Consequently, protein synthesis is inhibited. Antibiotics are often used in clinical in vitro tests known as antimicrobial susceptibility tests or ASTs to determine their efficacy against certain bacterial species. They are tested against gram-negative and gram-positive bacteria using panels, discs, and MIC strips by medical microbiologists. ASTs decrease the risk of using an antibiotic against bacteria exhibiting resistance to it, and the results are used in clinical settings to determine which antibiotic(s) to prescribe for various infections.
Common name: Validamycin
Another name: VALIDAMYCIN A; 37248-47-8; Jinggangmycin; Validacin; Valimon; etc.
Chemical name:
(1R,2R,3S,4S,6R)-2,3-dihydroxy-6-hydroxymethyl-4-[(1S,4R,5S,6S)-4,5,6-trihydroxy-3-hydroxymethylcyclohex-2-enylamino]cyclohexyl β-D-glucopyranoside
Empirical formula: C20H35NO13
Structural formula: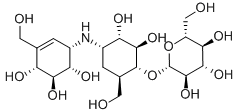 Mol. Weight: 497.49 g/mol
CAS No.: 37248-47-8
Specifications
Leading Validamycin supplier
Validamycin 60% TC
Validamycin 5% AS
Validamycin 10% AS
Packing:
BULK PACKING
Powder: 25kg/Bag, 25kg/Drum, 50kg/Drum etc.
Liquid: 200L/Drum, 20L/Drum, 10L/Drum etc.
SMALL PACKING
Powder: 1kg/Alu bag, 500g/Alu bag, 200g/Alu bag, 100g/Alu bag, 50g/Alu bag, 15g/Alu bag etc.
Liquid: 5L/Drum, 1L/Bottle, 500ml/Bottle, 250ml/Bottle, 100ml/Bottle, 50ml/Bottle etc.
Customerized packing label
Validamycin FAO standard
Professional registration
HAZARDS IDENTIFICATION
Hazard statement(s)
H315: Causes skin irritation.
H319: Causes serious eye irritation.
H335: May cause respiratory irritation.
Precautionary statement(s)
P261: Avoid breathing dust/fume/gas/mist/vapors/spray.
P264: Wash skin thoroughly after handling.
P271: Use only outdoors or in a well-ventilated area.
P280: Wear protective gloves/protective clothing/eye protection/face protection.
P302+P352: If on skin: Wash with plenty of soap and water.
P304+P340: If inhaled: Remove victim to fresh air and keep at rest in a position comfortable for breathing.
P305+P351+P338: If in eyes: Rinse cautiously with water for several minutes. Remove contact lenses, if present and easy to do. Continue rinsing.
P312: Call a poison center or doctor if you feel unwell.
P321: Specific treatment (see supplemental first aid instructions on this label).
P332+P313: If skin irritation occurs: Get medical advice/attention.
P337+P313: If eye irritation persists: Get medical advice/attention.
P362: Take off contaminated clothing and wash before reuse.
P403+P233: Store in a well-ventilated place. Keep container tightly closed.
P405: Store locked up.
P501: Dispose of contents/container to an approved waste disposal plant.
Supplemental Hazard Statements: none.
MAMMALIAN TOXICOLOGY
Acute toxicity: 1) Acute oral LD50 for rats is >20000 mg/kg. 2) Acute dermal LD50 for rats is >5000 mg/kg. 3) Acute inhalation toxicity LC50 (4 h) for rats is >5.0 mg/L. 4) Skin irritation: Non-irritating to skin (rabbits). 5) Eye irritation: Non-irritating to eyes (rabbits). 6) Skin sensitization for guinea pig: Sensitizing.
NOEL: In 90 d feeding trials, rats receiving 1000 mg/kg diet and mice receiving 2000 mg/kg diet showed no ill-effects. In 2 y feeding trials, NOEL for rats was 40.4 mg/kg b.w. daily. Other Non-mutagenic in bacterial reversion assay systems. Non- teratogenic.
ADI 0-0.01 mg/kg b.w.
Classification:
WHO Classification: U (Unlikely to present an acute hazard)
EC Risk Classification: None allocated at this time
US EPA Classification (formulation): IV (Caution - Not acutely toxic)
ECOTOXICOLOGY
Effect on birds: Acute oral LD50 for chickens is 12500 mg/kg. Effect on fish: Acute LC50 (96 h) for Carp is >40 mg/l. Effects on aquatic invertebrates: Acute EC50 (48 h) for Daphnia pulex is >40 mg/l. Effects on bees: oral acute 48 hour LD50 is 0.15 μg/bee.
ENVIRONMENTAL FATE
Animals In rats, following oral administration, cleavage to glucose and validoxylamine A occurs. Plants As for animals. Soil/Environment Stable in sunlight. Rapid microbial degradation in soil, forming validoxylamine A; DT50 £5 h.
Usage: Validamycin was developed by Haining pesticide factory. It is an antibiotic with fungicide action effective against soil borne diseases and is used for the control of Rhizoctonia solani.
Application: Biochemistry Inhibitor of trehalase, an enzyme which mediates the digestion of the carbohydrate trehalose and transport of glucose to the hyphals tips. Mode of action Non-systemic antibiotic with fungistatic action. Causes abnormal branching of the tips of the pathogen, followed by cessation of further development. Uses Control of Rhizoctonia solani in rice, potatoes, vegetables, strawberries, tobacco, ginger and other crops; damping-off diseases of cotton, rice and sugar beet, etc. Applied as a foliar spray, soil drench, seed dressing, or by soil incorporation, at 1.25-1.56 g/ha (liquid), 9-12 g/ha (DL formulation), and 0.090 mg/kg (DL or seed dressing).