LINURON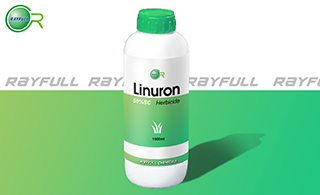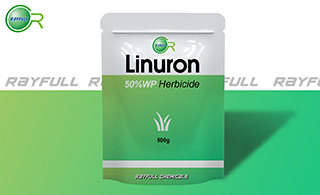 利谷隆
Introduction: A herbicide for the pre- and post-emergence control of annual grass and broad-leaved weeds including chickweed, prickly lettuce, lambsquarter, crabgrass, goosegrass on wide variety of crops including asparagus, carrots, parsnips, beans, cereals; cotton; coffee; tea; rice; ornamentals.
Common name: Linuron
Another name: Methoxydiuron, Cephalon, Afalon, Aphalon, Linurex, Lorox, Afalon, inuron, Garnitan, Herbicide 326, Linorox, Rotalin, Sarclex, Sinuron, Linex, Du Pont 326, Linex 4L, Malurane, Profalon, Soilcid, Laroks, Certroli-Lin, Dupont herbicide 326, Laroks [Polish], du Pont Herbicide 326, Lorox linuron weed killer, Lorox Weed Killer, Linuron (herbicide), Norunil, Scarclex, Liron, Atlas linuron, Linuron solution, etc.
Chemical name: 3-(3,4-dichlorophenyl)-1-methoxy-1-methylurea
Empirical formula: C9H10Cl2N2O2
Structural formula: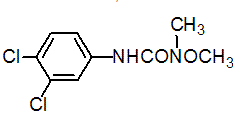 Mol. Weight: 249.09 g/mol
CAS No.: 330-55-2
Specifications
Leading Linuron supplier
Linuron 500 g/L SC
Linuron 50% WP
Linuron 97% TC
Packing:
BULK PACKING
Solid: 25kg/Bag, 25kg/Drum, 50kg/Drum etc.
Liquid: 200L/Drum, 20L/Drum, 10L/Drum ect.
SMALL PACKING
Solid: 1kg/Alu bag, 500g/Alu bag, 200g/Alu bag, 100g/Alu bag, 50g/Alu bag, 15g/Alu bag etc.
Liquid: 5L/Drum, 1L/Bottle, 500ml/Bottle, 250ml/Bottle, 100ml/Bottle, 50ml/Bottle etc.
Customerized packing label
Linuron FAO standard
Professional registration
HAZARDS IDENTIFICATION
Hazard statement(s)
H302: Harmful if swallowed.
H373: Causes damage to organs through prolonged or repeated exposure.
H400: Very toxic to aquatic life.
H410: Very toxic to aquatic life with long lasting effects.
Precautionary statement(s)
P260: Do not breathe dust/fume/gas/mist/vapors/spray.
P264: Wash ... thoroughly after handling.
P270: Do not eat, drink or smoke when using this product.
P273 Avoid release to the environment.
P301+P312: IF SWALLOWED: call a POISON CENTER/doctor/... IF you feel unwell.
P314: Get medical advice/attention if you feel unwell.
P330: Rinse mouth.
P391 Collect spillage.
P501 Dispose of contents/ container to an approved waste disposal plant.
Supplemental Hazard Statements: none
MAMMALIAN TOXICOLOGY
Acute toxicity: 1) Acute oral LD50 for rat: 1146 a.i.mg/kg. 2) Acute dermal LD50 for rat: >2000 a.i.mg/kg. 3) Inhalation LC50 (4 h) for rat: >0.85 a.i. mg/L. 4) Mild irritant to skin (rabbits). 5) Irritant to eyes (rabbits). 6) Not a skin sensitiser (guinea pigs). NOEL: (1 y) for dogs IS 25 ppm (0.9 mg/kg b.w.). Tumour promoter in rats.
ADI: 0.003 mg/kg b.w. [Rat, SF=100]
Classification:
Toxicity class WHO (a.i.): III (Slightly hazardous)
EC Risk Classification: Carcinogen category 3: R40; Reproduction risk category 2 and 3: R61, R62; Xn - Harmful: R22, R48/22; N - Dangerous for the environment: R50, R53
ECOTOXICOLOGY
Effect on birds: moderate toxicity to birds, acute oral LD50 for Bobwhites quail is 314 a.i.mg/kg. Effect on fish: moderate toxicity to fish, acute 96 hour LC50 for Rainbow trout is 3.15 a.i.mg/L. Effect on aquatic invertebrates: moderate toxicity to aquatic invertebrates, acute 24 hour EC50 for Daphnia magna is 0.31 a.i.mg/L. Effect on algae: moderate toxicity to algae, acute 72 hour EC50 for Raphidocelis subcapitata is 0.016 a.i.mg/L. Effect on honeybees: low toxicity to honeybees, contact acute 48 hour LD50 is >120.9 a.i.μg/bee; oral acute 48 hour LD50 is >160 a.i.μg/bee. Effect on earthworms: low toxicity to earthworms, acute 14 day LC50 is >1000 a.i.mg/kg.
ENVIRONMENTAL FATE
Linuron's production and use as a herbicide is expected to result in its direct release to the environment. Releases may also occur during production, formulation, preparation for spraying, cleanup, transport, and storage. If released to air, a vapor pressure of 1.43×10-6 mm Hg at 25 deg C indicates linuron will exist in both the vapor and particulate phase. Vapor-phase linuron will be degraded in the atmosphere by reaction with photochemically-produced hydroxyl radicals; the half-life for this reaction in air is estimated to be 12 hours. Linuron absorbs light in the environmental UV spectrum and may undergo direct photolysis. Particulate-phase linuron will be removed from the atmosphere by wet and dry deposition. If released to soil, linuron is expected to have low mobility in soil based upon an experimental Koc ranging from 555 to 987. Volatilization from moist soil surfaces is not expected to be an important fate process based upon its Henry's Law constant of 1.97×10-9 atm-cu m/mole. Linuron is not expected to volatilize from dry soil surfaces based upon its vapor pressure of 1.43×10-6 mm Hg. In most soils and at normal application rates, linuron biodegrades within 3-4 months, and half-lives of as low as 22 days have been observed. Linuron biodegrades in soil more rapidly at higher soil moistures and temperatures. Photolysis of linuron on surface soils may also be an important degradation pathway. Phenyl-labeled C-14 linuron degraded with a half-life >15 days on silt loam soil irradiated continuously with a Pyrex glass filtered xenon arc light at 25 deg. After 15 days of irradiation, the soil contained 78.8% of the recovered radioactivity as parent linuron. If released into water, linuron is expected to adsorb to suspended solids and sediment based upon its experimental Koc values and reported adsorption data. Biodegradation of linuron is also expected to occur in water. Half-lives ranging from 7.2 days in stagnant ditch water to 10 weeks in lake water have been reported. Photolysis of linuron is also expected to occur in surface waters. In one experiment, 43% of linuron exposed to sunlight outdoors was photolyzed in 24 days. Volatilization from water surfaces is not expected to be an important fate process based upon this compound's experimental Henry's Law constant. An experimental BCF ranging from 13 to 49 suggests that the potential for bioconcentration in aquatic organisms is low to moderate. Hydrolysis of linuron is not expected to occur in water except at high pH levels (> 9). Occupational exposure to linuron may occur through inhalation and dermal contact with this compound at workplaces where linuron is produced or used, or through dermal contact with linuron-treated soil or vegetation. Monitoring data indicate that the general population may be exposed to linuron via ingestion of contaminated vegetables, primarily carrots, and ingestion of contaminated water. (SRC)
Usage: Herbicide reported by K. Härtel (Meded. Landbouwhogesch. Opzoekingsstn. Staat Gent, 1962, 27, 1275). Introduced by E. I. du Pont de Nemours and Co. (who no longer manufacture or market it) and by Hoechst AG (now Bayer CropScience). Rights acquired by Makhteshim-Agan in 2003. Patents: DE 1028986; GB 852422 both to Hoechst. Manufacturers: Drexel; Griffin; Makhteshim-Agan. Photosynthetic electron transport inhibitor at the photosystem II receptor site.
Application: Selective systemic herbicide, absorbed principally by the roots but also by the foliage, with translocation primarily acropetally in the xylem. Pre- and post-emergence control of annual grass and broad-leaved weeds, and some seedling perennial weeds, in asparagus, artichokes, carrots, parsley, fennel, parsnips, herbs and spices, celery, celeriac, onions, leeks, garlic, potatoes, peas, field beans, soya beans, cereals, maize, sorghum, cotton, flax, sunflowers, sugar cane, ornamentals, established vines, bananas, cassava, coffee, tea, rice, peanuts, ornamental trees and shrubs, and other crops.