NICOSULFURON 烟嘧磺隆
Introduction: A post-emergence herbicide used to control annual grass weeds and perennial grasses including johnson grass (sorghum halepense); couch grass (agropyron repens) in maize crops.
Common name: Nicosulfuron
Another name: Milagro, Motivell, Accent (herbicide), etc.
Chemical name: 2-[(4,6-dimethoxypyrimidin-2-ylcarbamoyl)sulfamoyl]-N,N-dimethylnicotinamide
Empirical formula: C15H18N6O6S
Structural formula: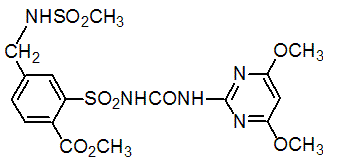 Mol. Weight: 410.41 g/mol
CAS No.: 111991-09-4
Specifications
Leading Nicosulfuron supplier
Nicosulfuron 40 g/L SC
Nicosulfuron 40 g/L OD
Nicosulfuron 75% WP
Nicosulfuron 75% WDG
Nicosulfuron 95% TC
Packing:
BULK PACKING
Solid: 25kg/Bag, 25kg/Drum, 50kg/Drum etc.
Liquid: 200L/Drum, 20L/Drum, 10L/Drum ect.
SMALL PACKING
Solid: 1kg/Alu bag, 500g/Alu bag, 200g/Alu bag, 100g/Alu bag, 50g/Alu bag, 15g/Alu bag etc.
Liquid: 5L/Drum, 1L/Bottle, 500ml/Bottle, 250ml/Bottle, 100ml/Bottle, 50ml/Bottle etc.
Customerized packing label
Nicosulfuron FAO standard
Professional registration
HAZARDS IDENTIFICATION
Hazard statement(s)
H410 (100%): Very toxic to aquatic life with long lasting effects.
Precautionary statement(s)
P273: Avoid release to the environment.
P391: Collect spillage.
P501: Dispose of contents/container to ...
Supplemental Hazard Statements: none
MAMMALIAN TOXICOLOGY
Acute toxicity: 1) Acute oral LD50 for rat: >5000 a.i.mg/kg. 2) Acute dermal LD50 for rat: >2000 a.i.mg/kg. 3) Inhalation LC50 (4 h) for rat: >5.47 a.i.mg/L. 4) Not a skin irritant (rabbits). 5) Moderate eye irritant (rabbits). 6) Not a skin sensitiser (guinea pigs).
NOEL: In 28 d feeding trials on rats and mice, no adverse effect up to 30 g/kg diet. Non-mutagenic in the Ames test.
ADI: 2.0 mg/kg b.w./day [Dog, SF=100]
Classification:
Toxicity class WHO (a.i.): U (Unlikely to present an acute hazard)
US EPA Classification (formulation): IV (Caution - Not acutely toxic)
EC Risk Classification: N - Dangerous for the environment: R50, R53
ECOTOXICOLOGY
Effect on birds: low toxicity to birds, acute oral LD50 for Bobwhite quail is >2000 a.i.mg/kg. Effect on fish: moderate toxicity to fish, acute 96 hour LC50 for Rainbow trout is 65.7 a.i.mg/L. Effect on aquatic invertebrates: moderate toxicity to aquatic invertebrates, acute 48 hour EC50 for Daphnia magna is 90 a.i.mg/L. Effect on algae: moderate toxicity to algae, acute 72 hour EC50 for Anabaena flos-aquae is 7.8 a.i.mg/L. Effect on honeybees: moderate toxicity to honeybees, contact acute 48 hour LD50 is 76 a.i.μg/bee; oral acute 48 hour LD50 is 5.24 a.i.μg/bee. Effect on earthworms: low toxicity to earthworms, acute 14 day LC50 for Eisenia foetida is >1000 a.i.mg/kg.
ENVIRONMENTAL FATE
Nicosulfuron's production may result in its release to the environment through various waste streams; its use as a herbicide will result in its direct release to the environment. If released to air, a vapor pressure of <6×10-12 mm Hg at 25 deg C indicates nicosulfuron will exist solely in the particulate phase in the atmosphere. Particulate-phase nicosulfuron will be removed from the atmosphere by wet or dry deposition. Photolysis half-lives in soil were 60-67 days and in water, 200-250 days at pH 7 suggesting that nicosulfuron may be susceptible to direct photolysis by sunlight. If released to soil, nicosulfuron is expected to have high to moderate mobility based upon a Koc range of 63.0 to 567.1. Sulfonylurea herbicides, such as nicosulfruon, are more mobile in alkaline soils and in soils with lower organic matter content. The pKa of nicosulfuron is 4.6, indicating that this compound will exist partially in the anion form in the environment and anions generally do not adsorb more strongly to soils containing organic carbon and clay than their neutral counterparts. Volatilization from moist soil surfaces is not expected to be an important fate process based upon a Henry's Law constant of 4.1×10-18 atm-cu m/mole. Nicosulfuron may not volatilize from dry soil surfaces based upon its vapor pressure. Nicosulfuron was less than 1.3% mineralized following 41 days of incubation using 5 soils indicating that biodegradation is not an important environmental fate process in soil and water. If released into water, nicosulfuron is not expected to adsorb to suspended solids and sediment based upon the Koc range. Volatilization from water surfaces is not expected to be an important fate process based upon this compound's estimated Henry's Law constant. An estimated BCF of three suggests the potential for bioconcentration in aquatic organisms is low. The main degradation pathway for nicosulfuron is hydrolysis of the sulfonylurea bridge with hydrolysis half-life of 15 days at pH 5 reported; however, it is stable to hydrolysis at pH 7 and pH 9.
Usage: Herbicide developed by Ishihara Sangyo Kaisha, Ltd and by E. I. du Pont de Nemours and Co. First registered in USA in June 1990 by E. I. du Pont de Nemours and Co. and launched in France in 1992 by Ishihara Sangyo Kaisha, Ltd. Patents: US 4789393. Manufacturers: DuPont; IPESA; Ishihara Sangyo; Sannong; Sharda; Sundat. Biochemistry: Branched chain amino acid synthesis (ALS or AHAS) inhibitor. Acts by inhibiting biosynthesis of the essential amino acids valine and isoleucine, hence stopping cell division and plant growth. Maize selectivity derives from selective metabolism (P450-mediated pyrimidine-5-hydroxylation, followed by conjugation with glucose).
Application: Selective systemic herbicide, absorbed by the foliage and roots, with rapid translocation in xylem and phloem to the meristematic tissues. Selective post-emergence control in maize of annual grass weeds including Setaria, Echinochloa, Digitaria, Panicum, Lolium, and Avena spp., broad-leaved weeds including Amaranthus spp. and Cruciferae, and perennials such as Sorghum halepense and Agropyron repens. Applied at 35-70 g/ha.