PYRIDATE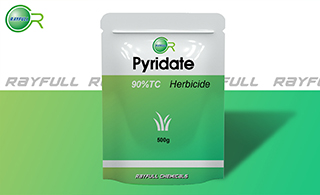 哒草特
Introduction: A post-emergence herbicide used to control annual broad-leaved weeds including nightshade, cleavers, nettles, chickweed;dead-nettle, fathen, ragweed; Grasses including barnyard grass, crabgrass, foxtail in Cereals; Brassicas including cauliflowers, kohlrabi, broccoli, Brussels; Alliums including onions, shallots, chives, leek; Fodder beet; Lupins; Rape field.
Common name: Pyridate
Another name: Fenpyrate, Lentagran, Pyron, Tough, Pyridat, etc.
Chemical name: O-6-chloro-3-phenylpyridazin-4-yl S-octyl thiocarbonate
Empirical formula: C19H23ClN2O2S
Structural formula: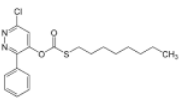 Mol. Weight: 378.92 g/mol
CAS No.: 55512-33-9
Specifications
Leading Pyridate supplier
Pyridate 90% TC
Packing:
BULK PACKING
Solid: 25kg/Bag, 25kg/Drum, 50kg/Drum etc.
SMALL PACKING
Solid: 1kg/Alu bag, 500g/Alu bag, 200g/Alu bag, 100g/Alu bag, 50g/Alu bag, 15g/Alu bag etc.
Customerized packing label
Professional registration
HAZARDS IDENTIFICATION
Hazard statement(s)
H315: Causes skin irritation.
H317: May cause an allergic skin reaction.
H400: Very toxic to aquatic life.
H410: Very toxic to aquatic life with long lasting effects.
Precautionary statement(s)
P261: Avoid breathing dust/fume/gas/mist/vapors/spray.
P264: Wash ... thoroughly after handling.
P272: Contaminated work clothing should not be allowed out of the workplace.
P273: Avoid release to the environment.
P280: Wear protective gloves/protective clothing/eye protection/face protection.
P302+P352: IF ON SKIN: wash with plenty of water.
P321: Specific treatment (see ... on this label).
P332+P313: IF SKIN irritation occurs: Get medical advice/attention.
P333+P313: IF SKIN irritation or rash occurs: Get medical advice/attention.
P362: Take off contaminated clothing.
P363: Wash contaminated clothing before reuse.
P391: Collect spillage.
P501: Dispose of contents/container to ...
Supplemental Hazard Statements: none
MAMMALIAN TOXICOLOGY
Acute toxicity: 1) Acute oral LD50 for rat: >2000 a.i.mg/kg. 2) Acute dermal LD50 for rat: >2000 a.i.mg/kg. 3) Inhalation LC50 (4 h) for rat: >4.37 a.i. mg/L. 4) Irritating to skin (rabbits). 5) Non-irritating to eyes (rabbits). 6) Is a skin sensitiser (guinea pigs). This product is not considered to be a carcinogen by IARC, ACGIH, NTP, or OSHA. This product is not expected to cause reproductive or developmental effects.
ADI: 0.036 mg/kg b.w./day [Rat, SF=100]
Classification:
Toxicity class WHO (a.i.): III (Slightly hazardous)
US EPA Classification (formulation): III (Caution - Slightly toxic)
EC Risk Classification: Xn - Harmful: R43; Xi - Irritant: R38; N - Dangerous for the environment: R50, R53
ECOTOXICOLOGY
Effect on birds: moderate toxicity to birds, acute LD50 for Bobwhites quail is 1269 a.i.mg/kg. Effect on fish: moderate toxicity to fish, acute 96 hour LC50 for Rainbow trout is >1.01 a.i.mg/L. Effect on aquatic invertebrates: moderate toxicity to aquatic invertebrates, acute 48 hour EC50 for Daphnia magna is 0.49 a.i.mg/L. Effect on algae: moderate toxicity to algae, acute 72 hour EC50 for Anabaena flos-aquae is >0.75 a.i.mg/L. Effect on honeybees: low toxicity to honeybees, contact acute 48 hour LD50 is >100 a.i.μg/bee, oral acute 48 hour LD50 is >100 a.i.μg/bee. Effect on earthworms: moderate toxicity to earthworms, acute 14 day LC50 is 799 a.i.mg/kg.
ENVIRONMENTAL FATE
The route and rate of degradation of pyridate under aerobic conditions was investigated in five soils at 20 °C with 14C-labelled pyridate at the pyridazin ring. In all experiments, pyridate hydrolyses very rapidly to pyridafol that exhibits moderate persistence in soil in these experiments and in an additional study with four soils where it was directly applied. Degradation of pyridate in soil under anaerobic conditions was investigated in one soil. Pyridate rapidly hydrolysed to pyridafol that was essentially stable under these conditions. Photolysis of 14C-labelled pyridate in soil was investigated in a reliable experiment under simulated sunlight for 31 days. Pyridate was rapidly hydrolysed both in irradiated and dark samples. The major metabolite pyridafol appears to degrade faster under irradiated conditions than in the dark control. Whereas not legally triggered, field dissipation studies in Europe and USA are available. Results with respect to the persistence of pyridate and pyridafol are in line with what was observed in the laboratory studies. Pyridate was estimated to be immobile by HPLC method. Due to the rapid hydrolysis of this substance to pyridafol, it was considered acceptable not to have performed soil adsorption desorption studies directly with pyridate since the mobility of this substance is likely not to have any significant impact on the groundwater assessment. The mobility of pyridafol and its metabolite pyridafol-O-methyl were assessed by adsorption/desorption studies in 22 and 8 soils respectively. In these studies pyridafol exhibited very high to medium mobility and pyridafol-O-methyl high to low mobility in soil. The RMS proposed that adsorption data of pyridafol data indicates pH dependence, and a linear pH relationship (capped for lower and upper values) has been assumed with KFoc and 1/n for environmental modelling. It is noted that the relationship is not strong and that use of median KFoc and arithmetic mean of 1/n would also be an acceptable approach for future modelling. In column leaching studies pyridafol was the only component identified in the leachate (mainly in high organic matter and alkaline soils). In two available lysimeter studies neither pyridafol nor pyridafol-O-methyl are found in the leachates. Pyridate is rapidly hydrolyzed in buffer aqueous solutions (22°C, pH 5, 7 and 9) to pyridafol, which is stable under these conditions. Pyridate is stable to photolysis but pyridafol is rapidly photolysed in water forming the major metabolites HHAC-060 (max 63.1 % at pH 4 and 21.9 % at pH 7) and HHAC-062 (max 23.6 % at pH 4). Pyridate was not readily biodegradable according to the available test (OECD 301F) performed with the technical product.
Usage: Bioactivity reported by Diskus A, et al., Proc. 1976 Br. Crop Prot. Conf-Weed, 1976, 2, 717. Developed by Chemical Linz AG as herbicide, patent Austran P 326409.
Application: Selective contact herbicide, absorbed predominantly by the leaves. Post-emergence control of annual broad-leaved weeds, especially Solanum spp., Chenopodium spp., Galium aparine, Kochia scoparia and Amaranthus retroflexus (triazine-resistant biotypes), and some grass weeds, in maize, sweet corn, oilseed rape, cereals, rice, peanuts and vegetables, at 0.9 kg a.i./ha. Often used in combination with a triazine or other product, to extend the spectrum of activity.