TERBUTRYN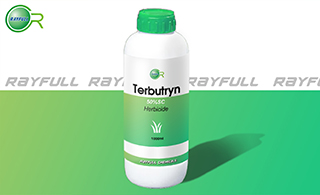 去草净, 特丁净
Introduction: A pre-emergence herbicide used to control some grasses and broad-leaved weeds. Also used to control aquatic algae. Also a pesticide transformation product.
Common name: Terbutryn
Another name: Shortstop, TERBUTRYNE, Clarosan, Prebane, Terbutrex, Igran, Saterb, Terbutrin, Plantonit, Athado, etc.
Chemical name: N2-tert-butyl-N4-ethyl-6-methylthio-1,3,5-triazine-2,4-diamine
Empirical formula: C10H19N5S
Structural formula: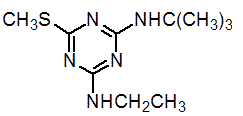 Mol. Weight: 241.36 g/mol
CAS No.: 886-50-0
Specifications
Leading Terbutryn supplier
Terbutryn 500 g/L SC
Terbutryn 50% WP
Terbutryn 80% WP
Terbutryn 96% TC
Packing:
BULK PACKING
Solid: 25kg/Bag, 25kg/Drum, 50kg/Drum etc.
Liquid: 200L/Drum, 20L/Drum, 10L/Drum ect.
SMALL PACKING
Solid: 1kg/Alu bag, 500g/Alu bag, 200g/Alu bag, 100g/Alu bag, 50g/Alu bag, 15g/Alu bag etc.
Liquid: 5L/Drum, 1L/Bottle, 500ml/Bottle, 250ml/Bottle, 100ml/Bottle, 50ml/Bottle etc.
Customerized packing label
Professional registration
HAZARDS IDENTIFICATION
Hazard statement(s)
H302 (53.82%): Harmful if swallowed.
H317 (36%): May cause an allergic skin reaction.
H332 (10.91%): Harmful if inhaled.
H400 (96.73%): Very toxic to aquatic life.
H410 (73.45%): Very toxic to aquatic life with long lasting effects.
H413 (17.09%): May cause long lasting harmful effects to aquatic life.
Precautionary statement(s)
P261: Avoid breathing dust/fume/gas/mist/vapors/spray.
P264: Wash ... thoroughly after handling.
P270: Do not eat, drink or smoke when using this product.
P271: Use only outdoors or in a well-ventilated area.
P272: Contaminated work clothing should not be allowed out of the workplace.
P273: Avoid release to the environment.
P280: Wear protective gloves/protective clothing/eye protection/face protection.
P301+P312: IF SWALLOWED: call a POISON CENTER/doctor/... IF you feel unwell.
P302+P352: IF ON SKIN: wash with plenty of water.
P304+P312: IF INHALED: Call a POISON CENTER/doctor/... if you feel unwell.
P304+P340: IF INHALED: Remove person to fresh air and keep comfortable for breathing.
P312: Call a POISON CENTER or doctor/... if you feel unwell.
P321: Specific treatment (see ... on this label).
P330: Rinse mouth.
P333+P313: IF SKIN irritation or rash occurs: Get medical advice/attention.
P363: Wash contaminated clothing before reuse.
P391: Collect spillage.
P501: Dispose of contents/container to ...
Supplemental Hazard Statements: none
MAMMALIAN TOXICOLOGY
Acute toxicity: 1) Acute oral LD50 for rat: >2500 a.i.mg/kg. 2) Acute dermal LD50 for rat: >2000 a.i.mg/kg. 3) Inhalation LC50 (4 h) for rat: 2.2 a.i.mg/L. 4) Non-irritating to skin (rabbits). 5) Non-irritating to eyes (rabbits). 6) Not a skin sensitiser (guinea pigs).
NOEL: (2 y) for rats 300 ppm, for mice 3000 ppm; (1 y) for dogs 100 mg/kg diet daily.
ADI: 0.027 mg/kg b.w./day
Classification:
Toxicity class WHO (a.i.): III (Slightly hazardous)
US EPA Classification (formulation): III (Caution - Slightly toxic)
EC Risk Classification: N - Dangerous for the environment: R52/53
ECOTOXICOLOGY
Effect on birds: low toxicity to birds, acute oral LD50 for Mallard ducks is >4640 a.i.mg/kg. Effect on fish: moderate toxicity to fish, acute 96 hour LC50 for Rainbow trout is >1.1 a.i.mg/L. Effect on aquatic invertebrates: moderate toxicity to aquatic invertebrates, acute 48 hour EC50 for Daphnia magna is >2.66 a.i.mg/L. Effect on algae: high toxicity to algae, acute 72 hour EC50 for Pseudokirchneriella subcapitata is 0.0024 mg/L. Effect on honeybees: low toxicity to honeybees, contact acute 48 hour LD50 is >225 a.i.μg/bee. Effect on earthworms: moderate toxicity to earthworms, acute 14 day LC50 for Eisenia foetida is >170 a.i.mg/kg.
ENVIRONMENTAL FATE
Terbutryne's production may result in its release to the environment through various waste streams; its former use in the US as a selective herbicide for control of annual broadleaf and grassy weeds may have resulted in its direct release to the environment. If released to air, a vapor pressure of 1.69×10-6 mm Hg at 25 deg C indicates terbutryne will exist in both the vapor and particulate phases in the atmosphere. Vapor-phase terbutryne will be degraded in the atmosphere by reaction with photochemically-produced hydroxyl radicals; the half-life for this reaction in air is estimated to be 36 hours. Particulate-phase terbutryne will be removed from the atmosphere by wet or dry deposition. If released to soil, terbutryne is expected to have moderate mobility to no mobility based upon Koc values of 366 to 41,757. Terbutryne volatilized <1% to 6% in 2 different soils at 15 and 25 deg C. Terbutryne may be susceptible to biodegradation based upon half-lives of 2 and 11 weeks in unfumigated and fumigated soil, respectively. If released into water, terbutryne is expected to adsorb to suspended solids and sediment based upon the Koc values. Terbutryne had degradation half-lives of 6.9 to 30 days under different conditions in pond and river waters. Volatilization from water surfaces is not expected to be an important fate process based upon this compound's estimated Henry's Law constant of 2.1X10-8 atm-cu m/mol. A BCF of 25 for catfish suggests that bioconcentration in aquatic organisms is low.
Usage: Herbicide reported by A. Gast et al. (Proc. Symp. New Herbic., 2nd, 1965, p. 305). Introduced by J. R. Geigy S.A. (now Syngenta AG). Manufacturers: Makhteshim-Agan; Syngenta. Photosynthetic electron transport inhibitor at the photosystem II receptor site.
Application: Selective herbicide, absorbed by the roots and foliage, with translocation acropetally through the xylem, and accumulation in the apical meristems. Used pre-emergence in winter cereals, at 1-2 kg/ha, to control Alopecurus myosuroides (blackgrass) and Poa annua (annual meadow grass). Among the autumn-germinating broad-leaved weeds controlled are Stellaria media (chickweed), Matricaria (mayweed), Papaver (poppies) and Veronica (speedwell), but Galium aparine (cleavers) are rather resistant. Other pre-emergence uses are on sugar cane and sunflowers, and, in mixture with terbuthylazine, on beans, peas and potatoes. In mixture with metolachlor, used in cotton and peanuts. Also used post-emergence (0.2-0.4 kg/ha) in cereals, (1-3 kg/ha) in sugar cane, and as a directed spray in maize. As 'Clarosan', it is used to control algae and submerged vascular plants in waterways, reservoirs and fish ponds. Phytotoxicity Not safe for post-emergence use in cereals which are under stress.