Oryzalin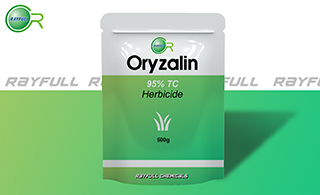 氨磺乐灵
Introduction: Oryzalin is effective against annual bluegrass, crabgrass, Spurge (prostrate), goosegrass, groundsel, knotweed, foxtail, and more in ornamental plantings, established warm season turfgrass, Christmas tree plantations, ground covers/perennials, non-bearing fruit and nut trees and vines, and non-cropland and industrial sites.
Common name: Oryzalin
Another name: Surflan; Dirimal; 4-(Dipropylamino)-3,5-dinitrobenzenesulfonamide; Ryzelan; etc.
Chemical name: 3,5-dinitro-N4,N4-dipropylsulfanilamide
Empirical formula: C12H18N4O6S
Structural formula:

Mol. Weight: 346.36 g/mol
CAS No.: 19044-88-3
Specifications
Leading Oryzalin supplier
Oryzalin 95% TC
Oryzalin 75% WP
Oryzalin 85% WDG
Packing:
BULK PACKING
Powder: 25kg/Bag, 25kg/Drum, 50kg/Drum etc.
Liquid: 200L/Drum, 20L/Drum, 10L/Drum etc.
SMALL PACKING
Powder: 1kg/Alu bag, 500g/Alu bag, 200g/Alu bag, 100g/Alu bag, 50g/Alu bag, 15g/Alu bag etc.
Liquid: 5L/Drum, 1L/Bottle, 500ml/Bottle, 250ml/Bottle, 100ml/Bottle, 50ml/Bottle etc.
Customerized packing label
Oryzalin FAO standard
Professional registration
HAZARDS IDENTIFICATION
Hazard statement(s)
H317 (97.5%): May cause an allergic skin reaction.
H400 (97.5%): Very toxic to aquatic life.
H410 (97.5%): Very toxic to aquatic life with long lasting effects.
Precautionary statement(s)
P261: Do not breathe dust/fume/gas/mist/vapors/spray.
P272: Contaminated work clothing should not be allowed out of the workplace.
P273: Avoid release to the environment.
P280: Wear protective gloves/protective clothing/eye protection/face protection.
P302+P352: IF ON SKIN: wash with plenty of water.
P321: Specific treatment (see ... on this label).
P333+P313: IF SKIN irritation or rash occurs: Get medical advice/attention.
P363: Wash contaminated clothing before reuse.
P391: Collect spillage.
P501: Dispose of contents/container to an approved waste disposal plant.
Supplemental Hazard Statements: none.
MAMMALIAN TOXICOLOGY
Acute toxicity: 1) Acute oral LD50 for rats is >5000 a.i.mg/kg. 2) Acute dermal LD50 for rats is >2000 a.i.mg/kg. 3) Acute inhalation toxicity LC50 (4 h) for rats is >4.79 a.i.mg/L. 4) Skin irritation: Slightly irritating to skin (rabbits). 5) Eye irritation: Slightly irritating to eyes (rabbits). 6) Skin sensitization for guinea pig: Non-sensitizing.
NOEL: (2 y) for rats is 75 mg/kg/day; (18 m) for mice is 15 mg/kg/day. Other Not mutagenic.
ADI 0-0.005 mg/kg b.w.
Classification:
WHO Classification: U (Unlikely to present an acute hazard)
EC Risk Classification: Carcinogen category 3: R40; Xn - Harmful: R43; N - Dangerous for the environment: R50, R53
US EPA Classification (formulation): III (Caution - Slightly toxic)
ECOTOXICOLOGY
Effect on birds: Acute oral LD50 for Mallard is 427 a.i.mg/kg. Effect on fish: Acute LC50 (96 h) for Rainbow trout is 2.86 a.i.mg/l. Effects on aquatic invertebrates: Acute EC50 (48 h) for Daphnia magna is 1.02 a.i.mg/l. Effects on algae: Acute 72 hour EC50 for Anabaena flos-aquae is 18.1 a.i.mg/l. Effects on bees: contact acute 48 hour LD50 is 40.8 a.i.μg/bee, oral acute 48 hour LD50 is 32 a.i.μg/bee. Effects on earthworms: Acute 14 day LC50 is >500 a.i.mg/kg.
ENVIRONMENTAL FATE
Breakdown of Chemical in Soil and Groundwater: Oryzalin is soluble in water and it does not have a strong tendency to adsorb to soil particles. It leaches downward to a limited extent with rainfall and has a moderate potential to contaminate groundwater. Its soil half-life is 20 days. Microbial degradation may be responsible for the breakdown of oryzalin in soils. It is subject to photodecomposition, but not volatilization, at the soil surface. Breakdown of Chemical in Surface Water: Oryzalin has a low solubility in water. There was no observed hydrolysis at pH 5, 7, 9. Breakdown of Chemical in Vegetation: Plant metabolism of oryzalin is minimal. Unmetabolized oryzalin is rarely detected. When used at the recommended level, damage to plants in the following year is not expected.
Usage: Oryzalin was introduced by DowElanco. Oryzalin is a selective preemergence surface-applied herbicide used for control of annual grasses and broadleaf weeds in fruit trees, nut trees, vineyards, established bermudagrass turf and established ornamentals. It inhibits the growth of germinating weed seeds.
Application: Bud before herbicides, can use or other herbicides in practice. Control the fruit trees, cotton, peanuts, winter rape, soybean and sunflower fields such as the weeds and applicable lawn weeding.