MESOTRIONE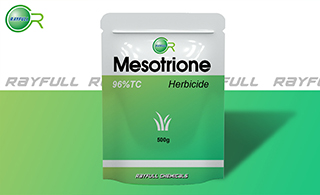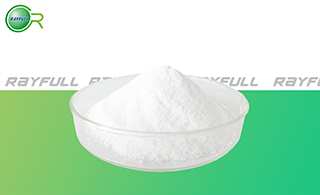 硝磺草酮, 甲基磺草酮
Introduction: Mesotrione is a pre-emergence and post-emergence herbicide used to control some grass and broad-leaved weeds including velvet leaf, cocklebur, pigweeds, sunflower and nightshades mainly in maize crops. It also can be used in sweetcorn, flax, asparagus, fruit including cranberry, blueberry, rhubarb field.
Common name: Mesotrione
Another name: Tenacity, etc.
Chemical name: 2-(4-mesyl-2-nitrobenzoyl)cyclohexane-1,3-dione
Empirical formula: C14H13NO7S
Structural formula:

Mol. Weight: 339.32 g/mol
CAS No.: 104206-82-8
Specifications
Leading Mesotrione supplier
Mesotrione 100 g/L SC
Mesotrione 480 g/L SC
Mesotrione 96% TC
Packing:
BULK PACKING
Solid: 25kg/Bag, 25kg/Drum, 50kg/Drum etc.
Liquid: 200L/Drum, 20L/Drum, 10L/Drum ect.
SMALL PACKING
Solid: 1kg/Alu bag, 500g/Alu bag, 200g/Alu bag, 100g/Alu bag, 50g/Alu bag, 15g/Alu bag etc.
Liquid: 5L/Drum, 1L/Bottle, 500ml/Bottle, 250ml/Bottle, 100ml/Bottle, 50ml/Bottle etc.
Customerized packing label
Mesotrione FAO standard
Professional registration
HAZARDS IDENTIFICATION
Hazard statement(s)
H400: Very toxic to aquatic life.
H410: Very toxic to aquatic life with long lasting effects.
Precautionary statement(s)
P273: Avoid release to the environment.
P391: Collect spillage.
P501: Dispose of contents/container to ...
Supplemental Hazard Statements: none
MAMMALIAN TOXICOLOGY
Acute toxicity: 1) Acute oral LD50 for rat: >5000 a.i.mg/kg. 2) Acute dermal LD50 for rat: >2000 a.i.mg/kg. 3) Inhalation LC50 (4 h) for rat: >4.75 a.i. mg/L. 4) Practically non-irritant to skin. 5) Mild irritant to eyes (rabbits). 6) Not a skin sensitiser (guinea pigs).
Not a reproductive hazard. No known neurotoxic effects based on animal studies. And not carcinogenic in animal studies.
ADI: 0.01 mg/kg b.w./day [Mouse, SF=200]
Classification:
EC Risk Classification: N - Dangerous for the environment: R50, R53
ECOTOXICOLOGY
Effect on birds: low toxicity to birds, acute LD50 for Bobwhite quail is >3776 a.i.mg/kg. Effect on fish: low toxicity to fish, acute 96 hour LC50 for Bluegill sunfish is >120 a.i.mg/L. Effect on aquatic invertebrates: low toxicity to aquatic invertebrates, acute 48 hour EC50 for Daphnia magna is >622 a.i.mg/L. Effect on algae: moderate toxicity to algae, acute 72 hour EC50 for Raphidocelis subcapitata is 3.5 a.i.mg/L. Effect on honeybees: low-moderate toxicity to honeybees, contact acute 48 hour LD50 is >100 a.i.μg/bee, oral acute 48 hour LD50 is >11 a.i.μg/bee. Effect on earthworms: low toxicity to earthworms, acute 14 day LC50 for Eisenia foetida is >2000 a.i.mg/kg.
ENVIRONMENTAL FATE
Mesotriones's production may result in its release to the environment through various waste streams; its use as a herbicide will result in its direct release to the environment. If released to air, a vapor pressure of <4.27×10-8 mm Hg at 20 deg C indicates mesotrione will exist solely in the particulate phase in the ambient atmosphere. Particulate-phase mesotrione will be removed from the atmosphere by wet and dry deposition. Mesotrione absorbs at wavelengths >290 nm and, therefore, may be susceptible to direct photolysis by sunlight. If released to soil, mesotrione is expected to have very high to moderate mobility based upon measured Koc values of 15 to 390. Based on the pKa of 3.12, mesotrione is expected to exist primarily in the enol-tautomer form in the environment. The Koc is inversely correlated with pH, as the pH increases, the Koc decreases. Volatilization from moist soil surfaces is not expected to be an important fate process based upon an estimated Henry's Law constant of <1.2×10-10 atm-cu m/mole. Mesotrione is not expected to volatilize from dry soil surfaces based upon its vapor pressure. Direct photolysis can occur on soil surfaces with estimated half-lives of 22-24 days at 37-50 deg N latitudes. Biodegradation is the major degradation pathway in soil and water. Laboratory half-lives determined in 17 soils range from 6 to 27 days. Degradation was found to be related to soil pH, with half-lives decreasing with increasing soil pH. Field dissipation half-lives in 6 soils in 3 European countries ranged from 3-7 days. If released into water, mesotrione is not expected to adsorb to suspended solids and sediment based upon the Koc values. In water-sediment distribution tests, mesotrione was predominantly found in the water phase (>82%) with a maximum of 3.8% partitioning to sediment. Volatilization from water surfaces is not expected to be an important fate process based upon this compound's estimated Henry's Law constant. An estimated BCF of 3 suggests the potential for bioconcentration in aquatic organisms is low. Mesotrione is stable to hydrolysis at pH 4-9. It is susceptible to direct photolysis in water with estimated half-lives of 81-97 days under summer conditions at 40-50 deg N latitude. The presence of organic matter in natural waters may increase the photodegradation rate by an order of magnitude due to sensitized photo-oxidation. Biodegradation is a major degradation pathway in water. Laboratory dissipation studies in water and water-sediment systems have observed mesotrione half-lives of 3.9-6.6 days.
Usage: Reported by R. A. Wichert et al., Proc. Br. Crop Prot. Conf. - Weeds, 1999, 1, 105. See also J. Dyson et al., Proc. 9th IUPAC Int. Congr. Pestic. Chem., London, 1998, 2, 6A-021. Developed by Syngenta AG and first registered in 2001. Manufacturers: Syngenta. p-Hydroxyphenyl pyruvate dioxygenase inhibitor, which ultimately affects carotenoid biosynthesis. Selectivity in maize derives from differential metabolism (to the 4-hydroxy derivative) and also possibly from slower foliar uptake.
Application: Uptake is foliar and via the root, with both acropetal and basipetal translocation. Symptoms are whitening of leaves, followed by necrosis of the meristematic tissue. Under development for pre- (at 100-225 g/ha) and post- (at 70-150 g/ha) emergence control of broad-leaved weeds, such as Xanthium strumarium, Ambrosia trifida, Abutilon theophrasti, and Chenopodium, Amaranthus and Polygonum spp., and some grass weeds, in maize.