IOXYNIL OCTANOATE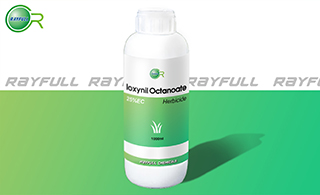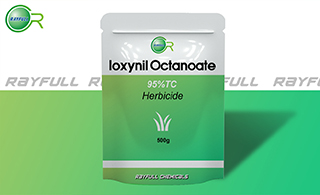 碘苯腈辛酸酯, 辛酰碘苯腈
Introduction: A herbicide used for post-emergence control of various broad-leaved weeds in cereals, onions, leeks, garlic, shallots, flax, sugarcane, forage grasses, lawns and turf.
Common name: Ioxynil Octanoate
Another name: Totril, Ioxynil-octanoate, etc.
Chemical name: 4-cyano-2,6-diiodophenyl octanoate
Empirical formula: C15H17I2NO2
Structural formula: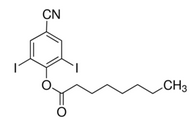 Mol. Weight: 497.1 g/mol
CAS No.: 3861-47-0
Specifications
Leading Ioxynil Octanoate supplier
Ioxynil Octanoate 250 g/L EC
Ioxynil Octanoate 95% TC
Packing:
BULK PACKING
Solid: 25kg/Bag, 25kg/Drum, 50kg/Drum etc.
Liquid: 200L/Drum, 20L/Drum, 10L/Drum ect.
SMALL PACKING
Solid: 1kg/Alu bag, 500g/Alu bag, 200g/Alu bag, 100g/Alu bag, 50g/Alu bag, 15g/Alu bag etc.
Liquid: 5L/Drum, 1L/Bottle, 500ml/Bottle, 250ml/Bottle, 100ml/Bottle, 50ml/Bottle etc.
Customerized packing label
Professional registration
HAZARDS IDENTIFICATION
Hazard statement(s)
H302: Harmful if swallowed.
H317: May cause an allergic skin reaction.
H400: Very toxic to aquatic life.
H410: Very toxic to aquatic life with long lasting effects.
Precautionary statement(s)
P261: Avoid breathing dust/fume/gas/mist/vapors/spray.
P264: Wash ... thoroughly after handling.
P270: Do not eat, drink or smoke when using this product.
P272: Contaminated work clothing should not be allowed out of the workplace.
P273: Avoid release to the environment.
P280: Wear protective gloves/protective clothing/eye protection/face protection.
P301+P312: IF SWALLOWED: call a POISON CENTER/doctor/... IF you feel unwell.
P302+P352: IF ON SKIN: wash with plenty of water.
P321: Specific treatment (see ... on this label).
P330: Rinse mouth.
P333+P313: IF SKIN irritation or rash occurs: Get medical advice/attention.
P363: Wash contaminated clothing before reuse.
P391: Collect spillage.
P501: Dispose of contents/container to ...
Supplemental Hazard Statements: none
MAMMALIAN TOXICOLOGY
Acute toxicity: 1) Acute oral LD50 for rat: 165 a.i.mg/kg. 2) Acute dermal LD50 for rat: >2000 a.i.mg/kg. 3) Inhalation LC50 (4 h) for rat: >4.63 a.i.mg/L. 4) Non-irritating to skin (rabbits). 5) Irritating to eyes (rabbits). 6) May cause allergic skin reaction (guinea pigs).
This product is or contains a component that is not classifiable as to its carcinogenicity based on its IARC, ACGIH, NTP, or EPA classification.
ADI: 0.005 mg/kg b.w./day[Rat, SF=100]
Classification:
Toxicity class WHO (a.i.): II (Moderately hazardous)
US EPA Classification (formulation): No consensus across products or no products available
EC Risk Classification: Reproduction risk category 3: R63; T - Toxic: R25; Xn - Harmful: R43; Xi - Irritant: R36; N - Dangerous for the environment: R50, R53
ECOTOXICOLOGY
Effect on birds: moderate toxicity to birds, acute oral LD50 for Japanese quail is 677 a.i.mg/kg. Effect on fish: high toxicity to fish, acute 96 hour LC50 is 0.043 a.i.mg/L. Effect on aquatic invertebrates: high toxicity to aquatic invertebrates, acute 48 hour EC50 for Daphnia magna is 0.011 a.i.mg/L. Effect on honeybees: moderate toxicity to honeybees, oral acute 48 hour LD50 is >3.27 a.i.μg/bee. Effect on earthworms: moderate toxicity to earthworms, acute 14 day LC50 is >60 a.i.mg/kg.
ENVIRONMENTAL FATE
Ioxynil Octanoate's production may result in its release to the environment through various waste streams; its use as a herbicide will result in its direct release to the environment. If released to air, a vapor pressure of 0.00009 mPa at 25 deg C indicates Ioxynil Octanoate is low volatility. If released to soil, Ioxynil Octanoate is expected to have moderate mobility based upon an Kf of 3.94, Kfoc of 289 and 1/n of 0.81. Ioxynil Octanoate may not volatilize from dry soil surfaces based upon its vapor pressure. Based on experiments using moist and dry soil exposed to light and dark the estimated photodegradation half-life was 44 hours on soil. An estimated BCF of 188 suggests the potential for bioconcentration in aquatic organisms is threshold for concern. Aqueous hydrolysis is pH and temperature sensitive: stable at pH 4 and pH 5 both at 22-25 degC, DT50 is 6 days at pH 7 and 22 degC, 52 days at pH 7 and 25 degC, 16 days at pH 9 and 22 degC, 5.3 days pH 9 and 25 degC. The measured photodegradation half-life in water was 6.9 days, Ioxynil Octanoate can be degradation into Ioxynil.
Usage: Developed by May & Baker in 1963, patent: BP 977755. Selective, systemic with contact action. Photosynthetic electron transport inhibitor at the photosystem II.
Application: Used for post-emergence control of a wide range of a wide range of annual broad-leaved weeds, especially young seedlings of the Polygonaceae, Compositae, and Boraginaceae, in cereals, onions, leeks, garlic, shallots, flax, sugar cane, forage grasses, lawns, and newly-sown turf. Often used in combination with other herbicides, in order to extend the spectrum of control. Applied at 0.562 kg Phenol/ha in onions, 0.350-0.490 kg phenol/ha in cereals.