FLUOMETURON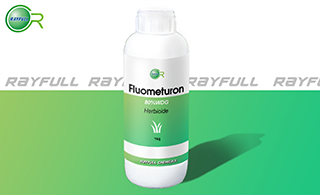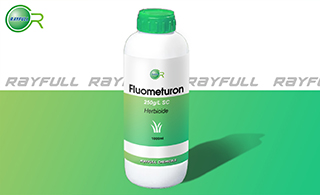 伏草隆
Introduction: Fluometuron is a soil applied selective herbicide used to control annual grasses and broad-leaved weeds in cotton and sugarcane.
Common name: Fluometuron
Another name: Cotoran, Cotoran 80 WP, fluometuron monoacetate, fluometuron monohydrochloride, ftormeturon, Pakhtaron, etc.
Chemical name: 1,1-dimethyl-3-(α,α,α-trifluoro-m-tolyl)urea
Empirical formula: C10H11F3N2O
Structural formula: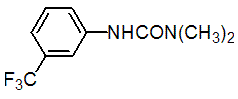 Mol. Weight: 232.20 g/mol
CAS No.: 2164-17-2
Specifications
Leading Fluometuron supplier
Fluometuron 250 g/L SC
Fluometuron 80% WDG
Fluometuron 90% TC
Packing:
BULK PACKING
Solid: 25kg/Bag, 25kg/Drum, 50kg/Drum etc.
Liquid: 200L/Drum, 20L/Drum, 10L/Drum ect.
SMALL PACKING
Solid: 1kg/Alu bag, 500g/Alu bag, 200g/Alu bag, 100g/Alu bag, 50g/Alu bag, 15g/Alu bag etc.
Liquid: 5L/Drum, 1L/Bottle, 500ml/Bottle, 250ml/Bottle, 100ml/Bottle, 50ml/Bottle etc.
Customerized packing label
Fluometuron FAO standard
Professional registration
HAZARDS IDENTIFICATION
Hazard statement(s)
H302 (52.73%): Harmful if swallowed.
H400 (40%): Very toxic to aquatic life.
H410 (47.27%): Very toxic to aquatic life with long lasting effects.
Precautionary statement(s)
P264: Wash ... thoroughly after handling.
P270: Do not eat, drink or smoke when using this product.
P273: Avoid release to the environment.
P301+P312: IF SWALLOWED: call a POISON CENTER/doctor/... IF you feel unwell.
P330: Rinse mouth.
P391: Collect spillage.
P501: Dispose of contents/container to ...
Supplemental Hazard Statements: none
MAMMALIAN TOXICOLOGY
Acute toxicity: 1) Acute oral LD50 for rat: >5000 a.i.mg/kg. 2) Acute dermal LD50 for rat: >2000 a.i.mg/kg. 3) Inhalation LC50 (4 h) for rat: >4.62 a.i.mg/L. 4) Mildly-irritating to skin (rabbits). 5) Mildly-irritating to eyes (rabbits). 6) Not a skin sensitiser (guinea pigs).
NOEL: (2 y) for rats is 19, mice is 1.3 mg/kg b.w. daily; (1 y) for dogs is 10 mg/kg b.w. daily.
ADI: 0.0005 mg/kg b.w./day [Rat, SF=1000]
Classification:
Toxicity class WHO (a.i.): U (Unlikely to present an acute hazard)
US EPA Classification (formulation): II (Warning - Moderately toxic)
EC Risk Classification: Carcinogen category 3: R40; Reproduction risk category 3: R63; Xn - Harmful: R64; N - Dangerous for the environment: R51, R53
ECOTOXICOLOGY
Effect on birds: low toxicity to birds, acute LD50 for Mallard ducks is 2974 a.i.mg/kg. Effect on fish: moderate toxicity to fish, acute 96 hour LC50 for Rainbow trout is 30 a.i.mg/L. Effect on aquatic invertebrates: moderate toxicity to aquatic invertebrates, acute 48 hour EC50 for Daphnia magna is 54 a.i.mg/L. Effect on algae: moderate toxicity to algae, acute 72 hour EC50 for Pseudokirchneriella subcapitata is 0.32 a.i.mg/L. Effect on honeybees: low-moderate toxicity to honeybees, contact acute 48 hour LD50 is >100 a.i.μg/bee, oral acute 48 hour LD50 is >34.0 a.i.μg/bee. Effect on earthworms: moderate toxicity to earthworms, acute 14 day LC50 for Eisenia foetida is >500 a.i.mg/kg.
ENVIRONMENTAL FATE
Fluometuron's use as an herbicide for the control of broadleaf weeds and grass is expected to result in its direct release to the environment. If released to air, a vapor pressure of 9.38×10-7 mm Hg at 25 deg C indicates fluometuron will exist in both the vapor and particulate phases in the ambient atmosphere. Vapor-phase fluometuron will be degraded in the atmosphere by reaction with photochemically-produced hydroxyl radicals; the half-life for this reaction in air is estimated to be 2.1 days. Particulate-phase fluometuron will be removed from the atmosphere by wet and dry deposition. Fluometuron may photodegrade in the atmosphere based upon its photolysis in water. The photolysis half-life of 10 mg/l aqueous solution of fluometuron with natural sunlight was 1.2 days. If released to soil, fluometuron is expected to have high mobility based upon its Koc ranging from 29 to 173. Volatilization from moist soil surfaces is not expected to be an important fate process based upon its Henry's Law constant of 2.6×10-9 atm-cu m/mole. In soil, fluometuron is transformed primarily through biodegradation. Depending on the nature of soil and climatic conditions, the field half-lives of fluometuron in soil ranged from 10-171 days with an average half-life of 85 days. The major degradation product under aerobic and anaerobic conditions was mono-N-demethylated fluometuron. Fluometuron residues often dissipate to nondetectable levels by four months after application of labeled rates. Half-lives in dissipation studies conducted in cotton fields and sampling at 0 to 15 cm were: 103 days for a loamy sand with 0.9% organic matter and pH 6.4 in Georgia; and 171 days for a sandy loam with 1.3% organic matter and pH 7.3 in California. If released into water, fluometuron is not expected to adsorb to suspended solids and sediment based upon its Koc values. Volatilization from water surfaces is not expected to be an important fate process based upon this compound's Henry's Law constant. An estimated BCF of 15 suggests the potential for bioconcentration of fluometuron in aquatic organisms is low. Hydrolysis is not expected to be an important fate process based upon its hydrolysis half-lives in water of 2.4 yrs (pH 5) and 2.8 yrs (pH 9). Occupational exposure to fluometuron may occur through inhalation of dust particles and dermal contact with this compound at workplaces where fluometuron is produced or used. (SRC)
Usage: Herbicide reported by C. J. Counselman et al. (Proc. South Weed Conf., 17th, 1964, 189). Introduced by Ciba AG (now Syngenta AG) and first marketed in the early 1970s. Divested to Makhteshim-Agan in 2001. Patents: BE 594227; GB 914779. Manufacturers: ÉMV; Griffin; Makhteshim-Agan; Nufarm GmbH; Sannong. Photosynthetic electron transport inhibitor at the photosystem II receptor site. Also inhibits carotenoid biosynthesis; target enzyme not known.
Application: Selective systemic herbicide, absorbed more readily by the roots than by the foliage, with translocation acropetally. Control of annual broad-leaved weeds and grasses in cotton and sugar cane, at 1.0-1.5 kg/ha. Phytotoxicity Phytotoxic to sugar beet, beetroot, soya beans, french beans, brassicas, tomatoes, legumes, cucurbits, aubergines, and several other crops.