CLOMAZONE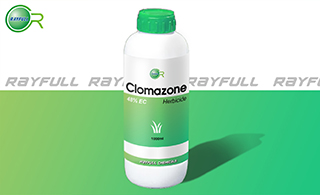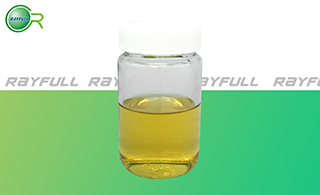 异恶草酮, 广灭灵
Introduction: Used for the control of broad-leaved weeds and grasses in a range of crops such as cotton; vegetables including peas, sweet potatoes, green beans, navy beans; curcubits; tobacco and rice.
Common name: Clomazone
Another name: Dimethazone, Gamit, Magister, Command, etc.
Chemical name: 2-(2-chlorobenzyl)-4,4-dimethyl-1,2-oxazolidin-3-one
Empirical formula: C12H14ClNO2
Structural formula: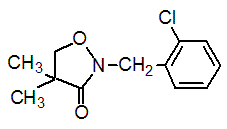 Mol. Weight: 239.7 g/mol
CAS No.: 81777-89-1
Specifications
Leading Clomazone supplier
Clomazone 480 g/L EC
Clomazone 90% TC
Packing:
BULK PACKING
Liquid: 200L/Drum, 20L/Drum, 10L/Drum ect.
SMALL PACKING
Liquid: 5L/Drum, 1L/Bottle, 500ml/Bottle, 250ml/Bottle, 100ml/Bottle, 50ml/Bottle etc.
Customerized packing label
Clomazone FAO standard
Professional registration
HAZARDS IDENTIFICATION
Hazard statement(s)
H302+H332 (13.69%): Harmful if swallowed or if inhaled
H302 (100%): Harmful if swallowed
H312 (39.88%): Harmful in contact with skin
H315 (16.67%): Causes skin irritation
H319 (16.67%): Causes serious eye irritation
H332 (86.31%): Harmful if inhaled
H400 (70.83%): Very toxic to aquatic life
H410 (31.55%): Very toxic to aquatic life with long lasting effects
H411 (13.69%): Toxic to aquatic life with long lasting effects.
H412 (51.79%): Harmful to aquatic life with long lasting effects.
Precautionary statement(s)
P261: Avoid breathing dust/fume/gas/mist/vapors/spray.
P264: Wash ... thoroughly after handling.
P270: Do not eat, drink or smoke when using this product.
P271: Use only outdoors or in a well-ventilated area.
P273: Avoid release to the environment.
P280: Wear protective gloves/protective clothing/eye protection/face protection.
P301+P312: IF SWALLOWED: call a POISON CENTER/doctor/... IF you feel unwell.
P302+P352: IF ON SKIN: wash with plenty of water.
P304+P312: IF INHALED: Call a POISON CENTER/doctor/... if you feel unwell.
P304+P340: IF INHALED: Remove person to fresh air and keep comfortable for breathing.
P305+P351+P338: IF IN EYES: Rinse cautiously with water for several minutes. Remove contact lenses if present and easy to do - continue rinsing.
P312: Call a POISON CENTER or doctor/... if you feel unwell.
P321: Specific treatment (see ... on this label).
P322: Specific measures (see ...on this label).
P330: Rinse mouth.
P332+P313: IF SKIN irritation occurs: Get medical advice/attention.
P337+P313: IF eye irritation persists: Get medical advice/attention.
P362: Take off contaminated clothing.
P363: Wash contaminated clothing before reuse.
P391: Collect spillage.
P501: Dispose of contents/container to ...
Supplemental Hazard Statements: none
MAMMALIAN TOXICOLOGY
Acute toxicity: 1) Acute oral LD50 for rat: 1369 a.i.mg/kg. 2) Acute dermal LD50 for rat: >2000 a.i.mg/kg. 3) Inhalation LC50 (4 h) for rat: 4.85 a.i.mg/L. 4) Non-Irritating to skin (rabbits). 5) Practically non-irritating to eyes (rabbits). 6) Not a skin sensitiser (guinea pigs).
NOEL: (2 y) for rats is 4.3 mg/kg daily.
ADI: 0.133 mg/kg b.w./day [Dog, SF=100]
Classification:
Toxicity class WHO (a.i.): II (Moderately hazardous)
US EPA Classification (formulation): III (Caution - Slightly toxic)
EC Risk Classification: Xn - Harmful: R20/22,N - Dangerous for the environment: R50/53
ECOTOXICOLOGY
Effect on birds: low toxicity to birds, acute LD50 for Bobwhites quail is >2510 a.i.mg/kg. Effect on fish: moderate toxicity to fish, acute 96 hour LC50 for Rainbow trout is 15.5 a.i.mg/L. Effect on aquatic invertebrates: moderate toxicity to aquatic invertebrates, acute 48 hour EC50 for Daphnia magna is 12.7 a.i.mg/L. Effect on algae: moderate toxicity to algae, acute 120 hour EC50 for Navicula pelliculosa is 0.136 a.i.mg/L. Effect on honeybees: low-moderate toxicity to honeybees, contact acute 48 hour LD50 is >100 a.i.μg/bee, oral acute 48 hour LD50 is >85.3 a.i.μg/bee. Effect on earthworms: moderate toxicity to earthworms, acute 14 day LC50 is 78 a.i.mg/kg.
ENVIRONMENTAL FATE
Dimethazone's production may result in its release to the environment through various waste streams; it's use as a herbicide will result in its direct release to the environment. If released to air, a vapor pressure of 1.4×10-4 mm Hg at 25 deg C indicates dimethazone will exist solely as a vapor in the atmosphere. Vapor-phase dimethazone will be degraded in the atmosphere by reaction with photochemically-produced hydroxyl radicals; the half-life for this reaction in air is estimated to be 5.8 hours. Aqueous solutions of dimethazone have a half-life of greater than 30 days when exposed to sunlight. If released to soil, dimethazone is expected to have moderate mobility based upon a Koc values ranging from 60-573. Volatilization from moist soil surfaces is not expected to be an important fate process based upon a Henry's Law constant of 4.13×10-8 atm-cu m/mole. Dimethazone is not expected to volatilize from dry soil surfaces based upon its vapor pressure. After 84 days 59% of 14C radiolabeled dimethazone extracted from the soil remained unchanged, indicating that dimethazone is degraded slowly. If released into water, dimethazone may adsorb to suspended solids and sediment based upon the Koc. Volatilization from water surfaces is not expected to be an important fate process based upon this compound's Henry's Law constant. An estimated BCF of 17 suggests the potential for bioconcentration in aquatic organisms is low. Hydrolysis is not expected to be an important environmental fate process since this compound lacks functional groups that hydrolyze under environmental conditions.
Usage: Herbicide introduced by FMC Corp. Patents: US 4405357. Manufacturers: FMC; Sannong. Inhibits carotenoid biosynthesis; target enzyme not known.
Application: Selective herbicide, absorbed by the roots and shoots and translocated upward. Susceptible species emerge but are devoid of pigmentation. Control of broad-leaved and grass weeds in soya beans, peas, maize, oilseed rape, sugar cane, cassava, pumpkins, and tobacco. Applied pre-emergence or pre-plant incorporated. Foliar contact or vapours may cause visual symptoms of chlorosis to nearby sensitive plants.