TRIBENURON-METHYL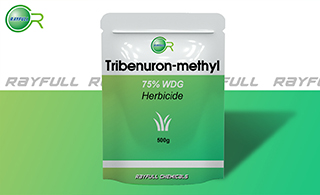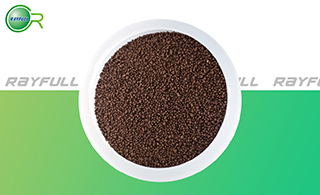 苯磺隆
Introduction: Tribenuron-methyl is a foliar acting, post-emergence herbicide used to control broad-leaved weeds including charlock, chickweed, red deadnettle, fat hen, forget-me-not, hemp nettle, mayweed, common poppy, redshank, shepherd's purse in cereals including wheat, barley, triticale, oats; olives; sunflower; grass seed crops; cotton and pre-harvest burndown.
Common name: Tribenuron-methyl
Another name: Express, Sulfmethmeton-methyl, Tribenuron methyl ester, Cameo, Cameo (pesticide), Camer (pesticide), Express (pesticide), etc.
Chemical name: methyl 2-[4-methoxy-6-methyl-1,3,5-triazin-2-yl(methyl)carbamoylsulfamoyl]benzoate
Empirical formula: C15H17N5O6S
Structural formula: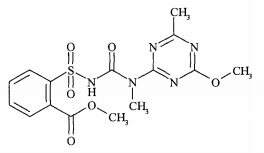 Mol. Weight: 395.4 g/mol
CAS No.: 101200-48-0
Specifications
Leading Tribenuron-methyl supplier
Tribenuron-methyl 75% WDG
Tribenuron-methyl 95% TC
Packing:
BULK PACKING
Solid: 25kg/Bag, 25kg/Drum, 50kg/Drum etc.
SMALL PACKING
Solid: 1kg/Alu bag, 500g/Alu bag, 200g/Alu bag, 100g/Alu bag, 50g/Alu bag, 15g/Alu bag etc.
Customerized packing label
Tribenuron-methyl FAO standard
Professional registration
HAZARDS IDENTIFICATION
Hazard statement(s)
H317: May cause an allergic skin reaction.
H400: Very toxic to aquatic life.
H410: Very toxic to aquatic life with long lasting effects.
Precautionary statement(s)
P261: Avoid breathing dust/fume/gas/mist/vapors/spray.
P272: Contaminated work clothing should not be allowed out of the workplace.
P273: Avoid release to the environment.
P280: Wear protective gloves/protective clothing/eye protection/face protection.
P302+P352: IF ON SKIN: wash with plenty of water.
P321: Specific treatment (see ... on this label).
P333+P313: IF SKIN irritation or rash occurs: Get medical advice/attention.
P363: Wash contaminated clothing before reuse.
P391: Collect spillage.
P501: Dispose of contents/container to ...
Supplemental Hazard Statements: none
MAMMALIAN TOXICOLOGY
Acute toxicity: 1) Acute oral LD50 for rat: >5000 a.i.mg/kg. 2) Acute dermal LD50 for rat: >5000 a.i.mg/kg. 3) Inhalation LC50 (4 h) for rat: >6.0 a.i.mg/L. 4) Non-irritating to skin (rabbits). 5) Non-irritating to eye (rabbits). 6) Mildly sensitising to skin (guinea pigs).
NOEL: (2 y) for rats is 25 ppm diet; (18 mo) for mice is 200 ppm diet (25 mg/kg b.w. daily); (1 y) for dogs is 250 ppm diet (8.2 mg/kg b.w. daily); (90 d) for rats is 100, for mice is 500, for dogs is 500 mg/kg diet.
ADI: 0.01 mg/kg b.w./day [Rat, 2 years, SF=100]
Classification:
Toxicity class WHO (a.i.): U (Unlikely to present an acute hazard)
US EPA Classification (formulation): III (Caution - Slightly toxic)
EC Risk Classification: Xn - Harmful: R43
ECOTOXICOLOGY
Effect on birds: low toxicity to birds, acute oral LD50 for Bobwhite quail is >2250 a.i.mg/kg. Effect on fish: low toxicity to fish, acute 96 hour LC50 for Rainbow trout is 738 a.i.mg/L. Effect on aquatic invertebrates: low toxicity to aquatic invertebrates, acute 48 hour EC50 for Daphnia magna is 894 a.i.mg/L. Effect on algae: moderate toxicity to algae, acute 120 hour EC50 for Raphidocelis subcapitata is 0.11 a.i.mg/L. Effect on honeybees: moderate toxicity to honeybees, oral acute 48 hour LD50 is >9.1 a.i.μg/bee. Effect on earthworms: low toxicity to earthworms, acute 14 day LC50 for Eisenia foetida is >1000 a.i.mg/kg.
ENVIRONMENTAL FATE
Tribenuron-methyl's production may result in its release to the environment through various waste streams; it's use as an herbicide will result in its direct release to the environment. If released to air, a vapor pressure of 3.9×10-10 Hg at 25 deg C indicates tribenuron-methyl will exist solely in the particulate phase in the atmosphere. Particulate-phase tribenuron-methyl will be removed from the atmosphere by wet and dry deposition. Tribenuron-methyl has been shown to be stable to direct photolysis. If released to soil, tribenuron-methyl is expected to have high mobility based upon an estimated Koc of 63. Volatilization from moist soil surfaces is not expected to be an important fate process based upon a Henry's Law constant of 1.02×10-13 atm-cu m/mole. The pKa of the sulfonamide group of tribenuron methyl is 4.7, indicating that this compound will partially exist in the anion form in the environment and anions do not volatilize from moist soil or water surfaces and generally do not adsorb more strongly to organic carbon and clay than their neutral counterparts. Tribenuron-methyl is not expected to volatilize from dry soil surfaces based upon its vapor pressure. Tribenuron-methyl has a reported field half-life of 10 days at pH 6. If released to water, volatilization from water surfaces is not expected to be an important fate process based upon this compound's pKa and Henry's Law constant. An estimated BCF of 3 suggests the potential for bioconcentration in aquatic organisms is low. Tribenuron-methyl has reported hydrolysis half lives of 1 day and 15.8 days at pH values 5 and 7, respectively, and is stable at pH 9. Occupational exposure to tribenuron-methyl may occur through dermal contact with this compound at workplaces where tribenuron-methyl is produced or used. (SRC)
Usage: Herbicide reported by D. T. Ferguson et al. (Proc. Br. Crop Prot. Conf. - Weeds, 1985, 1, 43). The methyl ester introduced in Spain (1986) by E. I. du Pont de Nemours and Co.; first approval in 1987. Manufacturers: DuPont; Jiangsu Yangnong; Sharda; Shenyang. Affects sensitive weeds through inhibition of the enzyme acetolactate synthase (ALS). Inhibition of ALS leads to the rapid cessation of cell division and subsequent growth processes in plants.
Application: Selective, post-emergence herbicide, acting primarily through foliar uptake, with little or no soil activity. Symptoms of chlorosis appear in affected weeds in days with necrosis and death occuring after 10-25 days under optimal conditions. Post-emergence control of broad-leaved weeds in cereal crops, including wheat, barley, oats, rye and triticale, at 7.5-30 g/ha.