ALACHLOR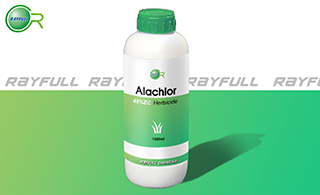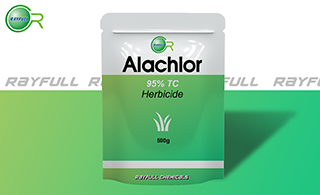 甲草胺
Introduction: A chloroacetanilide herbicide for pre-emergence control of annual grasses and broad-leaved weeds including goosegrass, crab grass, herringbone grass, sweet buffalo grass, barnyard grass, nutsedge, pigweed, sow thistl, purslane, chickweed, etc. in maize, potatoes, soybean, sunflowers, brassicas, pineapples, and sugarcane.
Common name: Alachlor
Another name: Lasagrin, Metachlor, Methachlor, Alanex, Alachlore, Alochlor, Pillarzo, Lasso, LAZO, Chimiclor, Alanox, Lasso micro-tech, alapaz, Satochlor
Nitala, Perfect, Ralchlor, Alagan, Intrro, Lasso Microtech, Micro-Tech, etc.
Chemical name: 2-chloro-2',6'-diethyl-N-methoxymethylacetanilide
Empirical formula: C14H20ClNO2
Structural formula: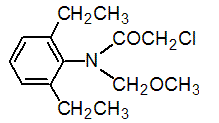 Mol. Weight: 269.77 g/mol
CAS No.: 15972-60-8
Specifications
Leading Alachlor supplier
Alachlor 480 g/L EC
Alachlor 95% TC
Packing:
BULK PACKING
Solid: 25kg/Bag, 25kg/Drum, 50kg/Drum etc.
Liquid: 200L/Drum, 20L/Drum, 10L/Drum ect.
SMALL PACKING
Solid: 1kg/Alu bag, 500g/Alu bag, 200g/Alu bag, 100g/Alu bag, 50g/Alu bag, 15g/Alu bag etc.
Liquid: 5L/Drum, 1L/Bottle, 500ml/Bottle, 250ml/Bottle, 100ml/Bottle, 50ml/Bottle etc.
Customerized packing label
Alachlor FAO standard
Professional registration
HAZARDS IDENTIFICATION
Hazard statement(s)
H302: Harmful if swallowed.
H316: Causes mild skin irritation.
H317: May cause an allergic skin reaction.
H373: Causes damage to organs through prolonged or repeated exposure.
H400: Very toxic to aquatic life.
H410: Very toxic to aquatic life with long lasting effects.
Precautionary statement(s)
P260: Do not breathe dust/fume/gas/mist/vapors/spray.
P261: Avoid breathing dust/fume/gas/mist/vapors/spray.
P264: Wash ... thoroughly after handling.
P270: Do not eat, drink or smoke when using this product.
P272: Contaminated work clothing should not be allowed out of the workplace.
P273: Avoid release to the environment.
P280: Wear protective gloves/protective clothing/eye protection/face protection.
P301+P312: IF SWALLOWED: call a POISON CENTER/doctor/... IF you feel unwell.
P302+P352: IF ON SKIN: wash with plenty of water.
P314: Get medical advice/attention if you feel unwell.
P321: Specific treatment (see ... on this label).
P330: Rinse mouth.
P332+P313: IF SKIN irritation occurs: Get medical advice/attention.
P333+P313: IF SKIN irritation or rash occurs: Get medical advice/attention.
P363: Wash contaminated clothing before reuse.
P391: Collect spillage.
P501: Dispose of contents/container to ...
Supplemental Hazard Statements: none
MAMMALIAN TOXICOLOGY
Acute toxicity: 1) Acute oral LD50 for rat: 930 a.i.mg/kg. 2) Acute dermal LD50 for rabbit: >13300 a.i.mg/kg. 3) Inhalation LC50 (4 h) for rat: 1.04 a.i. mg/L. 4) Not irritant to skin (rabbits). 5) Not irritant to eyes (rabbits). 6) Contact sensitisation reactions observed in guinea pigs. NOEL: (2 y) for rats is 2.5 mg/kg b.w. daily; (1 y) for dogs 1 mg/kg b.w. daily. Oncogenic in rats but not in mice; the mechanism of induction has been shown to be not relevant at anticipated exposure levels in humans.
ADI: 0.01 mg/kg b.w./day
Classification:
Toxicity class WHO (a.i.): II (Moderately hazardous)
US EPA Classification (formulation): III (Caution - Slightly toxic)
EC Risk Classification: Carcinogen category 3: R40; Xn - Harmful: R22, R43; N - Dangerous for the environment: R50, R53
ECOTOXICOLOGY
Effect on birds: moderate toxicity to birds, acute oral LD50 for Bobwhites quail is 1536 a.i.mg/kg. Effect on fish: moderate toxicity to fish, acute 96 hour LC50 for Rainbow trout is 1.8 a.i.mg/L. Effect on aquatic invertebrates: moderate toxicity to aquatic invertebrates, acute 48 hour EC50 for Daphnia magna is 10 a.i.mg/L. Effect on algae: moderate toxicity to algae, acute 72 hour EC50 for Scenedemus subspicatus is 0.966 a.i.mg/L. Effect on honeybees: moderate toxicity to honeybees, contact acute 48 hour LD50 is 16 a.i.μg/bee. Effect on earthworms: moderate toxicity to earthworms, acute 14 day LC50 for Eisenia foetida is 386.8 a.i.mg/kg.
ENVIRONMENTAL FATE
Alachlor's production may result in its release to the environment through various waste streams; its use as a herbicide will result in its direct release to the environment. If released to air, a vapor pressure of 2.290×10-5 mm Hg at 25 deg C indicates alachlor will exist in both the vapor and particulate phases. Vapor-phase alachlor will be degraded in the atmosphere by reaction with photochemically-produced hydroxyl radicals; the half-life for this reaction in air is estimated to be 8.5 hrs. Particulate-phase alachlor will be removed from the atmosphere by wet or dry deposition. Alachlor does not absorb light at wavelengths >290 nm and therefore is not expected to be susceptible to direct photolysis by sunlight. If released to soil, alachlor is expected to have high to low mobility based upon a Koc range of 120 to 2,138. Mobility decreases with an increase in organic carbon and clay content. Volatilization from moist soil surfaces is not expected to be an important fate process based upon a Henry's Law constant of 8.32×10-9 atm-cu m/mole. Half-lives of 2-3 weeks under aerobic conditions indicate that biodegradation is a moderately important environmental fate process in soil. When incorporated into soil samples, alachlor degraded 22 to 39% following 8-hour exposure to 8 hr sunlight, the rate of degradation being enhanced by low pH and low soil organic matter. If released into water, alachlor may adsorb to some suspended solids and sediment based upon the Koc range. Approximately 20% degradation after 30 day incubation in lake water indicates that biodegradation is not expected to be an important environmental fate process in water. Volatilization from water surfaces is not expected to be an important fate process based upon this compound's Henry's Law constant. A BCF of 6 suggests bioconcentration in aquatic organisms is low. Hydrolysis is not expected to be an important environmental fate process since this compound lacks functional groups that hydrolyze under environmental condition. A 1% degradation in 135 minutes of alachlor in aqueous solution irradiated with light from 300 nm sunlamps suggests that photolysis in water is a slow environmental fate process. Occupational exposure to alachlor may occur through inhalation and dermal contact with this compound at workplaces where alachlor is produced or used. Monitoring and use data indicate that the general population may be exposed to alachlor via inhalation of ambient air, ingestion of food and drinking water. (SRC)
Usage: Herbicide reported by R. F. Husted et al. (Proc. North Cent. Weed Control Conf., 1966, 21, 44). Introduced by Monsanto Co. Patents: US 3442945; US 3547620. Manufacturers: Comlets; Crystal; ÉMV; Krishi Rasayan; Makhteshim-Agan; Monsanto; Pilarquim; RPG; Sinon. Acts by inhibition of protein synthesis and root elongation; more recent research suggests chloroacetamides may inhibit synthesis of very long chain fatty acids (J. Schmalfuss et al., Abstr. Meeting WSSA, Toronto, 40, 117-118, 2000; P. Böger, Abstr. III Int. Weed Control Congr., Brazil 2000). Maize tolerance is attributed to rapid detoxification by glutathione transferases.
Application: Selective systemic herbicide, absorbed principally by germinating shoots, but also by the roots, with translocation throughout the plant, and accumulation mainly in vegetative parts rather than in reproductive parts. Used pre-emergence at 1.68-4.48 kg/ha to control annual grasses and many broad-leaved weeds in cotton, brassicas, maize, oilseed rape, peanuts, radish, soya beans and sugar cane.