BISPYRIBAC-SODIUM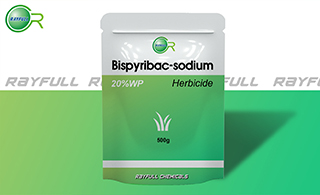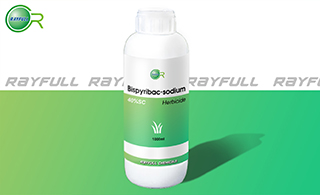 双草醚
Introduction: A post-emergence herbicide for the control of grasses, sedges and broad-leaved weeds in paddy rice and other crops/situations.
Common name: Bispyribac-sodium
Another name: Designee, Nominee, Regiment, Short-keep, etc.
Chemical name: sodium 2,6-bis(4,6-dimethoxypyrimidin-2-yloxy)benzoate
Empirical formula: C19H17N4NaO8
Structural formula:

Mol. Weight: 452.36 g/mol
CAS No.: 125401-92-5
Specifications
Leading Bispyribac-sodium supplier
Bispyribac-sodium 20% WP
Bispyribac-sodium 100 g/L SC
Bispyribac-sodium 400 g/L SC
Bispyribac-sodium 95% TC
Packing:
BULK PACKING
Solid: 25kg/Bag, 25kg/Drum, 50kg/Drum etc.
Liquid: 200L/Drum, 20L/Drum, 10L/Drum ect.
SMALL PACKING
Solid: 1kg/Alu bag, 500g/Alu bag, 200g/Alu bag, 100g/Alu bag, 50g/Alu bag, 15g/Alu bag etc.
Liquid: 5L/Drum, 1L/Bottle, 500ml/Bottle, 250ml/Bottle, 100ml/Bottle, 50ml/Bottle etc.
Customerized packing label
Bispyribac-sodium FAO standard
Professional registration
HAZARDS IDENTIFICATION
Hazard statement(s)
H317 (56.6%): May cause an allergic skin reaction.
H319 (43.4%): Causes serious eye irritation.
H411 (56.6%): Toxic to aquatic life with long lasting effects.
Precautionary statement(s)
P261: Avoid breathing dust/fume/gas/mist/vapors/spray.
P264: Wash ... thoroughly after handling.
P272: Contaminated work clothing should not be allowed out of the workplace.
P273: Avoid release to the environment.
P280: Wear protective gloves/protective clothing/eye protection/face protection.
P302+P352: IF ON SKIN: wash with plenty of water.
P305+P351+P338: IF IN EYES: Rinse cautiously with water for several minutes.
P321: Specific treatment (see ... on this label).
P333+P313: IF SKIN irritation or rash occurs: Get medical advice/attention.
P337+P313: IF eye irritation persists: Get medical advice/attention.
P363: Wash contaminated clothing before reuse.
P391: Collect spillage.
P501: Dispose of contents/container to ...
Supplemental Hazard Statements: none
MAMMALIAN TOXICOLOGY
Acute toxicity: 1) Acute oral LD50 for rat: 2635 a.i.mg/kg. 2) Acute dermal LD50 for rat: >2000 a.i.mg/kg. 3) Inhalation LC50 (4 h) for rat: 4.48 a.i. mg/L. 4) Not irritant to skin (rabbits). 5) Slightly irritating to eyes (rabbits). 6) Not a skin sensitiser (guinea pigs). NOEL: (2 y) for male rats is 20 mg/kg diet (1.1 mg/kg b.w. daily), female rats is 20 mg/kg diet (1.4 mg/kg b.w. daily), male mice is 14.1 mg/kg daily, female mice is 1.7 mg/kg b.w. daily.
ADI: 0.01 mg/kg b.w./day [Rat, SF=100]
Classification:
Toxicity class WHO (a.i.): III (Slightly hazardous)
US EPA Classification (formulation): No consensus across products or no products available
EC Risk Classification: Xn - Harmful: R43; N - Dangerous for the environment: R51/53
ECOTOXICOLOGY
Effect on birds: low toxicity to birds, acute oral LD50 for Bobwhites quail is >2250 a.i.mg/kg. Effect on fish: moderate toxicity to fish, acute 96 hour LC50 for Rainbow trout is >95 a.i.mg/L. Effect on aquatic invertebrates: moderate toxicity to aquatic invertebrates, acute 48 hour EC50 for Daphnia magna is >95 a.i.mg/L. Effect on algae: moderate toxicity to algae, acute 72 hour EC50 for Scenedemus subspicatus is 3.2 a.i.mg/L. Effect on honeybees: low toxicity to honeybees, contact acute 48 hour LD50 is >200 a.i.μg/bee; oral acute 48 hour LD50 is >141 a.i.μg/bee. Effect on earthworms: moderate toxicity to earthworms, acute 14 day LC50 for Eisenia foetida is >957 a.i.mg/kg.
ENVIRONMENTAL FATE
Animals: >95% of dose applied to rats was excreted in urine and faeces within 7 d. Plants: Following application to foliage and soil at 5-leaf stage of rice plants, c. 10% of carbon label was distributed between straw and roots at harvest. Soil/Environment: In soil, DT50 <10 d (flooded and upland conditions).
Usage: Discovered in 1988. Reported by Kumiai Chemical Industry Co., Ltd (M. Yokoyama et al., Proc. Br. Crop Prot. Conf. - Weeds, 1993, 1, 61). Developed jointly by Kumiai and Ihara Chemical Industry Co., Ltd and introduced in 1997. Patents: US 4906285; EP 321846. Manufacturers: Ihara/Kumiai. Branched chain amino acid synthesis (ALS or AHAS) inhibitor.
Application: Selective, systemic post-emergence herbicide, absorbed by foliage and roots. Control of grasses, sedges and broad-leaved weeds, especially Echinochloa spp., in direct-seeded rice, at rates of 15-45 g/ha. Also used to stunt growth of weeds in non-crop situations.