BUTACHLOR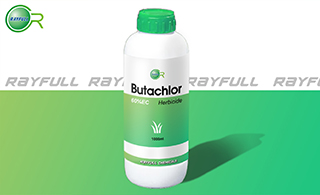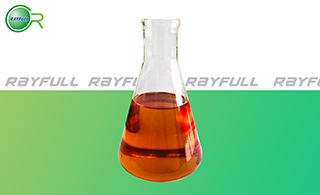 丁草胺
Introduction: A herbicide used for pre-emergence control of annual grasses and some broad-leaved weeds particularly in rice crops.
Common name: Butachlor
Another name: Machette, Machete, Bilchlor, Butaclor, Hiltachlor, Delchlor 5G, Rasayanchlor, Delchlor, Butanex, Machete (herbicide), Amichlor, Pillarsete, Weedout, Mach-Mach, Machet, etc.
Chemical name: N-butoxymethyl-2-chloro-2',6'-diethylacetanilide
Empirical formula: C17H26ClNO2
Structural formula: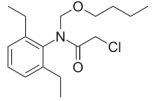 Mol. Weight: 311.9 g/mol
CAS No.: 23184-66-9
Specifications
Leading Butachlor supplier
Butachlor 600 g/L EC
Butachlor 94% TC
Packing:
BULK PACKING
Liquid: 200L/Drum, 20L/Drum, 10L/Drum ect.
SMALL PACKING
Liquid: 5L/Drum, 1L/Bottle, 500ml/Bottle, 250ml/Bottle, 100ml/Bottle, 50ml/Bottle etc.
Customerized packing label
Butachlor FAO standard
Professional registration
HAZARDS IDENTIFICATION
Hazard statement(s)
H302 (100%): Harmful if swallowed.
H317 (54.55%): May cause an allergic skin reaction.
H331 (54.55%): Toxic if inhaled.
H400 (96.36%): Very toxic to aquatic life.
H410 (41.82%): Very toxic to aquatic life with long lasting effects.
Precautionary statement(s)
P261: Avoid breathing dust/fume/gas/mist/vapors/spray.
P264: Wash ... thoroughly after handling.
P270: Do not eat, drink or smoke when using this product.
P271: Use only outdoors or in a well-ventilated area.
P272: Contaminated work clothing should not be allowed out of the workplace.
P273: Avoid release to the environment.
P280: Wear protective gloves/protective clothing/eye protection/face protection.
P301+P312: IF SWALLOWED: call a POISON CENTER/doctor/... IF you feel unwell.
P302+P352: IF ON SKIN: wash with plenty of water.
P304+P340: IF INHALED: Remove person to fresh air and keep comfortable for breathing.
P311: Call a POISON CENTER or doctor/...
P321: Specific treatment (see ... on this label).
P330: Rinse mouth.
P333+P313: IF SKIN irritation or rash occurs: Get medical advice/attention.
P363: Wash contaminated clothing before reuse.
P391: Collect spillage.
P403+P233: Store in a well-ventilated place. Keep container tightly closed.
P405: Store locked up.
P501: Dispose of contents/container to ...
Supplemental Hazard Statements: none
MAMMALIAN TOXICOLOGY
Acute toxicity: 1) Acute oral LD50 for rat: 2000 a.i.mg/kg. 2) Acute dermal LD50 for rat: >13000 a.i.mg/kg. 3) Inhalation LC50 (4 h) for rat: 3.34 a.i. mg/L. 4) Moderate irritant to skin (rabbits). 5) Practically non-irritating to eyes (rabbits). 6) Contact sensitisation reactions observed in guinea pigs. NOEL: For rats is 100 mg/kg diet (ppm), for mice is 50 mg/kg diet (ppm), for dogs is 5 mg/kg b.w. daily. Oncogenic in rats but not in mice.
Classification:
Toxicity class WHO (a.i.): III (Slightly hazardous)
US EPA Classification (formulation): III (Caution - Slightly toxic)
EC Risk Classification: Xn - Harmful: R22; N - Dangerous for the environment: R50/53
ECOTOXICOLOGY
Effect on birds: low toxicity to birds, acute oral LD50 for Mallard ducks is >4640 a.i.mg/kg. Effect on fish: moderate toxicity to fish, acute 96 hour LC50 for Bluegill sunfish is >0.44 a.i.mg/L. Effect on aquatic invertebrates: moderate toxicity to aquatic invertebrates, acute 48 hour EC50 for Daphnia magna is >2.4 a.i.mg/L. Effect on algae: moderate toxicity to algae, acute 72 hour EC50 for Scenedemus subspicatus is >0.2 a.i.mg/L. Effect on honeybees: low toxicity to honeybees, contact acute 48 hour LD50 is >100 a.i.μg/bee; oral acute 48 hour LD50 is >100 a.i.μg/bee. Effect on earthworms: high toxicity to earthworms, acute 14 day LC50 for Eisenia foetida is 0.515 a.i.mg/kg.
ENVIRONMENTAL FATE
Butachlor's production may result in its release to the environment through various waste streams; its former use as a preemergence herbicide resulted in its direct release to the environment. If released to air, a vapor pressure of 2.90×10-6 mm Hg at 25 deg C indicates that butachlor will exist in both the vapor and particulate phases. Vapor-phase butachlor will be degraded in the atmosphere by reaction with photochemically-produced hydroxyl radicals; the half-life for this reaction in air is estimated to be 6.8 hours. Particulate-phase butachlor will be removed from the atmosphere by wet and dry deposition. Butachlor does not absorb UV light >290 nm and therefore direct photolysis is not expected. If released to soil, butachlor is expected to have no mobility based upon an estimated Koc of 6700. Volatilization from moist soil surfaces is not expected to be an important fate process based upon a Henry's Law constant of 5.10×10-8 atm-cu m/mole. Butachlor is not expected to volatilize from dry soil surfaces based upon its vapor pressure. Half-lives for butachlor in soil reported in various field and biodegradation studies range from approximately 1.6 days to 29 days. If released into water, butachlor is expected to adsorb to suspended solids and sediment based upon the estimated Koc. Butachlor degraded rapidly when applied to water at the recommended rates; its half-life in water was 1.11-1.12 days. Volatilization from water surfaces is not expected to be an important fate process based upon this compound's Henry's Law constant. An estimated BCF of 1500 suggests the potential for bioconcentration in aquatic organisms is very high. Hydrolysis is not expected to be an important environmental fate process since this compound lacks functional groups that hydrolyze under environmental conditions. Occupational exposure to butachlor occur through dermal contact with this compound at workplaces where butachlor is produced. Current general population exposure in the United States is expected to be low or non-existent since butachlor is no longer used in the US. (SRC)
Usage: Herbicide reported by D. D. Baird & R. P. Upchurch (Proc. South. Weed Control Conf., 23rd, 1970, p. 101). Introduced by Monsanto Co. Patents: US 3442945; US 3547620. Manufacturers: Agrochem; Comlets; Crystal; Hindustan; Krishi Rasayan; Monsanto; Rallis; RPG; Sinon. Inhibits cell division by blocking protein synthesis; more recent research suggests chloroacetamides may inhibit synthesis of very long chain fatty acids (J. Schmalfuss et al., Abstr. Meeting WSSA, Toronto, 40, 117-118, 2000; P. Böger, Abstr. III Int. Weed Control Congr., Brazil 2000).
Application: Selective systemic herbicide, absorbed primarily by the germinating shoots, and secondarily by the roots, with translocation throughout the plant, giving higher concentrations in vegetative parts than in reproductive parts. Used pre-emergence for the control of annual grasses and certain broad-leaved weeds in rice, both seeded and transplanted. It shows selectivity in barley, cotton, peanuts, sugar beet, wheat and several brassica crops. Effective rates range from 1.0-4.5 kg/ha. Activity is dependent on water availability such as rainfall following treatment, overhead irrigation or applications to standing water as in rice culture. Non-phytotoxic to rice, cotton, barley, wheat, peanuts, sugar beet, and some brassicas.