CHLORIMURON-ETHYL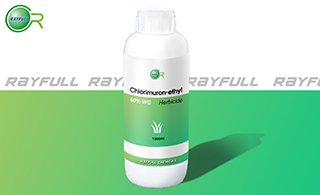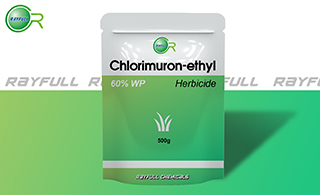 氯嘧磺隆
Introduction: Post-emergence, foliar applied herbicide used to control broad-leaved weeds in a range of crops including peanuts and soya beans.
Common name: Chlorimuron-ethyl
Another name: Classic, Chlorimuron ethyl ester, etc.
Chemical name: ethyl 2-(4-chloro-6-methoxypyrimidin-2-ylcarbamoylsulfamoyl)benzoate
Empirical formula: C15H15ClN4O6S
Structural formula: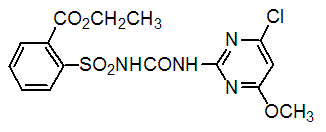 Mol. Weight: 414.82 g/mol
CAS No.: 90982-32-4
Specifications
Leading Chlorimuron-ethyl supplier
Chlorimuron-ethyl 25% WP
Chlorimuron-ethyl 60% WP
Chlorimuron-ethyl 60% WG
Chlorimuron-ethyl 95% TC
Packing:
BULK PACKING
Solid: 25kg/Bag, 25kg/Drum, 50kg/Drum etc.
SMALL PACKING
Solid: 1kg/Alu bag, 500g/Alu bag, 200g/Alu bag, 100g/Alu bag, 50g/Alu bag, 15g/Alu bag etc.
Customerized packing label
Professional registration
HAZARDS IDENTIFICATION
Harmful by inhalation, in contact with skin and if swallowed.
MAMMALIAN TOXICOLOGY
Acute toxicity: 1) Acute oral LD50 for rat: >4102 a.i.mg/kg. 2) Acute dermal LD50 for rabbit: >2000 a.i.mg/kg. 3) Inhalation LC50 (4 h) for rat: >5.0 a.i. mg/L. 4) Non-irritating to skin (rabbits). 5) Non-irritating to eyes (rabbits). 6) Not a skin sensitiser (guinea pigs).
NOEL:(2 y) for rats is 250 mg/kg diet (12.5 mg/kg b.w. daily); (1 y) for dogs is 250 mg/kg diet (6.25 mg/kg b.w. daily). NOEL in reproduction (2-generation) in rats is 250 mg/kg diet; teratogenicity in rats is 30, rabbits is 15 mg/kg.
ADI: 0.02 mg/kg b.w./day
Classification:
Toxicity class WHO (a.i.): III (Slightly hazardous)
US EPA Classification (formulation): III (Caution - Slightly toxic)
EC Risk Classification: Xi - Irritant: R36; H - Handling risks: R11, R67
ECOTOXICOLOGY
Effect on birds: low toxicity to birds, acute oral LD50 for Mallard ducks is >5620 a.i.mg/kg. Effect on fish: moderate toxicity to fish, acute 96 hour LC50 for Rainbow trout is >8.4 a.i.mg/L. Effect on aquatic invertebrates: moderate toxicity to aquatic invertebrates, acute 48 hour EC50 for Daphnia magna is >10 a.i.mg/L. Effect on honeybees: moderate toxicity to honeybees, contact acute 48 hour LD50 is 12.5 a.i.μg/bee. Effect on earthworms: low toxicity to earthworms, acute 14 day LC50 for Eisenia foetida is 4050 a.i.mg/kg.
ENVIRONMENTAL FATE
Chlorimuron-ethyl's production may result in its release to the environment through various waste streams; its use as a post-emergence herbicide for soya beans and peanut crops will result in its direct release to the environment. If released to air, a vapor pressure of 4×10-12 mm Hg at 25 deg C indicates chlorimuron-ethyl will exist solely in the particulate phase in the atmosphere. Particulate-phase chlorimuron-ethyl may be physically removed from the air by wet and dry deposition. Chlorimuron-ethyl undergoes aqueous photolysis and photodegradation on soil surfaces, suggesting direct photolysis may be possible in air. If released to soil, chlorimuron-ethyl is expected to have very high to high mobility based upon Koc values in the range of 30 to 170 measured in 4 soils. Volatilization from moist soil surfaces is not expected to be an important environmental fate process based upon an estimated Henry's Law constant of 1.8×10-15 atm-cu m/mole. Chlorimuron-ethyl is not expected to volatilize from dry soil surfaces given its vapor pressure. The biodegradation half-life of chlorimuron-ethyl in two soils was reported as 53 days under aerobic conditions, and the photodegradation half-life of chlorimuron-ethyl applied to a soil surface was approximately 36 days. If released to water, chlorimuron-ethyl is not expected to adsorb to suspended solids and sediment in the water column based upon the Koc values. Volatilization from water surfaces is not expected to be an important environmental fate process based upon the estimated Henry's Law constant. The aqueous hydrolysis half-life of chlorimuron-ethyl at 25 deg C is approximately 17 days at pH 5 and less than 3.5 days at pH 7-9, and the aqueous photolysis half-life at pH 5 and 25 deg C is approximately 12 days, although part of the degradation may be due to hydrolysis. An estimated BCF of 17 suggests the potential for bioconcentration in aquatic organisms is low. Occupational exposure to chlorimuron-ethyl may occur through dermal contact with this compound at workplaces where chlorimuron-ethyl is produced or used. The general population may be exposed to chlorimuron-ethyl via ingestion of contaminated drinking water. (SRC)
Usage: Chlorimuron-ethyl introduced as a herbicide by E. I. du Pont de Nemours and Co. First US registration in 1986. Patents: US 4394506; US 4547215. Manufacturers: DuPont; IPESA; JIE; Sharda; Shenyang; Tide. It is a branched chain amino acid synthesis (ALS or AHAS) inhibitor. Acts by inhibiting biosynthesis of the essential amino acids valine and isoleucine, hence stopping cell division and plant growth. Crop selectivity derives from plant metabolism both by homoglutathione conjugation and by de-esterification (M. K. Koeppe & H. M. Brown, Agro-Food-Industry, 6, 9-14 (1995)).
Application: Used post-emergence for control of important broad-leaved weeds, such as cocklebur, pigweed, sunflower and annual morning glory, in soya beans and peanuts. Active at 9-13 g/ha.