DICLOFOP-METHYL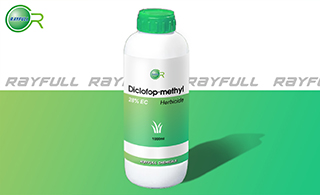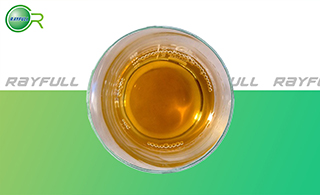 禾草灵
Introduction: A herbicide used for post-emergence control of annual grasses including annual ryegrass, barbgrass; wild oats; cowfoot grass in cereals including wheat, barley, triticale, rye; linseed; lupins; canola; peas; poppies and turf.
Common name: Diclofop-methyl
Another name: Illoxan, Dichlorfop-methyl, Hoegrass, Methyldiclofop, Hoelon, Methyl diclofop, Hoelon 3EC, Dichlordiphenprop, Diclofop methyl ester, Iloxan, etc.
Chemical name: methyl (RS)-2-(4-(2,4-dichlorophenoxy)phenoxy)propionate
Empirical formula: C16H14Cl2O4
Structural formula:

Mol. Weight: 341.19 g/mol
CAS No.: 51338-27-3
Specifications
Leading Diclofop-methyl supplier
Diclofop-methyl 28%(284 g/L) EC
Diclofop-methyl 36%(378 g/L) EC
Diclofop-methyl 95% TC
Diclofop-methyl 97% TC
Packing:
BULK PACKING
Solid: 25kg/Bag, 25kg/Drum, 50kg/Drum etc.
Liquid: 200L/Drum, 20L/Drum, 10L/Drum ect.
SMALL PACKING
Solid: 1kg/Alu bag, 500g/Alu bag, 200g/Alu bag, 100g/Alu bag, 50g/Alu bag, 15g/Alu bag etc.
Liquid: 5L/Drum, 1L/Bottle, 500ml/Bottle, 250ml/Bottle, 100ml/Bottle, 50ml/Bottle etc.
Customerized packing label
Professional registration
HAZARDS IDENTIFICATION
Hazard statement(s)
H302: Harmful if swallowed.
H317: May cause an allergic skin reaction.
H400: Very toxic to aquatic life.
H410: Very toxic to aquatic life with long lasting effects.
Precautionary statement(s)
P261: Avoid breathing dust/fume/gas/mist/vapors/spray.
P264: Wash ... thoroughly after handling.
P270: Do not eat, drink or smoke when using this product.
P272: Contaminated work clothing should not be allowed out of the workplace.
P273: Avoid release to the environment.
P280: Wear protective gloves/protective clothing/eye protection/face protection.
P301+P312: IF SWALLOWED: call a POISON CENTER/doctor/... IF you feel unwell.
P302+P352: IF ON SKIN: wash with plenty of water.
P321: Specific treatment (see ... on this label).
P330: Rinse mouth.
P333+P313: IF SKIN irritation or rash occurs: Get medical advice/attention.
P363: Wash contaminated clothing before reuse.
P391: Collect spillage.
P501: Dispose of contents/container to ...
Supplemental Hazard Statements: none
MAMMALIAN TOXICOLOGY
Acute toxicity: 1) Acute oral LD50 for rat: >512 a.i.mg/kg. 2) Acute dermal LD50 for rat: >2000 a.i.mg/kg. 3) Inhalation LC50 (4 h) for rat: >1.36 a.i. mg/L. 4) Not irritant to skin (rabbits). 5) Not irritant to eyes (rabbits). 6) Is a skin sensitiser (guinea pigs). NOEL: (2 y) for rats is 0.1 mg/kg b.w.; (15 mo) for dogs is 0.44 mg/kg b.w.
ADI: 0.001 mg/kg b.w./day [UK ACP 1991]
Classification:
Toxicity class WHO (a.i.): III (Slightly hazardous)
US EPA Classification (formulation): III (Caution - Slightly toxic)
EC Risk Classification: Xn - Harmful: R22, R43; N - Dangerous for the environment: R50, R53
ECOTOXICOLOGY
Effect on birds: low toxicity to birds, acute oral LD50 for Japanese quail is >2250 a.i.mg/kg. Effect on fish: moderate toxicity to fish, acute 96 hour LC50 for Rainbow trout is 0.31 a.i.mg/L. Effect on aquatic invertebrates: moderate toxicity to aquatic invertebrates, acute 48 hour EC50 for Daphnia magna is 0.23 a.i.mg/L. Effect on algae: moderate toxicity to algae, acute 72 hour EC50 for Anabaena flos-aqua is 2.23 a.i.mg/L. Effect on honeybees: low toxicity to honeybees, contact acute 48 hour LD50 is >100 a.i.μg/bee; oral acute 48 hour LD50 is >131 a.i.μg/bee. Effect on earthworms: moderate toxicity to earthworms, acute 14 day LC50 for Eisenia foetida is >500 a.i.mg/kg.
ENVIRONMENTAL FATE
Dichlorfop-methyl's use as a herbicide will result in its release to the environment through various herbicidal applications. Dichlorfop-methyl has been detected in a Canadian river following a major high water event. If released to soil, dichlorfop-methyl is expected to be slightly mobile to immobile. Several studies have shown that dichlorfop-methyl undergoes rapid microbial hydrolysis in soil to dichlorfop acid, which is fairly stable. If released to water, dichlorfop-methyl will be essentially non-volatile. Dichlorfop-methyl has aqueous base-catalyzed half-lives of 6.3 days at pH 9, 63 days at pH of 8, and 1.7 years at pH of 7. Dichlorfop-methyl will undergo moderate bioconcentration in aquatic organisms and adsorption to sediment will be possible due to high Koc values (2400 to 16,000). If released to the atmosphere, dichlorfop-methyl will exist in the vapor and particulate phases. In the vapor phase, it will degrade in the atmosphere by reaction with photochemically produced hydroxyl radicals with an estimated half-life of 21 hours. Physical removal from air can occur through wet and dry deposition. Exposure to dichlorfop-methyl can occur through dermal contact, inhalation, and ingestion. (SRC)
Usage: Herbicidal activity of diclofop-methyl reported by P. Langelüddeke et al. (Mitt. Biol. Bundesanst. Land.-Forstwirtsch. Berlin-Dahlem, 1975, 165, 169). Introduced by Hoechst AG (now Bayer CropScience). Manufacturers Bayer CropScience; Hegang Heyou; Hesenta; Jingma; Sharda; Sundat; Tide. Fatty acid synthesis inhibitor, by inhibition of acetyl CoA carboxylase (ACCase). Destroys the cell membrane, prevents the translocation of assimilates to the roots, reduces the chlorophyll content, and inhibits photosynthesis and meristem activity.
Application: Diclofop-methyl is a selective systemic herbicide, also with contact action, absorbed primarily by the leaves, with some absorption by the roots in moist soil. Undergoes rapid transformation to diclofop, which is translocated within the plant. Diclofop-methyl (R)-(+)- enantiomer shows significantly greater herbicidal activity by foliar application to 3 weed species than does the (S)-(-)- enantiomer, but there was less difference by soil application. For post-emergence control of wild oats, wild millets, and other annual grass weeds in wheat, barley, rye, red fescue, and broad-leaved crops such as soya beans, sugar beet, fodder beet, flax, legumes, oilseed rape, sunflowers, clover, alfalfa, peanuts, brassicas, carrots, celery, beetroot, parsnips, lettuce, spinach, potatoes, cucumbers, peas, beans, tomatoes, fennel, alliums, herbs, etc. Phytotoxicity Phytotoxic to maize, sorghum, oats, sugar cane, rice, and cotton.