FLUOROGLYCOFEN-ETHYL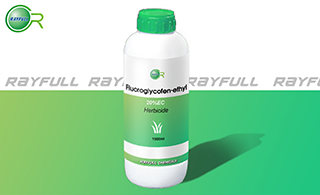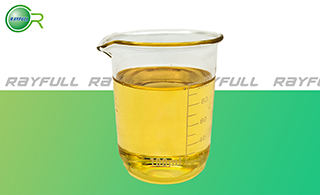 乙羧氟草醚
Introduction: A diphenylethers, post-emergence and contact herbicide used to control broad leaf weeds: Chenopodium album, Amaranthus retroflexus, Xanthium strumarium, Nightshade,Abutilon theophrasti, Portulaca oleracea, Acalypha australis, Convolvulus arvensis, Commeline communis, Field Sowthistle Herb, Cirsium setosum, Equisetum arvense; Rotala indica, Sagittaria pygmaea, Alismataceae, Potamogeton distinctus, Pontederiaceae, Monochoria vaginalis and Dicotyledons flowering plants in wheat, barley, peanut, soybean and rice fields.
Common name: Fluoroglycofen-ethyl
Another name: Super blazer, Fluoroglycofen ethyl ester, Compete, etc.
Chemical name: (2-ethoxy-2-oxoethyl) 5-[2-chloro-4-(trifluoromethyl)phenoxy]-2-nitrobenzoate
Empirical formula: C18H13ClF3NO7
Structural formula:

Mol. Weight: 447.75 g/mol
CAS No.: 77501-90-7
Specifications
Leading Fluoroglycofen-ethyl supplier
Fluoroglycofen-ethyl 100 g/L EC
Fluoroglycofen-ethyl 150 g/L EC
Fluoroglycofen-ethyl 200 g/L EC
Fluoroglycofen-ethyl 90% TC
Packing:
BULK PACKING
Solid: 25kg/Bag, 25kg/Drum, 50kg/Drum etc.
Liquid: 200L/Drum, 20L/Drum, 10L/Drum ect.
SMALL PACKING
Solid: 1kg/Alu bag, 500g/Alu bag, 200g/Alu bag, 100g/Alu bag, 50g/Alu bag, 15g/Alu bag etc.
Liquid: 5L/Drum, 1L/Bottle, 500ml/Bottle, 250ml/Bottle, 100ml/Bottle, 50ml/Bottle etc.
Customerized packing label
Professional registration
HAZARDS IDENTIFICATION
Hazard statement(s)
H302 (100%): Harmful if swallowed.
Precautionary statement(s)
P264: Wash ... thoroughly after handling.
P270: Do not eat, drink or smoke when using this product.
P301+P312: IF SWALLOWED: call a POISON CENTER/doctor/... IF you feel unwell.
P330: Rinse mouth.
P501: Dispose of contents/ container to an approved waste disposal plant.
Supplemental Hazard Statements: none
MAMMALIAN TOXICOLOGY
Acute toxicity: 1) Acute oral LD50 for rat: 1500 a.i.mg/kg. 2) Acute dermal LD50 for rabbit: >5000 a.i.mg/kg. 3) Inhalation LC50 (4 h) for rat: >7.5 mg EC formulation/L. 4) Slightly-irritating to skin (rabbits). 5) Slightly-irritating to eyes (rabbits).
NOEL: (1 y) for dogs is 320 mg/kg diet. Non-mutagenic in the Ames test.
ADI: 0.009 mg/kg.
Classification:
Toxicity class WHO (a.i.): III (Slightly hazardous)
ECOTOXICOLOGY
Effect on birds: low toxicity to birds, acute oral LD50 for Bobwhites quail is >3160 a.i.mg/kg, Dietary LC50 (8 d) for mallard ducks and bobwhite quail is >5000 mg a.i./kg. Effect on fish: moderate toxicity to fish, acute 96 hour LC50 for bluegill sunfish is 1.6 a.i.mg/L, trout 23 a.i.mg/L. Effect on aquatic invertebrates: moderate toxicity to aquatic invertebrates, acute 48 hour EC50 for Daphnia magna is 30 a.i.mg/L. Effect on honeybees: low toxicity to honeybees, contact acute 48 hour LD50 is >100 a.i.μg/bee.
ENVIRONMENTAL FATE
Animals: Hydrolysis of the ester and reduction of the nitro group. Plants: As for animals. Soil/Environment In soil and water, fluoroglycofen-ethyl is very rapidly hydrolysed to the corresponding acid. In soil, microbial degradation follows; DT50 (to acifluorfen) c. 11 h. Koc 1364, DT50 7-21 d (F. E. Dayan & S. O. Duke, Proc. Br. Crop Prot. Conf. - Weeds, 1997, 1, 83).
Usage: Herbicide developed by Rohm & Haas Co. (now Dow AgroSciences) as the ethyl ester. Manufacturers: Dow AgroSciences. Protoporphyrinogen oxidase inhibitor.
Application: Fluoroglycofen-ethyl is a selective leaf- and root- herbicide. Post-emergence control of broad-leaved weeds and grasses (particularly Galium, Viola, and Veronica spp.) in wheat, barley, oats, peanuts, rice, and soya beans. Incompatible with suspension concentrate formulations.