OXYFLUORFEN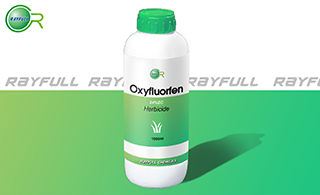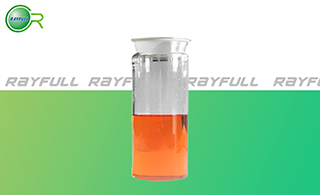 乙氧氟草醚
Introduction: A broad-spectrum, pre- and post-emergent herbicide used to control certain annual weeds in sugarcane; vegetables including alliums, peas, cabbage; fruit; nuts including almonds; cotton; ornamentals; non-crop areas including landscapes, residential and amenity sites.
Common name: Oxyfluorfen
Another name: Oxyfluorofen, Galigan, Oxyfluorfene, Koltar, Oxygold, Goal, Goldate, Zoomer, Hada F, etc.
Chemical name: 2-chloro-α,α,α-trifluoro-p-tolyl 3-ethoxy-4-nitrophenyl ether
Empirical formula: C15H11ClF3NO4
Structural formula:

Mol. Weight: 361.7 g/mol
CAS No.: 42874-03-3
Specifications
Leading Oxyfluorfen supplier
Oxyfluorfen 240 g/L EC
Oxyfluorfen 95% TC
Packing:
BULK PACKING
Solid: 25kg/Bag, 25kg/Drum, 50kg/Drum etc.
Liquid: 200L/Drum, 20L/Drum, 10L/Drum ect.
SMALL PACKING
Solid: 1kg/Alu bag, 500g/Alu bag, 200g/Alu bag, 100g/Alu bag, 50g/Alu bag, 15g/Alu bag etc.
Liquid: 5L/Drum, 1L/Bottle, 500ml/Bottle, 250ml/Bottle, 100ml/Bottle, 50ml/Bottle etc.
Customerized packing label
Professional registration
HAZARDS IDENTIFICATION
Hazard statement(s)
H400 (98.25%): Very toxic to aquatic life.
H410 (98.25%): Very toxic to aquatic life with long lasting effects.
Precautionary statement(s)
P273: Avoid release to the environment.
P391: Collect spillage.
P501: Dispose of contents/container to ...
Supplemental Hazard Statements: none
MAMMALIAN TOXICOLOGY
Acute toxicity: 1) Acute oral LD50 for rat: >5000 a.i.mg/kg. 2) Acute dermal LD50 for rat: >5000 a.i.mg/kg. 3) Inhalation LC50 (4 h) for rat: >3.71 a.i.mg/L. 4) Mild skin irritant (rabbits). 5) Mild to moderate eye irritant (rabbits). 6) Not a skin sensitiser (guinea pigs).
NOEL: In chronic dietary trials, NOEL for rats is 40, dogs is 100, mice is 2 mg/kg diet.
ADI: 0.003 mg/kg b.w./day [Rat, SF=100]
Classification:
Toxicity class WHO (a.i.): U (Unlikely to present an acute hazard)
US EPA Classification (formulation): IV (Caution - Not acutely toxic)
EC Risk Classification: Carcinogen category 3: R40; N - Dangerous for the environment: R50, R53
ECOTOXICOLOGY
Effect on birds: moderate toxicity to birds, acute oral LD50 for Bobwhite quail is >947 a.i.mg/kg. Effect on fish: moderate toxicity to fish, acute 96 hour LC50 for Rainbow trout is 0.25 a.i.mg/L. Effect on aquatic invertebrates: high toxicity to aquatic invertebrates, acute 48 hour EC50 for Daphnia magna is 0.072 a.i.mg/L. Effect on algae: moderate toxicity to algae, acute 72 hour EC50 for Pseudokirchneriella subcapitata is >2.0 a.i.mg/L. Effect on honeybees: low toxicity to honeybees, contact acute 48 hour LD50 is >100 a.i.μg/bee; oral acute 48 hour LD50 is >100 a.i.μg/bee. Effect on earthworms: low toxicity to earthworms, acute 14 day LC50 for Eisenia foetida is >1000 a.i.mg/kg.
ENVIRONMENTAL FATE
Oxyfluorfen's production may result in its release to the environment through various waste streams; its use as an herbicide will result in its direct release to the environment. If released to air, a vapor pressure of 2.0×10-7 mm Hg at 25 deg C indicates oxyfluorfen will exist in both the vapor and particulate phases in the atmosphere. Vapor-phase oxyfluorfen will be degraded in the atmosphere by reaction with photochemically-produced hydroxyl radicals; the half-life for this reaction in air is estimated to be 33 hours. Particulate-phase oxyfluorfen will be removed from the atmosphere by wet or dry deposition. If released to soil, oxyfluorfen is expected to have no mobility based upon an estimated Koc of 8900. Volatilization from moist soil surfaces is not expected to be an important fate process based upon an estimated Henry's Law constant of 8.2×10-7 atm-cu m/mole. A half-life of 7 days in estuarine sediment indicates that biodegadation may be an important environmental fate. If released into water, oxyfluorfen is expected to adsorb to suspended solids and sediment based upon the estimated Koc. Oxyfluorfen had a biodegradation half-life of 27.5 days in estuarine water and 17 days in estuarine sediment. Volatilization from water surfaces is not expected to be an important fate process based upon this compound's estimated Henry's Law constant. An estimated BCF of 880 suggests the potential for bioconcentration in aquatic organisms is high. Oxyfluorfen showed no significant hydrolysis in 28 days at pH 5-9 (25 deg C).
Usage: Herbicide reported by R. Y. Yih & C. Swithenbank (J. Agric. Food Chem., 1975, 23, 592). Introduced by Rohm & Haas Co. (now Dow AgroSciences) and first marketed in 1976. Patents: US 3798276. Manufacturers: Dow AgroSciences; Makhteshim-Agan; Sannong. It is a protoporphyrinogen oxidase inhibitor.
Application: Selective contact herbicide, absorbed more readily by the foliage (and especially the shoots) than by the roots, with very little translocation. Control of annual broad-leaved weeds and grasses in a variety of tropical and subtropical crops, by pre- or post-emergence application at rates in the range 0.25-2.0 kg/ha. Particular crops include tree fruit (including citrus), vines, nuts, cereals, maize, soya beans, peanuts, rice, cotton, bananas, peppermint, onions, garlic, ornamental trees and shrubs, and conifer seedbeds. Soya beans and cotton may be injured by contact with oxyfluorfen.