6-BA(6-Benzyl Aminopurine)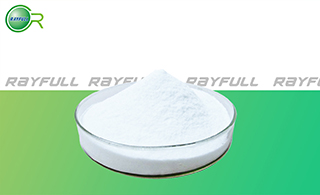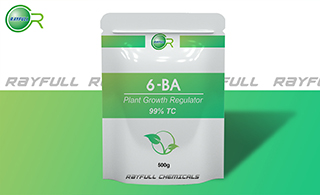 6-苄氨基嘌呤
Introduction: Plant growth regulator, used alone or in combination with other substances such as gibberellins for fruitlet thinning in orchards to increase yields.
Common name: 6-BA(6-Benzyl Aminopurine)
Another name: 6-benzyladenine, N6-Benzyladenine, Benzyladenine, N-Benzyladenine, etc.
Chemical name: N-(phenylmethyl)-1H-purin-6-amine
Empirical formula: C12H11N5
Structural formula:

Mol. Weight: 225.25 g/mol
CAS No.: 1214-39-7
Specifications
Leading 6-BA(6-Benzyl Aminopurine) supplier
6-BA(6-Benzyl Aminopurine) 99% TC
Packing:
BULK PACKING
Solid: 25kg/Bag, 25kg/Drum, 50kg/Drum etc.
SMALL PACKING
Solid: 1kg/Alu bag, 500g/Alu bag, 200g/Alu bag, 100g/Alu bag, 50g/Alu bag, 15g/Alu bag etc.
Customerized packing label
Professional registration
HAZARDS IDENTIFICATION
Hazard statement(s)
H302: Harmful if swallowed.
H320: Causes eye irritation.
H332: Harmful if inhaled.
H335: May cause respiratory irritation.
H361: Suspected of damaging fertility or the unborn child.
H402: Harmful to aquatic life.
H412: Harmful to aquatic life with long lasting effects.
Precautionary statement(s)
P201: Obtain special instructions before use.
P202: Do not handle until all safety precautions have been read and understood.
P261: Avoid breathing dust/fume/gas/mist/vapors/spray.
P264: Wash ... thoroughly after handling.
P270: Do not eat, drink or smoke when using this product.
P271: Use only outdoors or in a well-ventilated area.
P273: Avoid release to the environment.
P281: Use personal protective equipment as required.
P301+P312: IF SWALLOWED: call a POISON CENTER/doctor/... IF you feel unwell.
P304+P312: IF INHALED: Call a POISON CENTER/doctor/... if you feel unwell.
P304+P340: IF INHALED: Remove person to fresh air and keep comfortable for breathing.
P305+P351+P338: IF IN EYES: Rinse cautiously with water for several minutes. Remove contact lenses if present and easy to do - continue rinsing.
P308+P313: IF exposed or concerned: Get medical advice/attention.
P312: Call a POISON CENTER or doctor/... if you feel unwell.
P330: Rinse mouth.
P337+P313: IF eye irritation persists: Get medical advice/attention.
P403+P233: Store in a well-ventilated place. Keep container tightly closed.
P405: Store locked up.
P501: Dispose of contents/container to ...
Supplemental Hazard Statements: none
MAMMALIAN TOXICOLOGY
Acute toxicity: 1) Acute oral LD50 for rat: 1584 a.i.mg/kg. 2) Acute dermal LD50 for rat: >2000 a.i.mg/kg. 3) Inhalation LC50 (4 h) for rat: >5.0 a.i.mg/L. 4) Not a skin irritant (rabbits). 5) Not a eye irritant (rabbits). 6) Not a skin sensitiser (guinea pigs).
No ingredient of this product present at levels greater than or equal to 0.1% is identified as probable, possible or confirmed human carcinogen by IARC.
ADI: 0.01 mg/kg b.w./day
Classification:
US EPA Classification (formulation): II (Warning - Moderately toxic)
EC Risk Classification: Reproduction risk category 3: R63; Xn - Harmful: R22; N - Risk for the environment: R50
ECOTOXICOLOGY
Effect on birds: low toxicity to birds, acute oral LD50 for Bobwhite quail is 2875 a.i.mg/kg. Effect on fish: moderate toxicity to fish, acute 96 hour LC50 for zebrafish is 42.0 a.i.mg/L. Effect on aquatic invertebrates: moderate toxicity to aquatic invertebrates, acute 48 hour EC50 for Daphnia magna is 17.0 a.i.mg/L. Effect on algae, low toxicity to algae, acute 72 hour EC50 for Pseudokirchneriella subcapitata is 36.0 a.i.mg/L. Effect on honeybees: low-moderate toxicity to honeybees, contact acute 48 hour LD50 is >100 a.i.μg/bee, oral acute 48 hour LD50 is >58.73 a.i.μg/bee. Effect on earthworms: moderate toxicity to earthworms, acute 14 day LC50 for Eisenia foetida is >500 a.i.mg/kg.
ENVIRONMENTAL FATE
Benzyladenine's production may result in its release to the environment through various waste streams; its use as a plant growth regulator will result in its direct release to the environment. If released to air, a vapor pressure of 1.79×10-11 mm Hg at 20 deg C indicates benzyladenine will exist solely in the particulate phase in the atmosphere. Particulate-phase benzyladenine will be removed from the atmosphere by wet or dry deposition. Benzyladenine does contain chromophores that absorb at wavelengths >290 nm and therefore may be susceptible to direct photolysis by sunlight. If released to soil, benzyladenine is expected to have moderate mobility based upon an estimated Koc of 170. Volatilization from moist soil surfaces is not expected to be an important fate process based upon an estimated Henry's Law constant of 8.84×10-14 atm-cu m/mole. Benzyladenine is not expected to volatilize from dry soil surfaces based upon its vapor pressure. Sixteen days after application to soil at 22 deg C, benzyladenine had degraded to 5.3% (sandy loam) and 7.85% (clay loam soil) of the applied dose. Other studies have indicated half-lives of 7 to 9 weeks. If released into water, benzyladenine is not expected to adsorb to suspended solids and sediment based upon the estimated Koc. Volatilization from water surfaces is not expected to be an important fate process based upon this compound's estimated Henry's Law constant. An estimated BCF of 3.2 suggests the potential for bioconcentration in aquatic organisms is low. Hydrolysis is not expected to be an important environmental fate process since this compound lacks functional groups that hydrolyze under environmental conditions.
Usage: Registered by Polaroid Co., Coml. Chem. Div.; Redell Industries; Chemolinpex.
Application: 6-Benzylaminopurine is a broad spectrum plant growth regulator. It can accelerate growth of cell. When used with gibberellins, fruit's shape can be improved. 6-Benzylaminopurine stimulates the following effects: cell division; lateral bud emergence (apples, oranges); basal shoot formation (roses, orchids); flowering (cyclamen, cacti); fruit set (grapes, oranges, melons). Spray at dosage of 20-50 mg/kg.