ETHEPHON 乙烯利
Introduction: A plant growth regulator with a range of uses including the prevention of lodging in cereals and promotion of pre-harvest ripening of fruit.
Common name: Ethephon
Another name: 2-chloroethylphosphonic acid, beta-chloroethylphosphonic acid, camposan, ethephon, Ethrel,Chlorethephon , etc.
Chemical name: 2-chloroethylphosphonic acid
Empirical formula: C2H6ClO3P
Structural formula: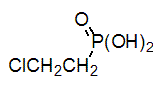 Mol. Weight: 144.49 g/mol
CAS No.: 16672-87-0
Specifications
Leading Ethephon supplier
Ethephon 400 g/L SL
Ethephon 80% TC
Ethephon 85% TC
Packing:
BULK PACKING
Solid: 25kg/Bag, 25kg/Drum, 50kg/Drum etc.
Liquid: 200L/Drum, 20L/Drum, 10L/Drum ect.
SMALL PACKING
Solid: 1kg/Alu bag, 500g/Alu bag, 200g/Alu bag, 100g/Alu bag, 50g/Alu bag, 15g/Alu bag etc.
Liquid: 5L/Drum, 1L/Bottle, 500ml/Bottle, 250ml/Bottle, 100ml/Bottle, 50ml/Bottle etc.
Customerized packing label
Ethephon FAO standard
Professional registration
HAZARDS IDENTIFICATION
Hazard statement(s)
H302: Harmful if swallowed.
H311: Toxic in contact with skin.
H314: Causes severe skin burns and eye damage.
H332: Harmful if inhaled.
H411: Toxic to aquatic life with long lasting effects.
Precautionary statement(s)
P260: Do not breathe dust/fume/gas/mist/vapors/spray.
P261: Avoid breathing dust/fume/gas/mist/vapors/spray.
P264: Wash ... thoroughly after handling.
P270: Do not eat, drink or smoke when using this product.
P271: Use only outdoors or in a well-ventilated area.
P273: Avoid release to the environment.
P280: Wear protective gloves/protective clothing/eye protection/face protection.
P301+P312: IF SWALLOWED: call a POISON CENTER/doctor/... IF you feel unwell.
P301+P330+P331: IF SWALLOWED: Rinse mouth. Do NOT induce vomiting.
P302+P352: IF ON SKIN: wash with plenty of water.
P303+P361+P353: IF ON SKIN (or hair): Take off Immediately all contaminated clothing. Rinse SKIN with water [or shower].
P304+P312: IF INHALED: Call a POISON CENTER/doctor/... if you feel unwell.
P304+P340: IF INHALED: Remove person to fresh air and keep comfortable for breathing.
P305+P351+P338: IF IN EYES: Rinse cautiously with water for several minutes. Remove contact lenses if present and easy to do - continue rinsing.
P310: Immediately call a POISON CENTER or doctor/physician.
P312: Call a POISON CENTER or doctor/... if you feel unwell.
P321: Specific treatment (see ... on this label).
P322: Specific measures (see ...on this label).
P330: Rinse mouth.
P361: Take off immediately all contaminated clothing.
P363: Wash contaminated clothing before reuse.
P391: Collect spillage.
P405: Store locked up.
P501: Dispose of contents/container to ...
Supplemental Hazard Statements: none
MAMMALIAN TOXICOLOGY
Acute toxicity: 1) Acute oral LD50 for rat: 1564 a.i.mg/kg. 2) Acute dermal LD50 for rat: 983 a.i.mg/kg. 3) Inhalation LC50 (4 h) for rat: 3.26 a.i.mg/L. 4) Severely-irritating to skin (rabbits). 5) Severely-irritating to eye (rabbits). 6) Not a skin sensitiser (guinea pigs).
NOEL: (2 y) for rats is 3000 ppm diet.
ADI (JMPR): 0.05 mg/kg b.w. [2002]
Classification:
Toxicity class WHO (a.i.): III (Slightly hazardous)
US EPA Classification (formulation): I (Danger - Highly toxic)
EC Risk Classification: Xn - Harmful: R20/21; H - Handling risks: R34; N - Dangerous for the environment: R52, R53
ECOTOXICOLOGY
Effect on birds: moderate toxicity to birds, acute oral LD50 for Bobwhite quail is 764 a.i.mg/kg. Effect on fish: low toxicity to fish, acute 96 hour LC50 for carp is >100 a.i.mg/L. Effect on aquatic invertebrates: moderate toxicity to aquatic invertebrates, acute 48 hour EC50 for Daphnia magna is 31.7 tyle="font-family:Timies, acute vign="just-sizw Roman;colo EC50ht:n Roman="fontAlNew Roman styn;colo EC50h666;font-size0h666;fontly:Timies, acute vl;">Cho Eellizeppnbsp;Severely a.i.20.9an style="font-family:Times New Roman;color:#666666;font-size:16px;font-weight:normal;"> a.i.ign="jze:16px;font-weight:honeybet-weight:normal;">low toxicity to aquatic invertebrates, acute 48 hour EC50 for Daphnia magna is lowlowlow a.i.mg/kg. Effect on fish: a.i.mg/kg. Effect on fish: a.i.mg/kg. Effect on fish: a.i.mg/kg. Effect on fish: (JMPnt-weight:earthwl;"-we-weight:-fa="font-famearthwl;"-imes New14 dayor:#666666E-we100 (2 y) for rats H - Handling risks: R34 (2 y) fo#666666span> at 20 deg C66;dfice:1 eylephontwill:exist soleeig6; yle partict:nNewphas:g6; yle atmosphere. Partict:nNe-phas:geylephontwill:be> emov:d-from yle atmosphere by weltor dry deposiatiofonylephontdo:1 not c;foa6; cl>susceptible>fatdirweigphotolysim-wbile>i; conta6; soilspbas:d-upontexpwr:Tifoal Koc values rspa0an>from 608wfat8547. Tle pKa1me pKa2 i;dfice0an>ylat th (2 y) for rats rmaan> (2 y) fo#666666t/-;font/rmyle style="font-family:Times MsoNormRmily:i;difo:0>&nbackgrou rmaan>6; applt-,ecurr;il-,eblackbpxries,ebluebpxries,ecr;ibpxries,emorello clpxries,efonrspafruit, figs,etighto:1, sugar bett a fodeig bett seed-cEop1, cot-we,gcaps66u"-imetc.;eti rccelighNe6post-harvesl pe10an>6; banana-imghtgo:1, a fonrspafruit;eti facilothNe6harvesl0an>by lowwe10an>6; curr;il-,egowwebpxries,eclpxries,ea applt-;eti 6;creas:-flowwr bu/ developTifo 6; youapplt tret-;eti pEevifo loda0an>6; coneals,ema6ze,ga flax;eti i;duce flowwr0an>6; azaeeas,egeghniu"-ima rwwes;eti shoEtif yle=sNem Hangth>6; forced dat-odils;eti i;duce flowwr0an>a regt:nNe> pe10an>6; pineapplts;eti rccelighNe6#66l opw10an>6; cotton; ti -weorm sextexp ession>6; cu6u"bpxspa s:#6sh; ti 6;creas:-fruit>setl0an>a yieldt6; cu6u"bpxs; ti 6mpEove yle=sNurdiness seed-cEop1; ti hastif yle=yellow0an>applfiction ghNe6pwr season 2.18 kg/h0

width="80%"6#6reig="0;milmes="cmileromaellpadding="4" aell>