GIBBERELLIC ACID GA4+7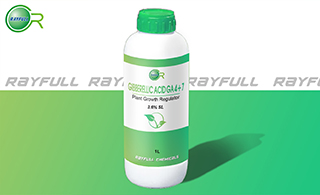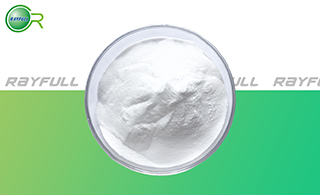 Introduction: GA4+7 is a mixture of Gibberellic Acid (GA4) and Gibberellic Acid (GA7). GA4+7 is a necessary growth regulator for plants. GA4+7 is used to reduce russetting in apples, increase the fruit set in pears, and increase the germination and yield of celery. GA4+7 is briefly applied to the production of apple. The roles are fruit thinning, changing fruit shape and size, increasing weight of single fruit, thickening skin and prolonging the storage period.The formulation of GA4+7 is being used to induce fruit elongation and to increase the size and quality.
Common name: Gibberellic Acid GA4+7
Another name: VLCYCUFDXXZIOY-HNFUOPCGSA-N, etc.
Chemical name: Not applicable
Empirical formula: GA4: C19H24O5; GA7: C19H22O5
Structural formula: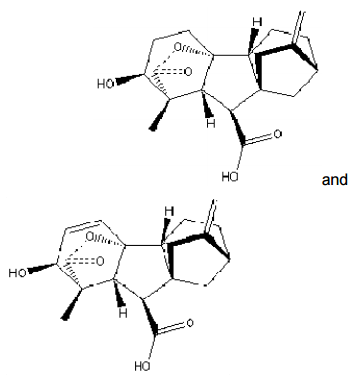 Mol. Weight: GA4: 332.39 g/mol; GA7: 330.37 g/mol
CAS No.: GA4: 468-44-0; GA7: 510-75-8
Specifications
Leading Gibberellic Acid GA4+7 supplier
Gibberellic Acid GA4+7 36 g/L SL
Gibberellic Acid GA4+7 90% TC
Packing:
BULK PACKING
Solid: 25kg/Bag, 25kg/Drum, 50kg/Drum etc.
Liquid: 200L/Drum, 20L/Drum, 10L/Drum ect.
SMALL PACKING
Solid: 1kg/Alu bag, 500g/Alu bag, 200g/Alu bag, 100g/Alu bag, 50g/Alu bag, 15g/Alu bag etc.
Liquid: 5L/Drum, 1L/Bottle, 500ml/Bottle, 250ml/Bottle, 100ml/Bottle, 50ml/Bottle etc.
Customerized packing label
Professional registration
HAZARDS IDENTIFICATION
Hazard statement(s)
No data available.
Precautionary statement(s)
No data available.
Supplemental Hazard Statements: none
MAMMALIAN TOXICOLOGY
Gibberellin 4+7 are safe to human and livestocks. The acute oral dosage to young mice( LD50 ): >15000 mg/kg.
Classification: none.
ECOTOXICOLOGY
This substance does not belong to toxic substances. Effect on fish: LC50 for Rainbow trout is >150 a.i.ppm.
ENVIRONMENTAL FATE
No data available.
Usage: Specially design for plant growth regulator on apple and pear trees, stimulate bud opening and anticipated shoot sprouting, improve branch angulation.
Application: Use as plant growth regulator on apple and pear, can improve the shape, prevent the russetting, improve the fruit setting, and anticipated the shoot sprouting. Don not apply when the temperature is below 7℃ or above 32℃. Application rate up to 20 g/ha per application.