3-Indoleacetic Acid

Indole-3-acetic acid Basic information
· Product Name:3-Indoleacetic Acid
· CAS:87-51-4
· MF:C10H9NO2
· MW:175.18
· EINECS:201-748-2
· Mol File:87-51-4.mol
·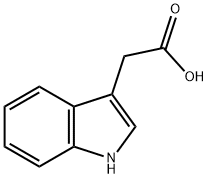 Indole-3-acetic acid Chemical Properties
· Melting point:165-169 °C (lit.)
· Boiling point:306.47°C (rough estimate)
· Density 1.1999 (rough estimate)
· refractive index 1.5460 (estimate)
· Flash point:171°C
· storage temp. -20°C
· pka4.75(at 25℃)
· form crystalline
· color off-white to tan
· Water Solubility Soluble in ethanol (50 mg/ml), methanol, DMSO, and chloroform (sparingly). Insoluble in water.
· Sensitive Light Sensitive
· Decomposition 167 ºC
· Merck 14,4964
· BRN 143358
· Stability:Stable. Incompatible with strong oxidizing agents. Light sensitive.
· CAS DataBase Reference87-51-4(CAS DataBase Reference)
· NIST Chemistry ReferenceIndole-3-acetic acid(87-51-4)
· EPA Substance Registry SystemIndole-3-acetic acid (87-51-4)
· Hazard Codes Xi
· Risk Statements 36/37/38
· Safety Statements 22-24/25
· WGK Germany 3
· RTECS NL3150000
· F 8-10-23
· Hazard Note Irritant
· TSCA Yes
· HS Code 29339990
· ToxicityLD50 intraperitoneal in mouse: 150mg/kg
Indole-3-acetic acid Usage And Synthesis
· Chemical Propertieswhite to tan crystals
· DefinitionChEBI: A monocarboxylic acid that is acetic acid in which one of the methyl hydrogens has been replaced by a 1H-indol-3-yl group.
· Biosynthesis3-Indolylacetic acid is biosynthesised in plants from tryptophan by two pathways, the indolylpyruvic acid pathway being quantitatively the more important. Experiments with tomato shoots have shown the existence of a tryptophan transaminase, which catalyses the formation of indolylpyruvic acid, and a tryptophan decarboxylase, which catalyses the formation of tryptamine. The decarboxylation of indolylpyruvic acid is catalysed by indolylpyruvate decarboxylase, while indolylacetaldehyde dehydrogenase catalyses the oxidation of indolylacetaldehyde to indolylacetic acid.


· Biological Functions3-Indolylacetic acid (indole-3-acetic acid, IAA) is one of the auxins, which together with the gibberellins and abscisic acid, cyto- kinins and ethylene are hormones regulating the growth and development of plants. IAA is a ubiquitous constituent of higher plants and the most important auxin. Some other, non-indolic compounds, including phenyl- acetic acid biosynthesised in plants from phenylalanine, have similar properties and synthetic auxins have also been prepared.
In the plant, IAA conjugates with many compounds, including glucose and other sugars, and with aspartic and glutamic acids. This is probably a way of storing the hormone for future use.
IAA initiates many growth effects in plants, including geotropism and phototropism, development of the ovary, division of cells, enlargement in callus tissue, root formation and apical dominance. When fed to plants, the hormone causes growth up to a maximum, which depends on the type of tissue being fed, and thereafter inhibits further growth, probably through the formation of ethylene, which is growth-inhibitory. Stern tissues tolerate the highest levels of IAA and root tissues the lowest. In the plant, the most active sites of IAA synthesis are the young, expanding leaves.
· Agricultural UsesIndoleacetic acid (IAA), synthesized in the plant shoot tips, is a naturally occurring auxin. It is a plant growth promoter.
· Purification MethodsRecrystallise heteroauxin from EtOH/water [James & Ware J Phys Chem 89 5450 1985]. [Beilstein 22 III/IV 65.] Alternatively recrystallise 30g of the acid with 10g of charcoal in 1L of hot water, filter and cool when 22g of colourless acid separate. Dry it and store it in a dark bottle away from direct sunlight [Johnson & Jacoby Org Synth Coll Vol V 654 1973]. The picrate has m 178-180o. [Beilstein 22 H 66, 22 I 508, 22 II 50, 22 III/IV 1088.] It is a plant growth substance.
Indole-3-acetic acid Preparation Products And Raw materials
· Raw materialsIndolePotassium AcetateGlycolic acid
· Preparation Products1-METHYL-3-INDOLEACETIC ACID3-(2-chloroethyl)-1H-indole