TRANS-ZEATIN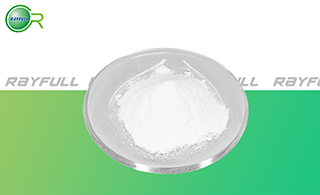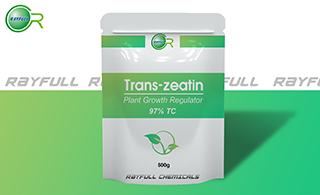 反玉米素
Introduction: Botanical plant growth regulator used to increase yields, blossom production and desirable growth effects.
Common name: Trans-zeatin
Another name: Zeatin, (E)-Zeatin, Zeatine, etc.
Chemical name: 2-methyl-4-(9H-purin-6-ylamino)but-2-en-1-ol
Empirical formula: C10H13N5O
Structural formula: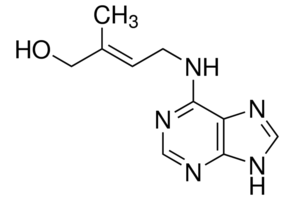 Mol. Weight: 219.25 g/mol
CAS No.: 1637-39-4
Specifications
Leading Trans-zeatin supplier
Trans-zeatin 97% TC
Packing:
BULK PACKING
Solid: 25kg/Bag, 25kg/Drum, 50kg/Drum etc.
SMALL PACKING
Solid: 1kg/Alu bag, 500g/Alu bag, 200g/Alu bag, 100g/Alu bag, 50g/Alu bag, 15g/Alu bag etc.
Customerized packing label
Professional registration
HAZARDS IDENTIFICATION
Hazard statement(s)
H315 (100%): Causes skin irritation.
H319 (100%): Causes serious eye irritation.
Precautionary statement(s)
P264: Wash ... thoroughly after handling.
P280: Wear protective gloves/protective clothing/eye protection/face protection.
P302+P352: IF ON SKIN: wash with plenty of water.
P305+P351+P338: IF IN EYES: Rinse cautiously with water for several minutes. Remove contact lenses if present and easy to do - continue rinsing.
P321: Specific treatment (see ... on this label).
P332+P313: IF SKIN irritation occurs: Get medical advice/attention.
P337+P313: IF eye irritation persists: Get medical advice/attention.
P362: Take off contaminated clothing.
Supplemental Hazard Statements: none
MAMMALIAN TOXICOLOGY
Acute toxicity: 1) Acute oral LD50 for rat: >5000 a.i.mg/kg. 2) Acute dermal LD50 for rat: >2000 a.i.mg/kg.
Classification: none
ECOTOXICOLOGY
Effect on fish: low toxicity to fish, acute 96 hour LC50 for Rainbow trout is >1000 a.i.mg/L. Effect on aquatic invertebrates: low toxicity to aquatic invertebrates, acute 48 hour EC50 for Daphnia magna is >1000 a.i.mg/L.
ENVIRONMENTAL FATE
No data available.
Usage: Zeatin is a plant hormone derived from the purine adenine. It is a member of the plant growth hormone family known as cytokinins. Zeatin was first discovered in immature corn kernels from the genus Zea. It promotes growth of lateral buds and stimulates cell division to produce bushier plants if sprayed on meristems.
Application:
1. Promotes callus initiation when combined with auxin, concentration 1 ppm.
2. Promotes fruit set. Zeatin 100 ppm + GA3 500 ppm + NAA 20 ppm, sprayed at 10th, 25th, 40th day after blossom.
3. Retards yellowing for vegetables, 20 ppm, sprayed.
4. Causes auxiliary stems to grow and flower.
It can also be applied to stimulate seed germination and seedling growth.