氟硅唑 Flusilazole Флусилазол
Specifications
Leading Flusilazole supplier
95% Flusilazole TC
250g/L Flusilazole EC
400g/L Flusilazole EC
Introduction:This product is a kind of triazole fungicide. It mainly destroys and prevents the biosynthesis of ergosterol of germs so that the cell membrane can't form and the germs die. It has excellent effect on treating the disease caused by ascomycetes, basidiomycetes and fungi imperfecti. It can prevents the leaf mold effectively.
Common name: Flusilazole
another name:Nustar, Olymp, Punch, DPX-H6573
Chemical Name: 1-[[bis(4-fluorophenyl)methylsilyl]methyl]-1H-1,2,4-triazole
Empirical formula: C16H15F2N3Si
Structural formula: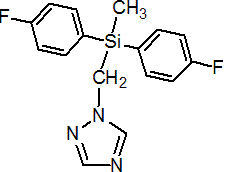 Mol. Weight: 315.4
CAS No.: 85509-19-9
HAZARDS IDENTIFICATION:
Inhalation: Cough. Laboured breathing. Sore throat.
Skin contact: Harmful if absorbed through skin..
Eyes contact: Causes substantial but temporary eye injury
Ingestion: May be fatal if swallowed.
Toxicological Information
Oral Acute oral LD50 for male rats 1100, female rats 674 mg/kg.
Skin and eye Acute percutaneous LD50 for rabbits >2000 mg/kg;
a mild irritant to skin and eyes, but not a skin sensitiser.
Inhalation LC50 for male rats 27, female rats 3.7 mg/l air.
NOEL (2 y) for rats 10 mg/kg diet; (1 y) for dogs 5 mg/kg diet; (1.5 y) for mice 25 mg/kg diet. ADI (JMPR) 0.001 mg/kg b.w. Other Not mutagenic. Toxicity class WHO (a.i.) III EC classification R40| R61| Xn; R22| N; R51, R53
Ecological And Ecotoxicological Information
Birds Acute oral LD50 for mallard ducks >1590 mg/kg.
Fish LC50 (96 h) for rainbow trout 1.2, bluegill sunfish 1.7 mg/l.
Daphnia LC50 (48 h) 3.4 mg/l.
Bees Not toxic to bees. LD50 >150 mg/bee.
Packing: Required by customer
Usage: It is recommended for use on many crops, like apples, peaches, cereals, etc.
Application:
Crop

Target

Dosage

Method

Tomato

Leaf Mold

600-750mL/ha

40-50mL/mu

Spray

a. Spray it before the disease occurs or at the initial stage of the disease. Spray it every seven to ten days for 3 times continuously according to the disease condition.

b. Do not spray it in the windy days or when it will rain in an hour.
Customerized Packing label
Flusilazole FAO standard
Professional registration